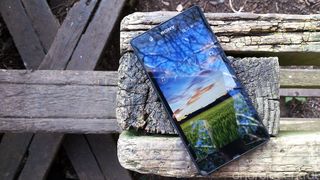 Don't count out Sony Mobile. Sure, the Japanese giant's smartphone arm may be an irrelevance in the U.S. market right now, for reasons we won't get into here. But it's made steady progress in Europe and the UK, where it's now number two in Android market share behind Samsung. Admittedly, much of that has been down to Sony's numerous entry-level and mid-range devices like the Xperia Tipo and Xperia U, rather than its high-end stuff.
That's because Sony has lacked a kick-ass flagship smartphone for far too long. Last year neither the Xperia S nor Xperia T thrilled us enough to recommend them over the Samsung and HTC competition. The former arrived running the dated Android 2.3 Gingerbread, while the latter suffered from dismal battery life and ran ICS in a Jelly Bean-aspiring world.
So with a new year comes a new Sony phone, the Xperia Z. If nothing else, the manufacturer's rapid turnover of high-end handsets has allowed it to finally catch up in the spec war. This new Xperia is fitted with a quad-core Snapdragon S4 Pro chipset, a 1080p display and a 13-megapixel camera with Sony's fancy new Exmor RS sensor tech. Oh, and it's also fully water-resistant.
But make no mistake, the Xperia Z is about to be born into a world of ferocious competition, with Samsung keen to hold onto its Android dominance, and HTC pulling no punches with its new HTC One. Once again Sony has the advantage of bringing a product to market first -- so can it deliver? Find out in our full review of the Xperia Z.
Pros
Incredibly sharp and clear screen. Speedy performance and sleek UI. Solid build quality and attractive chassis design. Waterproof capabilities set it apart from other high-end phones. Great camera performance.
Cons
Plastic flaps will frustrate some users. Non-ergonomic design and large screen size make it a little unwieldy. Quick-launch camera bugs get in the way at crucial moments. No dedicated camera button.
The Bottom Line
Swipe to scroll horizontally
Xperia Z video walkthrough
Xperia Z hardwar​e review
In a break with its earlier handset designs, Sony has sandwiched the Xperia Z between two layers of glass, arranged around a soft-touch trim. That might sound familiar to anyone who's handled a Nexus 4, and the Xperia Z claims many of the benefits of that phone's design. The glass gives a shiny, attractive appearance, while the soft touch area is easier to grip. Unfortunately what it also means is the phone becomes a monstrous fingerprint and lint magnet. Sony's use of fixed screen protectors -- and a similar coating on the rear glass -- means that keeping both front and back clean is near impossible. And the hairline gap between the glass and the soft-touch trim is a breeding ground for dust and lint.
Aside from those practical concerns, the Xperia Z is a sturdy, well-built handset. Gone is the creaky plastic of old, instead Sony's new flagship feels like it could withstand the occasional knock or scrape. (Although we'd be reluctant to conduct any drop tests on that glass-clad rear.) The small amount of plastic that is present feels of significantly higher quality than previous Sony offerings. It's a classy chunk of consumer electronics.
Sony's designers have previously talked about simply wanting to place a screen in users' hands, and the Xperia Z is faithful to that design goal. There's absolutely no unnecessary noise around the phone's 5-inch display -- just a Sony logo up top, and tiny cutouts for the earpiece and microphone. And Sony's use of on-screen buttons means when it's powered down, there's nothing to see under the display.
The screen itself looks as good as you'd expect from something packing more than 2 million pixels (at 1920x1080 resolution) into a 5-inch space. It's a sharp, bright LCD, and boasts noticeably improved color balance compared to Xperias S and T. We should also mention that retail Xperia Z models seem to have improved viewing angles compared to the prototypes we've handled on previous occasions. That said, the Xperia Z's screen still doesn't quite match the ridiculously wide angles offered by competing IPS and SuperLCD2/3 panels. Clearly, viewing angles remain an area of weakness for the manufacturer.
Sony's Mobile Bravia Engine 2 technology is present on the Xperia Z, and kicks into action when viewing photos or video content unless you manually disable it via the 'display settings' menu. As on Sony TVs, this is intended to improve color quality, boost contrast and reduce visible noise. (Think of it as Beats Audio for your eyes.) On a 5-inch display this is more striking than ever, though the Bravia Engine's extreme saturation and tendency to shift grey areas in images towards the blue end of the spectrum results in some photos taking on a slightly surreal quality.
Left: Bravia Engine off; Right: Bravia Engine on
The front of the Xperia Z is relatively featureless, but the same can't be said for the elaborate trim. Its bulk is soft touch plastic, punctuated by more reflective sections that match the glass back. On the right edge there's a volume rocker and a large, stylized silver power button. (No dedicated camera key this time around, unfortunately.) All the Xperia Z's ports and connectors are hidden behind plastic flaps, on account of the phone's water and dust resistance credentials, meaning you'll have to prise these out of the chassis whenever you want to charge or connect headphones. That's something extra to do whenever you need to connect stuff to the phone, but we weren't terribly bothered by this during our time with the Xperia Z.
On the subject of water resistance, we found this worked just as advertised. The Xperia Z operated perfectly happily after being placed under running water, or dunked in a bowl of water. As for dust resistance, we'll take Sony's word that no dust is making its way inside the chassis. (The large quantities of lint that the outer trim picked up certainly didn't seem to be going anywhere.)
So far we've almost glossed over the fact that this is a 5-inch phone. While it's true that the Xperia Z isn't the first 5-incher we've seen -- and it certainly won't be the last -- this could present usability problems when coupled with its unusually squared-off design. Other large form factor phones, like HTC's Droid DNA and Samsung's Galaxy Note 2, have tapered edges that make them an easier fit for human hands. That's not the case with the Xperia Z, and it's a bulkier handset for it, despite its mere 7.9mm thickness. We were able to adjust the way we held the phone fairly quickly, but if you have smaller hands this could be a deal-breaker. (Incidentally, if you're after a similar phone in a more hand-friendly design and shape, the Xperia ZL might be worth a look.)
Internally, you're dealing with high-end smartphone guts -- a quad-core Snapdragon S4 Pro CPU at 1.5GHz, with 2GB of RAM and 16GB of internal storage, expandable via microSD. That's more than enough enough horsepower for anyone, and we're not going to lose any sleep over the fact that it's using the few-months-old S4 Pro rather than the bleeding-edge Snapdragon 600. The Xperia Z's overall speed and responsiveness leaves little to be desired. But coming from the Nexus 4 we found it to be a tad slower in places, notably the home screen launcher. It's not a big difference... In fact, it's a very small difference. But it's there. (If you're into benchmarks, however, the Xperia Z annihilates the Nexus 4 on account of higher I/O speeds.)
Just as nature (and Google) intended, the Xperia Z's storage is arranged into a single partition, which can be used for apps or media storage. Around the back there's a 13-megapixel camera with Sony's Exmor RS stacked sensor tech and an f/2.4 lens. We'll go into more detail on camera performance later in this review, but for now let's just say that the Xperia Z boasts one of the best smartphone camera's we've tested.
The usual connectivity options are included -- Wifi a/g/b/n, including 5GHz support, 42Mbps HSPA+ and support for European LTE bands depending on model number. Our review unit was model C6603, which includes European and Asian LTE support. There's also another HSPA-only version, C6602.
And finally, you can use the Xperia Z to make phone calls, if you're so inclined. The phone supports the "HD voice" standard, so you'll get clearer voice calls if both yourself and the person you're calling are on a supporting network.
Sony Xperia Z specs
Xperia Z software and UI
The Xperia Z runs Android 4.1.2 Jelly Bean alongside Sony's Xperia UI. While technically an Android "skin," Sony's UI sticks pretty close to the Android design guidelines cooked up by Matias Duarte and his team.
You get up to seven home screens, customized by a selection of widgets in a very traditional Android launcher experience. The lock screen has been redesigned, and now you've got a fancy 3D blinds effect to play with when you unlock the phone. Music and camera shortcuts can be found up top on the lock screen, and are activated by swiping left or right.
Despite the bump up to Jelly Bean and the improvements in performance that's brought, Sony's UI hasn't changed much in the past year. It's a very minimalist, mostly grey and black, and if we were feeling particularly mean we might even call it boring.
Where software is concerned, most of the excitement comes in the form of Sony's own app suite. There's a re-badged and rather pretty Walkman app for music, which ties into Sony's Music Unlimited service. It's a little easier to navigate than most, and also supports DLNA streaming and music sharing through Facebook. If you're inclined to tweak your audio output, you can choose between a traditional graphic equalizer with "ClearBass" or "ClearAudio+," which automatically adjusts settings to improve audio clarity.
The gallery app has been redesigned, allowing and now supports a zoomable, time-based view of all photo content on the device, as well as Facebook, Picasa and PlayMemories integration. There's also an attractive globe view, which populates a world map with photos based on geotagged location data. In addition, the new Sony "Movies" app incorporates movie and TV downloads, Video Unlimited streaming services and DLNA sharing.
Fairly deep Facebook integration comes as standard, as is the case with all modern Sony phones. Other social features include a terribly-named by functional social news aggregator called "Socalife." A cross between Flipboard and HTC's BlinkFeed, Socialife incorporates Twitter, Facebook and Google Reader content as well as news updates based upon predetermined topics. It's probably not going to drag anyone away from Flipboard, but it's a decent alternative.
Finally, there's PlayStation Mobile, which isn't installed by default, but can be downloaded immediately via an app drawer shortcut. PSM is still lacking in big-name titles, and the added hurdle to view the range of PlayStation-certified games will do nothing to boost adoption rates. Nevertheless, it's another source of games you might not find on the Play Store, so it we suppose it doesn't hurt to have the option there. We just wish we'd see a more meaningful push from Sony to bring console-class games to this service. After all, it is PlayStation.
Our Xperia Z review unit was an unlocked European device, and as such it was lacking any kind of carrier-mandated bloatware. However McAfee security is pre-loaded, and it has an unfortunate tendency to bug you to register it, even if you completely ignore its app drawer presence. Thankfully the app can be completely uninstalled via the app management menu, but we found the presence of "nagware" notifications to be rather obnoxious on an otherwise pristine handset.
Other notables ...
The "Smart Connect" automation app is back, but haven't changed much from earlier implementations. You can program basic macros like muting notifications when charging at night, but it's lacking the advanced functionality offered by Motorola's Smart Actions, let alone third-party offerings like Tasker.
The Google Now swipe shortcut works just fine on the Xperia Z, on account of its on-screen buttons.
There's a Media Remote app loaded on the Xperia Z, but it only works with Sony equipment, unlike the Peel-based TV apps on IR-equipped devices like the HTC One and Galaxy Note 8.
MobiSystems' File Commander is pre-loaded on the Xperia Z. It's a basic, functional file manager app, but it's jarringly ugly compared to the rest of Sony's UI.
The stock Android Movie Studio app is included for your video-editing needs.
The Xperia Z's notification bar and on-screen controls are actually dark grey and not black, which is why they appear noticeably lighter than the surrounding bezel.
For reasons unknown to us, we were unable to post Gallery images to Google+ over cellular data on the Xperia Z. We tried several SIMs in the device, and experienced the same issue each time. Over Wifi, things worked as expected.
Miracast display sharing is supported on the Xperia Z. We weren't able to test this on our own equipment, but we've seen it demo'd in Sony's offices.
Xperia Z ​battery life and power management
The Sony Xperia Z includes a 2330mAh internal battery which is non-removeable, and sealed within its chassis. We've reported battery life issues on earlier Sony handsets, but fortunately we experienced no such problems on the Xperia Z. With regular daily use consisting of hopping between Wifi, LTE and HSPA+ we managed to get through a full day with ease.
As we've come to expect from modern 4G radios, using LTE on the Xperia Z didn't significantly impact battery life compared to HSPA+. And as is the case with most modern Android phones, we found the Xperia Z's standby performance to be excellent -- the phone used next to no juice while syncing Google account data in the background with the screen off.
With more intensive use, we were able to reduce the Xperia Z to the danger level of 15 percent in seven hours, with a little under two hours of screen-on time. That's with varied use consisting of browsing over Wifi, LTE and HSPA, a couple of voice calls, a few dozen still photos and around 90 minutes of music playback. The screen's brightness level was set at around 75 percent with 'auto-adjust brightness' switched on.
The Xperia Z's software includes a new power management settings area featuring various tweaks to lengthen the phone's battery life. Up top a large display shows you the estimated remaining standby time (usually measured in days, unless you're running on fumes.)
There are three main battery-saving options available, though we'd recommend leaving all three turned off for best performance. Stamina mode disables data when the screen is off. Low battery mode takes action to dim the screen and reduce background data when the battery is low. Finally, location-based Wifi automatically disables your Wifi radio when not in range of a saved network.
Stamina mode in particular is worth a look if you're not the sort of person who needs to be constantly connected. But we can't help feeling that by restricting background data and processes to such a degree, we're missing out on many of the benefits of smartphone ownership. It is however possible to whitelist certain apps, allowing them to run even when Stamina mode is enabled.
As an aside, the persistent battery percentage in the status bar can now be disabled through the same power management menu. On Sony's previous flagship, the Xperia T, we found this read-out to be a maddening reminder of that handset's woeful battery life, and so we welcome the option to embrace blissful battery ignorance on the Xperia Z.
Overall, we felt confident in the Xperia Z's ability to get us through the day as well as the average Android smartphone. Though on particularly strenuous days you may want to think about a mid-day charge -- or head into that power menu and flip on Stamina mode.
Xperia Z camera review
A great camera is to be expected when buying a flagship smartphone in 2013, and camera quality has historically been an area of strength for Sony Mobile, and before it Sony Ericsson. The Xperia Z is the first handset to ship with Sony's Exmor RS stacked image sensor tech. This new sensor design clears space around the light-sensitive layer by moving chips and other gubbins underneath it. This in turn allows the presence of a larger light-sensitive layer, which means more light can be picked up. And scooping up more photons means you can make better pictures.
Like its predecessor the Xperia T, the Xperia Z outputs photos at up to 13 megapixels and shoots video at up to 1080p resolution with 30 frames per second. But the larger sensor results in subtlely improved image quality, evident when you examine images at full size. Shots from the new Exmor RS unit tend to have less visible noise, and low-light shots are visibly clearer, with less tendency to blur. The noise that was present didn't seem to affect the balance of colors too much. (Let's be honest, though, you're not going to be using phone camera shots at full resolution.)
Stills are shot at up to 4128x3096 (13MP) in 4:3 orientation, or 9 megapixels (3920x2204)in 16:9 orientation. If you use the "Superior Auto" shooting mode, you're limited to a maximum of 12 megapixels (3920x2940). We found that the Xperia Z produced great-looking stills across the board. In daylight you'll be treated to clear images with bright yet accurate colors and plenty of fine detail, noise-reduction notwithstanding. The Xperia Z also produced more accurate colors in darker sections of images compared to many previous handsets, including the Xperia T. Image quality declines somewhat in lower light, as you'd expect. But the Xperia Z's night-time and indoor performance was significantly better than just about every phone camera we've tested. More fine detail was picked up, colors remained more-or-less accurate, and ISO speed rarely strayed above 800, even in the very darkest of conditions. It's also telling that it was much, much more difficult to produce blurry night shots on the Xperia Z than the crop of 2012 Android flagships.
If we were to nitpick one area of imaging weakness, we'd highlight macro photography. Generally speaking, the Z does a good job of capturing close-ups of small objects. But it lacks the insanely good macro performance of earlier Sony phone cameras, as well as the Samsung competition. Specifically, it'd fail to focus on smaller objects that the Xperia T would pick out with ease.
The Xperia Z debuts a new Sony camera app, at the center of which lies the new "Superior Auto" mode, designed to intelligently switch between a variety of presets based on the type of image. Most of the time this worked well, correctly predicting the type of shot we were trying to take and admirably turning it into a JPEG. Occasionally, however, it became unpredictable, switching rapidly between preset modes and being indecisive about white balance levels, particularly in twilight shots.
And while we're talking about software bugs, the quick camera shortcut on the lock screen has a tendency to freeze around a fifth of the time, resulting in delays of several seconds before the camera app finally loads. (Accompanied by a message indicating that the Camera app is not responding.) We'd expect this to be fixed in an upcoming firmware update, but it's unfortunate that the only way of quickly loading the camera app on this phone is so hit-and-miss. In fact, we missed more than one time-sensitive shot because the camera shortcut was so slow to respond.
We should also mention Sony's excellent sweep panorama mode, which captures and processes 4912 x 1080 panoramas extremely quickly, and with very little tearing or artifacting. And HDR video mode, though a niche capability, demonstrates the Xperia Z's imaging chops. This recording mode enables you to capture detail in both bright and dark areas in the same scene, though this is done with some increase in visible noise, which is unfortunate.
The Xperia Z excels at video capture duties across the board, producing footage with great dynamic range and and silky-smooth 30fps footage even in low light. Its lack of optical image stabilization puts it at a disadvantage compared to competitors like the Nokia Lumia 920 and HTC One, but there is a software stabilization option built-in which helps out somewhat in this area. Shaky-cam issues aside, we were impressed by the Xperia Z's video performance.
So overall you're looking at one of the best phone cameras currently available -- a stand-out feature for the Xperia Z. It also reestablishes Sony as a serious contender for the smartphone camera crown, though HTC and its new "Ultrapixel" camera loom large on the horizon.
Image 1 of 36
Xperia Z camera samples and comparisons with Xperia T
Xperia Z hackability
If you buy a SIM-unlocked Xperia Z, you'll be able to unlock it via the Sony bootloader unlock program, as has been the case for the past couple of years. Though the phone has only just become commercially available, custom recovery images are already available, and there's even a very early build of CyanogenMod 10.1 for those who like to live dangerously.
So SIM-unlocked folks can rest assured that they'll be able to root and ROM at will. What's more, the hardware similarities between the Xperia Z and the current Android reference phone point to a bright future for hacking on this device, as does Sony's track record of providing proprietary code to help with custom ROMs. As we always say, though, don't buy a phone with the intention of putting a ROM on it, buy it because you're happy with the out-of-box experience.
The bottom line
The Xperia Z arrives at an uncertain time in the Android world. We're awaiting the launch of two of the biggest devices of the year -- the HTC One and Samsung Galaxy S4 -- and we're unable to directly compare those against Sony's latest at the time of writing. Regardless, the Xperia Z is a great high-ender in its own right. It's big, fast, sharp and bright in all the right ways, and it brings some impressive digital imaging credentials to the table.
When it comes to hardware and feature sets, there are no glaring oversights or fatal flaws to report. The all-glass chassis, though not without its issues, is the best-looking smartphone design we've seen from the manufacturer. And the UI, though lacking some of the pizzazz of HTC Sense and TouchWiz, mirrors and compliments the phone's industrial design.
The main reason for passing on the Xperia Z might be its chunky dimensions and questionable ergonomics. For those with small hands, this could well be a deal-breaker. To find out if that's you, go into a store and spend a few minutes with a demo unit. (While you're there, take a good look at the HTC One, launching soon in Europe around the same price point as the Xperia Z.)
The bottom line, however, is relatively simple. In the Xperia Z Sony has -- for the first time in a couple of years -- a great flagship smartphone, a device we can sincerely recommend. And it's about time.
Be an expert in 5 minutes
Get the latest news from Android Central, your trusted companion in the world of Android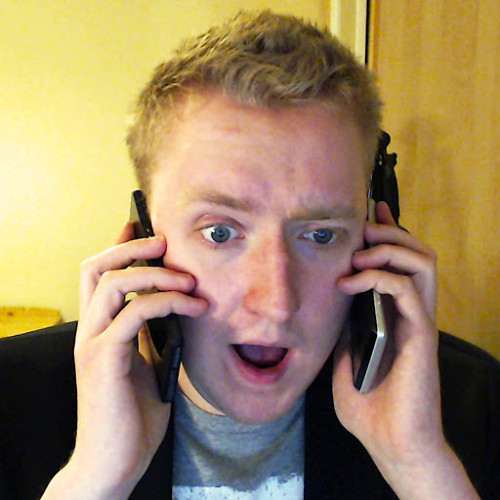 Alex was with Android Central for over a decade, producing written and video content for the site, and served as global Executive Editor from 2016 to 2022.