Sony Xperia Tipo mini-review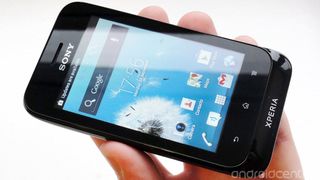 Sony has released more smartphones than ever before 2012, hoping that strength in numbers will help it overcome Android competition from the likes of Samsung and HTC. One important, but often overlooked area of any manufacturer's line-up is the entry level -- it's these devices which attract first-time smartphone users, giving them their first taste of the Android platform. We're taking a look at one such device today.
The Sony Xperia Tipo is the manufacturer's cheapest 2012 smartphone -- a budget phone with a basic feature set. When you're selling a device like the Tipo unsubsidized around the £100 mark, compromises inevitably must be made. But does enough smartphone muscle remain to deliver a compelling user experience? Join us after the break to find out, in our bite-size mini-review of the tiny Xpeira Tipo.
Pros
A decent, if basic Android experience for around £100 SIM-free. Delivers Android 4.0 Ice Cream Sandwich and many of the benefits of more expensive Sony phones. Build quality is decentm considering the low price.
Cons
Slow CPU will limit gaming and multimedia performance. Poor camera performance in still shots and video.
The Bottom Line
Swipe to scroll horizontally
Sony Xperia Tipo video review
Sony Xperia Tipo hardware review
In any budget product, aesthetics and build quality are often the first things to be sacrificed at the altar of affordability. It's surprising, then, that the Sony Xperia Tipo is a sturdy, relatively good-looking little smartphone. It has a curved chassis reminiscent of the Xperia Active. The back is furnished in soft-touch plastic, with a glossy plastic "chin" under the display. The touchscreen itself isn't glass, but capacitive plastic. This is not to be confused with less responsive resistive screens used in super-low-end tablets, but it does have a different feel to the average glass touchscreen, and it's more prone to picking up smudges and finger grease, too.
The display is a 3.2-inch HVGA (480x320) LCD, which is relatively bright and gives decent color reproduction despite its low resolution. Under the screen are your three standard buttons -- back, home and menu. Around the back there's a basic -- and we mean basic -- 3MP rear camera, and along the edges of the device you'll find the usual combination of headphone jack, power button, volume rocker and microUSB port.
Snap the back cover off and you'll reveal a removable 1500mAh battery, as well as a full-sized SIM card slot and a microSD card slot -- our review unit came with a 2GB card. The phone itself sports just 750MB of internal storage, so you may want to invest in a larger microSD card if you plan on loading the Tipo up with music.
On the inside, there's a humble collection of hardware powering the Xperia Tipo. You've got an 800MHz single-core Snapdragon CPU running the show, backed up by 512MB of RAM. A couple of years back that would've been considered high-end, and even today, the hardware handles android 4.0 reasonably well. You'll get reasonably performance out of the Xperia Tipo if you don't go too crazy with background tasks. Expect a little lag on startup, though, as well as whenever you're running background processes or downloading app updates.
Finally, we noticed no issues with cellular reception or call quality on the Xperia Tipo. Despite its diminutive stature, it handled phone calls as well as larger, more expensive Android devices.
Sony Xperia Tipo software review
The Xperia Tipo runs Android 4.0.4 Ice Cream Sandwich, along with Sony's UXP NXT software. Even with the bump up to ICS, there's not much new stuff to be found in Sony's smartphone software. Visually, it's almost identical to earlier, Gingerbread-based Sony ROMs -- the most significant change is in performance. In fact, the Xperia Tipo on ICS handily outperforms the Xperia P on Gingerbread, which just shows how far Android has come in the past year.
Hints of Android 2.3 remain in Sony's software, though. For instance, widgets must be added to the home screen via an old-fashioned list menu, and an old-style "Xperia gallery" is included alongside a revamped Android 4.x-style gallery app. On the whole, though, Sony's UI remains fairly close to vanilla Android. The visual changes are mostly subtle and subdued, and in keeping with the phone's muted color palette and minimalist design.
Sony's standard selection of bundled applications is included, just like Xperias S, P and U. You've got Sony's Music player application, which links in with its Music Unlimited subscriber service. Video Unlimited is supported too, though we wouldn't recommend extended video viewing on the Tipo's 3.2-inch screen. One new addition we noticed was Smart Connect, which works similarly to Motorola's Smart Actions app. Using Smart Connect, the phone can be told to perform certain tasks based on time of day and which accessories are connected. for example, if you're charging at night, notifications can be muted. Unlike Smart Actions, though, Smart Connect doesn't support location-based actions.
Sony has yet to confirm whether the Xperia Tipo will be upgraded to Android 4.1 Ice Cream Sandwich, but we don't imagine there's much more performance to be eeked out of the phone's basic hardware, even with Jelly Bean's "Project Butter."
Sony Xperia Tipo battery life
With a small screen, a humble 800MHz CPU and a relatively sizeable 1500mAh battery (not to mention Android 4.0), it should come as no surprise to see the Xperia Tipo delivering decent battery life. Unlike earlier 2012 Xperias, we noticed no excessive drain when the device was idle, and with our moderate usage patterns, we managed to get through the working day with plenty of charge left in the device's battery.
However, it's worth noting that the phone's smaller screen and low-end hardware meant we were less compelled to play around with it throughout the day, which may have impacted our battery life experiences.
Sony Xperia Tipo camera review
In a budget phone, you don't expect the greatest camera, nevertheless the Xperia Tipo's rear camera is decidedly poor. It's a fixed-focus affair, making for blurry images unless you're shooting in ideal circumstances. Low-light images are pretty much a non-starter, however the camera software does provide you with white balance, metering, exposure and other settings to help you squeeze as much performance as possible out of the Tipo's 3MP shooter.
As for video, you're limited to 640x480 resolution with plenty of compression, and output quality that's not much use for anything. See our sample shots below for a few examples.
Image 1 of 6
Sony Xperia Tipo review wrap-up
You don't expect the world when you're paying just £100 for a smartphone, and the Sony Xperia Tipo offers a basic Android 4.0 experience that's compromised, but not fatally so. Its weakest point is its dismal 3MP camera, and that may be a thorn in your side if you're planning on using the Tipo even for basic Facebook photo-taking duties. If that's the case, we'd recommend the slightly pricier Xperia Miro which comes with a 5MP camera, or the HTC One V, which rocks an HTC ImageSense chip.
But let's be clear here -- you're getting an Ice Cream Sandwich handset for £100, and that's a big deal. There's a vast gulf between this phone and a £500 high-end handset, but despite its comparatively humble specs, we can't think of a better Android experience to be had at this price point.
Get the Android Central Newsletter
Instant access to breaking news, the hottest reviews, great deals and helpful tips.
Alex was with Android Central for over a decade, producing written and video content for the site, and served as global Executive Editor from 2016 to 2022.
Sony Xperia entry-level handset looks much better than my Samsung Galaxy Y, with its poor 2MP shooter and 360x240 screen. And for just £100, that's a big deal. Many thanks for the review, friend. :)

excellent review! my friend is going to buy this phone and this review definitely convinced him that it was the right choice!