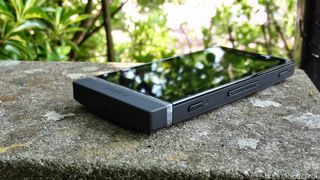 Despite some successes last year with devices like the Xperia Arc, Sony's gotten off to a shaky start in 2012. It was first to market with a new flagship device, in the form of the Xperia S, only to be eclipsed just a month later by HTC One X. And with the formidable Samsung Galaxy S III looming, Sony's flagship product looks set to remain on the sidelines.
So could the Japanese manufacturer fare better in the entry-level space, with a phone like the Xperia U? At first glance, the device sounds like a winner -- a budget smartphone with a dual-core CPU, Sony's Bravia Engine display tech and excellent build quality. But could this be undone by a focus on visual gimmickry, and the inclusion of an aging version of Android? Find out after the break as we kick off our full review of the Sony Xperia U.
Pros
Good build quality, solid specs and decent performance. Excellent value for money, and an ICS update due in the weeks ahead...
Cons
…but in the meantime, it's yet another Gingerbread phone. Swappable plastic bottoms are a bit of a gimmick. Dismal 4GB of media storage. Over-compression issues with the video camera. A few intermittent software bugs.
The Bottom Line
The Xperia U isn't a flawless performance from Sony, but it is a nicely balanced entry-level handset all the same. The tiny amount of media storage, and lack of any expandable options, will be a deal-breaker for many. But around this price point, it's difficult to think of a phone that offers better value for money.
Swipe to scroll horizontally
Sony Xperia U video walkthrough
Sony Xperia U Hardware
In terms of industrial design, many entry-level smartphones end up looking like miniature versions of their high-end brethren, and that's undeniably true of the Sony Xperia U and its big brother, the Xperia S. Aside from the size, it's only minor details that separate Sony's 4.3-inch flagship from its 3.5-inch budget offering. According to Sony's designers, who we had the chance to meet at Mobile World Congress, the primary reason for this is brand identity. Sony's 2011 Xperia designs were all over the place, and aside from the Xperia Arc, none were particularly recognizable. But with their angular antics and clear, glowing midsections, this year's Xperias have a unique profile not found on any other smartphones.
Like the Xperia S, the U is furnished almost exclusively in soft-touch plastic, aside from the capacitive keys and 3.5-inch display. The back is slightly curved, to allow it to easily fit into the hand, and the focus on straight, clean lines sets it apart from the plethora of more rounded devices on the market. Unfortunately, though, this uniqueness comes at the cost of ergonomics. Just like the Xperia S, the Xperia U's squared edges have a tendency to stick in the palm of your hand during use. However, the U's smaller size does mitigate this somewhat.
On a similar note, we think this kind of design just works better on a smaller device. The Xperia S seemed almost unnecessarily large due to its design, but the Xperia U doesn't feel any bigger or smaller than it needs to be -- it's a great size for a smaller smartphone. And the soft touch finish seems a little more durable on the U, too. The Xperia S -- in addition to being a lint magnet -- was starting to pick up nicks and scratches after just a few days. By comparison, after more than a week of use, our Xperia U remains pristine.
The Xperia U uses the same wonky button setup as its big brother. Printed in the translucent area are the home, back and menu icons, and above them are small dot-shaped capacitive contacts. It's these dots that you press in order to use each button, rather than the icons themselves. This smacks of form over function, and we're still not massive fans of this button setup, but at least the issues with button sensitivity on the Xperia S seem to have been resolved in the Xperia U. That said, we managed to discover another pet peeve with the keys on the Xperia U -- the haptic feedback when pressing them is more than a little rattly. It's a minor niggle, but it's one that belies the device's excellent build quality.
Above the buttons is a 3.5-inch FWVGA (854x480) Sony Reality Display -- that's Sony's fancy name for its flavor of LCD. It also comes with Sony's Mobile Bravia Engine software enhancements, which kick in to boost contrast and color quality in videos and photos. This tech has really come into its own on the 2012 Xperia line-up, and although not as striking as on the Xperia S, the difference in picture quality is both tangible and appreciated. It's also worth noting that viewing angles on the Xperia U are far superior to the S. They're not the best you'll find on an LCD -- the HTC One X remains the king of LCDs for the time being. But viewing angles, and image quality in general, was better than we were expecting from an entry-level handset. And the Xperia U's screen coped admirably outdoors, even in very bright sunlight.
The Xperia U's physical buttons are all located along the right edge -- up top is the power button, in the middle is the volume rocker, while the physical camera button lies down below. And just like the other 2012 Xperias, you can long-press this camera button to launch directly into the camera app and immediately take a picture. Speaking of cameras, you've got a 5-megapixel shooter with LED flash around the back, along with a basic VGA front-facer. We'll dig deeper into camera performance later in this review.
Other ports and connectors include a 3.5mm headphone jack up top, and a microUSB port on the left edge. Behind the back cover you'll find the 1300mAh battery -- removable, unlike the Xperia S -- and a full-sized SIM card slot tucked away along the side. What's also removable is the bottom plastic section of the phone, under the clear bar. It takes a good bit of force, but you can take this off and swap it with a replacement in a selection of colors (our review unit came with the standard black cover, and a stylish hot pink replacement.) You could call this a gimmick, and you'd be absolutely right. Perhaps it might take off in Sony's native Japan, where cosmetic phone accessories are big sellers. But we don't expect this interchangeable plastic junk to be a particularly strong selling point for the Xperia U in Western markets.
Internally, the Xperia U rocks a 1GHz dual-core ST-Ericsson CPU, along with 512MB of RAM. While it's great to see a dual-core chip in an entry-level phone, the Xperia U's chip is a relative humble performer, and not one to challenge modern dual-core CPUs like Qualcomm's Snapdragon S4. Nevertheless, its performance is more than sufficient to power Android 2.3 on an FWVGA display. Animations and on-screen transitions aren't quite as smooth as we've seen on Android 4.0 handsets, but we think the phone's software is mostly to blame for that, as we experienced similar issues on the Xperia S.
The Xperia U's 8GB of internal storage is divvied up into 2GB for the OS, 4GB of media storage and 2GB of app storage. Usually manufacturers opting for such a stingy helping of flash storage would at least give users the option to expand it via a microSD card. But alas, there's no such option on the Xperia U. That's a shame, and it's also one of the phone's biggest weaknesses. Earlier Sony handsets have been multimedia powerhouses, and 4GB for all your photos, videos and music is simply unacceptable in 2012. If you pick up an Xperia U, you'll likely want to look at music streaming services to alleviate your storage woes.
Finally, we noticed no issues with cellular reception or call quality on the Xperia U -- both were comparable to other modern smartphones. The phone lacks HSPA+ support though, so you'll be limited to HSDPA download speeds of up to 7.2Mbps. The only radio weirdness we noticed concerned the phone's Wifi capabilities -- often when moving outside the range of a Wifi network, the device failed to automatically disconnect and switch back to 3G/HSDPA. This didn't happen every time, but it was persistent enough to indicate some kind of bug in the phone's firmware.
Sony Xperia U Batte​ry Life
The Sony Xperia U packs a 1300mAh removable battery, which you might presume would be enough to power its dual-core internals and 3.5-inch screen. And for the most part, you'd be right. With our moderate-to-heavy usage patterns, consisting of taking around a hundred photos, a couple of minutes of HD video, some music playback, light browsing and a handful of phone calls, the Xperia U easily saw us through to the day's end. (And using the official Sony charger, it recharged much quicker than most other smartphones.)
What did concern us, though, was the rate at which the phone managed to chew through its battery while idling. For example, overnight, with only a couple of background apps syncing over Wifi, the Xperia U managed to go from 100% charge to around 70%. This obviously doesn't bode well if you're prone to forgetting that crucial nightly charge. Maybe we're just used to the exceptional efficiency of Android 4.0 devices when idling, but it seems to us that there could be a place for one or two software fixes to bring the Xperia U's battery idle performance up to scratch.
Sony Xperia U Specs​
Sony Xperia U Software
The Sony Xperia U runs Android 2.3.7 , alongside Sony's UXP NXT software. Yep, it's another Gingerbread phone from Sony, though an update to Android 4.0 Ice Cream Sandwich is promised for the third quarter. In the meantime, the presence of Gingerbread on a budget handset is less objectionable, although not entirely inexcusable.
We've covered Sony's UXP NXT extensively in our review of the U's high-end equivalent, the Xperia S. And despite the change in screen size and resolution, what you get on the Xperia U is virtually identical. Sony's UI is definitely one of the better Gingerbread skins we've seen -- there's just the right amount of animation and visual finery to make for an enjoyable user experience without going too far over the top. It's a subtle, classy look from which many other OEMs could learn a thing or two.
You've got five home screens, and a selection (though not an excessive quantity) of widgets with which to customize them. Highlights include Sony's "Cosmic Flow" live wallpaper, and the excellent weather widget, which pops out to reveal a full forecast for the next few days.
Sony's themes system is included in the Xperia U, allowing you to change the look and feel of the entire UI based on seven color profiles. And as the light in the transparent bar is multicolored, changing the theme also changes this color. Similarly, if you're viewing a photo or listening to music, the light will change to reflect the dominant color in the picture or album art. Perhaps this will be a little gimmicky for some tastes, but we found it to be a fun little visual cue that doesn't get in the way of the user experience.
Sony's excellent suite of multimedia apps is included on the Xperia U, with one notable exception -- the PlayStation app is not present on the entry-level handset. On paper the phone is more than powerful enough to run Sony's library of PS1 titles -- after all, the Xperia Play is fully PS-certified, and that phone runs a single-core CPU at 1GHz. We think the lack of PS certification on the Xperia U is more likely to be a compatibility issue caused by the device's use of a different type of CPU -- an ST-Ericsson model compared to the Qualcomm chips found in other Sony handsets. Whatever the cause, don't count on having PlayStation support up and running on the Xperia U anytime soon.
Fortunately, other multimedia goodies like DLNA support and the Mobile Bravia Engine work flawlessly on the Xperia U. The Bravia Engine kicks in when viewing movies or photos, and tweaks the contrast and color balance to give bright, punchy image. And the DLNA client allows you to stream content to any compliant device, though many manufacturers now offer this feature. As you'd expect from a Sony phone, the company's Music Unlimited and Video Unlimited streaming services are included, too. And subscribers to the former will welcome the fact that it's built into the Xperia U's native music app.
Speaking of which, the Xperia U's music app is the same streamlined, redesigned player found on other 2012 Xperia phones. The main view is dominated by a "coverflow"-style arrangement of album art (which, as we've mentioned, influences the color of the light bar). And tabs at the top of the screen lets you switch between track navigation and the current track or playlist. The built-in equalizer allows you to apply an extensive range of effects to your music, including ClearBass bass enhancement a number of headphone surround effects. Combine this with a decent set of in-ear earphones, and the results are great.
Social network connectivity is handled through TimeScape (which since 2011 has been contained within a single app), and "Facebook Inside Xperia", a suite of features which integrates social updates and profile pictures into the native dialer, contacts and messaging app. TimeScape arranges social updates, text messages and other data into a series of 3D lists (there's support for Facebook, Twitter and other services out of the box, with others available on Google Play). And while it looks good, overall functionality is limited compared to the dedicated Facebook, Twitter and messaging applications.
Sony's also bundled a few third-party apps on the Xperia U. The Astro file manager (free version only, unfortunately) is included, along with McAfee Security, NeoReader for QR code recognition, EA's games hub and Wisepilot navigation. Sure, not everyone will want to use these apps, but they do at least offer some functionality not already baked into Sony's ROM, and as such, we wouldn't classify them as bloatware.
The overall performance of the Xperia U was good, if not great. There was a familiar pattern of subtle UI stuttering, especially when using a live wallpaper. We've seen this before on the more powerful Xperia S, and it's something which can be attributed to fact that the Xperia U runs Gingerbread, as opposed to the more streamlined Ice Cream Sandwich. So the software isn't as slick as most ICS phones. But the subtle lag that's apparent if you're comparing it with a high-end smartphone isn't a terminal flaw.
But the Xperia U's greatest software weaknesses also stem from the fact that you're stuck on Gingerbread for the time being. You'll have to make do with the older Gmail experience, a more limited mobile browser, and you'll miss out on ICS-only apps like Google Chrome.
Finally, we should note a few stability issues in the Xperia U's firmware. Though for the most part the experience was fast and crash-free, we did come across some problems. Once or twice the phone refused to wake up from sleep mode, requiring us to pull the battery to coax it back to life And on one occasion the phone also randomly rebooted itself while it was idling with the screen off. As phone software becomes ever more complex, it's difficult to avoid shipping completely free of bugs. However as the couple we came across were fairly serious, they're worth underscoring here.
Sony Xperia U Camera
Sony -- and Sony Ericsson before it -- have historically impressed us with the quality of their phone cameras, even on comparatively low-end devices. And for the most part, the Xperia U's 5MP shooter lived up to this promise. In reasonably-lit environments, the phone focuses and captures shots almost instantly, and the resulting images are crisp, clear and noise-free. The Xperia U's sensor isn't backside illuminated like the Xperia S and others, though (no EXMOR R here), which means that image quality degrades considerably in darker conditions. Using the camera outside under streetlights, we noticed it consistently had trouble focusing, resulting in missed shots and out-of-focus images. That's not unsurprising for a budget handset, but it's something that should be mentioned nonetheless.
Sony's also included its 3D panoramic recording app, alongside the standard camera app, though you'll need a 3D TV to play back content recorded in this mode, as the phone possesses a mere 2D display.
The Xperia U's video performance is a little disappointing, regardless of lighting conditions. At 720p resolution, the phone managed to maintain a silky-smooth 29 frames per second at all times. However, over-compression issues resulted in considerable artifacting and loss of fine detail, even in footage recorded outside in bright sunlight. As you'll see in some of our sample footage, patches of clear blue sky bear the hallmark of over-compressed video -- blocky, squarish artifacts. And unsurprisingly, the phone didn't fare too well when recording video in low light. Despite a consistent frame rate of 29 fps, the camera struggled to focus, and the footage it produced was dull and noisy.
But you have to consider the phone's price, too. And despite issues with video and low-light performance, the Xperia U is, in the right conditions, a great low-cost cameraphone. Macro performance in particular was above-average, it's just a shame that things weren't a little more consistent across the board.
On the software side, there's a familiar platter of features -- options to control white balance, exposure, ISO, focus modes and the like. Unlike competing offerings from HTC, though, there are no real-time filters and effects to speak of -- if you're after that sort of thing, you'd best grab Instagram from the Google Play Store.
Image 1 of 18
Sony Xperia U Hackability
Sony continues to allow unbranded, SIM-free versions of its phones to be have their bootloaders unlocked via its official unlock tool, and the Xperia U is no exception to this rule. That means hackers can head on over to Sony's bootloader unlock site to get started, just as they can with other unlocked Xperia. As with any bootloader-unlockable device, rooting the Xperia U is a relatively simple and painless experience, though custom ROMs are few and far between at the moment.
So a rooted stock ROM is about your limit for the time being. And we'd suggest you keep watching the forums in the weeks and months ahead, as amateur devs get to grips with the Xperia U's unique hardware.
Wrap-up
The Xperia U is far from a flawless performance from Sony, but it is a very nicely balanced entry-level handset. Shop around and you can pick one up for around £170, which puts it alongside the likes of the HTC Desire C and One V -- both lower-spec'd devices. Around this price point, it's difficult to think of a phone that offers better value for money than the Xperia U. That makes it all the more disappointing that Sony's chosen to limit media storage to 4GB, with no prospect of expanding this via a microSD card. Samsung and HTC understand that this isn't enough, and at least offer a microSD slot as a possible workaround in their entry-level handsets -- Sony offers no such compromise on the Xperia U.
Nevertheless, a dual-core phone with 720p video recording for under £200 would've been unthinkable just a few months ago, and Sony deserves credit for making this happen. It's just a shame they couldn't squeeze Ice Cream Sandwich on there in time for launch.
Sign up for Black Friday email alerts!
Get the hottest deals available in your inbox plus news, reviews, opinion, analysis and more from the Android Central team.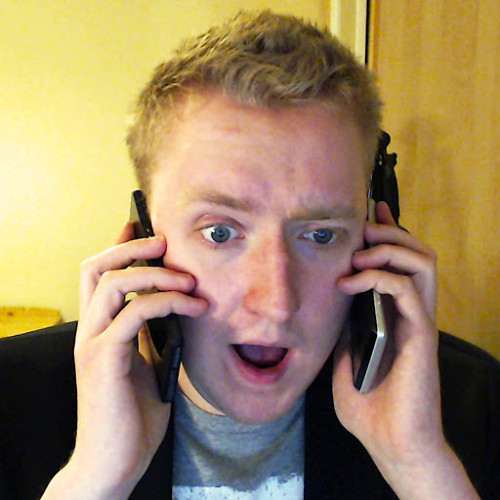 Alex was with Android Central for over a decade, producing written and video content for the site, and served as global Executive Editor from 2016 to 2022.