Sony Ericsson Xperia Arc review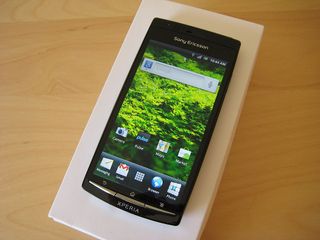 With its 2011 Xperia lineup, Sony Ericsson is looking to retain its position as one of the major players in the Android ecosystem. While last year's (depending on your locale) Xperia X8 and X10 sold well, they were criticized by some for shipping with an outdated version of Android, as well as a variety of software issues.
The Xperia Arc is Sony Ericsson's new flagship phone, representing the manufacturer's next step in its quest for Android dominance. It's a faster, sleeker, lighter device that's running the latest version of Android out of the box (well, give or take a minor point release). And some interesting multimedia inclusions from Sony give it strong entertainment credentials.
But has Sony Ericsson done enough to compete with recent offerings from the likes of Samsung and HTC? Read on to find out, as we take a closer look at the Xperia Arc.
Read our first impressions of the Sony Ericsson Xperia Arc
Hardware
The Xperia Arc is a pretty striking little device. Its front is dominated by a large 4.2-inch screen, beneath which sit three narrow physical buttons for back, home and menu. The chassis itself is mostly black plastic, which makes it a shiny, eye-catching phone, albeit one that's prone to picking up smudges and fingerprints. It feels a little plasticy in the hand, although the fact that it's constructed mostly of plastic means that it's extremely light, weighing in at just 116 grams (4.09 oz). It's also one of the thinnest smartphones available, which is accentuated by its stylized, curved back panel.
So when you're using the Arc, you'll often forget you're carrying a 4.2-inch smartphone. There's not the sense of lugging around an enormous slab of technology that you sometimes get with thicker, heavier devices like the HTC Desire HD.
The Arc's display is an 854x480 Super LCD panel that's fitted with Sony's Mobile Bravia Engine. If you've owned a Sony TV, you'll know about the big-screen equivalent of this technology -- it's designed to help out with tasks like contrast enhancement, image sharpening and noise reduction in videos. This isn't something that's apparent all the time, and even when it is noticeable, the Bravia Engine's effects are quite subtle.
This makes it a little difficult to demonstrate. Hopefully, though, you'll be able to make out the differences in contrast and clarity in the test image above, which shows the same streaming video running on the Arc and the Desire HD. In person, side-by-side with another device, the difference is far more striking.
The Arc has a variety of small, fairly low-profile buttons positioned around its chassis. The first thing you'll notice if you've used a few different Android phones is the lack of a dedicated "search" button, something the Arc has in common with its predecessor, the X10. Personally, I found this wasn't a huge problem, though I'm aware it'll probably be a deal-breaker for some. Yes, it is something that'll bug you from time to time, but in my experience, not quite as often as you'd expect. Other niggles included the size of the Arc's power button, which can be difficult to consistently find and press down on your first try.
We welcome the inclusion of a physical camera button on the Arc, though, since the 8-megapixel camera is a major selling point. And it's also nice to see that the camera lens doesn't protrude at all from the back of the device, as it does on many other phones.
The Arc's notification light is located on its right side, next to the micro-USB port, and many users will be happy to hear that it's set up to blink when notifications are pending, even if it's plugged in and charging. This is possible on many devices if you're willing to root, but it's nice to see it offered right out of the box on the Xperia Arc.
On the top of the phone lies its microHDMI port, which is protected by a plastic cover. Sony Ericsson has provided a HDMI cable in the box, allowing you to connect the phone to your HDTV. Like many of the Arc's multimedia features, we found that this just worked with the minimum of hassle. Once the phone is hooked up to a TV, it locks apps in landscape mode, and mirrors everything that appears on its screen, at 720p resolution.
Inside the Xperia Arc you'll find a 1GHz second-generation Snapdragon CPU and 512MB of RAM -- nothing mind-blowing, but certainly fast enough. However, the fact that the dual-core Samsung Galaxy S II is now matching the Arc's £400 price point may force Sony to reconsider the its pricing in the future. Further into 2011, this amount of money is going to look increasingly steep for a single-core phone with 512MB of RAM, regardless of features.
You're limited to 512MB of internal storage too, which is a little disappointing, and our only major beef with the Arc's hardware. Many similarly specced phones are shipping with 1GB or more of internal flash memory, so the Arc looks a little anaemic by comparison. However, a generous 380MB is set aside for apps, and there's always the option to transfer larger stuff to the SD card if storage space becomes an issue.
Software
The Xperia Arc ships with Android 2.3.2 -- not quite the latest version of Android, but still Gingerbread. Sony Ericsson has promised timely OS updates for its 2011 Xperia phones, so we can expect a boost to version 2.3.4 and beyond in the future.
Running on top of Android is Sony Ericsson's custom UI, which is looking a lot faster and more streamlined since we last saw it on the X10. In particular, the phone's launcher is completely lag-free, even with its five homescreens packed full of widgets. And when it comes to widgets, you'll have the usual Android stuff to choose from, alongside some custom widgets from Sony Ericsson. These include TimeScape for viewing text messages, missed calls and social network updates, a scrolling 3D gallery widget, and various on/off controls for things like Wifi and cellular data.
On the whole, the look and feel of the UI matches the aesthetics of the Arc's physical design. Most of it is either black or "midnight" blue, and there are some nice smooth transition animations present throughout the software.
Many of the Arc's apps are simply stock Android offerings, re-skinned to match the rest of the UI. The browser, calendar, clock and messaging app aren't all that different from stock, aside from a few visual changes. This isn't a bad thing though, as these stock apps offer great functionality to begin with. The X10's MediaScape app has thankfully been culled, replaced with the standard Android gallery app, and a slightly-tweaked Music app from Sony Ericsson.
Even the Arc's on-screen keyboard is pretty similar to the stock Gingerbread keyboard, although the keys are slightly larger, and the option to hold down on the top row of keys to type numbers is no longer present.
It's not all reskinned stock Android, though. There are some bundled Sony Ericsson apps which add new functionality, and one of these is the DLNA-powered Media Server app, which, like the Arc's HDMI connectivity, "just works." Turn the Media Server on, give your DLNA-supporting TV, console or PC permission to stream from it and you're good to go. Any photos, videos or music that the device can play natively will stream without a hitch.
Similarly, Sony has included its PlayNow store on the Arc, introducing an alternative to the Android Market for app and game downloads, while allowing music downloads directly to the device. Purchases made through PlayNow use carrier billing, meaning they'll appear on your next phone bill, so you don't need to bust out the credit card to make purchases when you're out and about.
You'll also find OfficeSuite and TrackID on the Arc, providing document viewing and music lookup functionality. This isn't anything out of the ordinary -- most Android smartphones include similar apps as standard. Nevertheless, we found that both programs worked well.
Sony Ericsson has taken a bit of a departure from the Android norm with the way media syncing and USB connections work on the Xperia Arc. Like other SE handsets, the Arc uses the Sony Ericsson PC Companion software, and while this isn't required, it does offer users an nonthreatening, friendly way to sync contacts, transfer media from the phone, and apply firmware updates. The companion software is also installed directly from a special partition on the phone's flash storage, so there's no need to fumble around with optical media.
Another useful feature added by Sony Ericsson is the option to connect the Arc as a USB portable media player, which allows photos, videos and music to be transferred to and from the phone while still using apps and other content stored on the SD card. This is a great ability, and something we hope other manufacturers will take note of.
Finally, we had no issues using the actual phone functionality offered by the Arc. The native messaging and dialer apps are very similar to stock, as we mentioned, and call quality was consistently clear thanks to the noise-cancelling microphone on the back of the device.
Hackability
Sony Ericsson is courting the Android developer community by allowing SIM-free Xperia Arcs not purchased through a carrier to have their bootloaders unlocked. If you're technically-minded, the process is relatively straightforward, and certainly simpler than channeling whatever black magic might eventually be involved in cracking the bootloader of a SIM-locked Arc. So if you're interested in fooling around with rooting or custom firmware, you should probably make sure you buy a SIM-free model that's not locked to any particular network. With the ability to unlock the bootloader so easily, it's likely that more and more custom ROMs for the Xperia Arc will start to appear in the months ahead, as additional stock becomes available and more units make their way out to consumers.
So, if you're buying the Arc at retail, you can unlock it. If you get it from a network at a subsidized price, things are a little murkier. Still, Sony Ericsson deserves credit for allowing power users, who are prepared to pay the full retail price for an expensive piece of hardware, to be able to take full advantage of it and run whatever software they please. This is definitely something we want to see more of from manufacturers like HTC, which is actively locking down all its new hardware with signed bootloaders.
Battery Life
We found battery life on the Xperia Arc to be on par with other, similar devices, with normal usage patterns. That means you shouldn't have any trouble getting a day's use out of a single battery charge as long as you're not doing anything too crazy.
As ever, some exceptions apply. As you might expect, the camera can be a major battery sink. The only time the Arc's battery life became a concern was after using it to take over 100 8-megapixel photos and around 45 minutes of HD video at the recent HTC Roadshow. Even then, the device soldiered on at 35-40% charge until the end of the day.
It's also worth mentioning that the Xperia Arc handles screen brightness a little differently to other Android phones. Instead of choosing between automatic brightness and a single pre-set brightness level, the brightness slider is used to set a "base" level, which the phone then adjusts based on ambient light levels. Basically, there's no option for automatic brightness because it's enabled at all times. We found this was a great way to have the screen slightly brighter than normal indoors, while still allowing it to crank all the way up to full brightness outside.
Camera
The Xperia Arc boasts one of the best cameras on any smartphone. Both still shots and video recordings look great, and the camera app offers features of use to newbies and more experienced users alike. Image stabilization is a particularly welcome addition, eliminating that shaky-cam effect from videos recorded on the phone, and also helping to prevent wasted, blurred still shots.
The Arc takes stills at up to 8 megapixels in 4:3 orientation, or 6 megapixels in 16:9 orientation. It'll record video at up to 720p too, and at that resolution you'll get a flawless 30 frames per second, even in low light thanks to Sony's Exmor R camera technology. As we mentioned, there's a dedicated physical camera button on the side of the phone. There's also the option to take pictures by tapping the screen, though this can be turned off to prevent accidental snapping.
After playing around with the Arc's camera, we were confident enough in its abilities that we used it to capture all of our photo and video content at the HTC Roadshow. We also took a selection of test shots and videos, which you can find below.
Wrapping things up ...
With the Xperia Arc, Sony Ericsson has itself a strong contender, and a phone that we'd have no trouble recommending to anyone in the market for a mid-to-high-end Android device. It combines a great physical design with a sleek software experience, good entertainment features and one of the best smartphone cameras available. And it's open to developers, so it's likely to have a long life ahead of it, even without Sony Ericsson's promised OS updates.
App storage space is a little on the small side, but a reasonably-sized SD card should alleviate any storage issues -- our review unit shipped with an 8GB card.
The biggest barrier to buying an Xperia Arc is probably the price, which remains around £400 SIM-free in the UK, and €500 in the eurozone. With dual-core devices launching at or around this price point, we're hoping Sony Ericsson will adjust the Arc's price in the future in order to tempt consumers away from the dual-core competition.
In terms of the actual product, though, Sony Ericsson has done an excellent job with the Xperia Arc. The hardware and software are both spot-on, even if the price is a little steep for our liking. Regardless, this is a device that's definitely worth your consideration.
Get the Android Central Newsletter
Instant access to breaking news, the hottest reviews, great deals and helpful tips.
Alex was with Android Central for over a decade, producing written and video content for the site, and served as global Executive Editor from 2016 to 2022.
Not bad, I welcome Sony to the game. However, that is an incredibly unattractive looking phone. It is a harsh bulky rectangle, that needs work.

However, I think that it is an incredibly unattractive looking phone. fixed Stop stating opinions as fact. I happen to think (see what I did there?) that it's a great looking phone that brings some differentiation among the stale designs we keep seeing from all the other companies.

It is implied that his entire post is his opinion and not necessarily fact. My senior year English teacher would take points off if people used phrases like "I think" or "I believe" in their speeches or papers.

Oh lighten up. Anyone with two eyes knows it's my opinion. It is an ugly phone, lookwise. Deal with it

While I also hate the look of the phone (not a fan of sharp corners and the awkward looking back), it isn't factually ugly, there is no empirical standard for measuring ugliness, and to say it is anything other than your opinion is just being stubborn.

Mark me down as one who personally does not find this phone aesthetically pleasing in the least. I do think internally it seems a pretty decent phone, just not for me.

Sorry 063_xobx, Spin it however you want. It is ugly. Sharp corners may be different, but, they aren't new.. it looks dated,bulky and uncomfortable in the pocket. Specwise it looks nice and I look forward to Sonys line of phones. They just have to get away from this design.

Retain their position as a major player? These specs don't look to far off my evo I got last year. I think they need to come a little stronger. I mean, we aren't in the 2000's anymore!

Well... we are still in the 2000's. We're out of the 00's though :)

That PICTURE and VIDEO quality is amazing!! I also like the design of the Arc, but that's just me.

How come only Sony's recent phones are launching with Gingerbread and everyone else is launching phones with Froyo?

I've seen a few comments about how ugly it is. I care about its performance. WHO CARES what it looks like? It's a phone, not a woman in a bikini.

As they say "Beauty is in the eye of the beholder" and I think the Xperia Arc is one of the sleekest Android phones out there. Wish I knew if AT&T was carrying this.

In fact; my SE Arc lame than my Motorola Droid X. Quadrant Standard Benchmark Resul; Motorola Droid X more higher than SE Arc. Suck battery very fast.

Sony finally catches up in the software department... Only to fall behind in the hardware department. I like the design overall, even if I'm not a fan of the aesthetics (they could grow on me); and I'm rooting for SE, as we really do need one or two more major players on the Android market... I don't see why anyone would pay $200 or $500 for outdated internals. /shrug

Quadrant Standard Benchmark Result; Motorola Droid X (OS Android 2.3.3 / GingerBread) score 1551 and SonyEricsson Arc (OS Android 2.3.2 / GingerBread) score 1333. This link as fact => http://i56.tinypic.com/mrfivl.jpg Note: Both phone is not Root yet and not Overclock yet. Dont buy SonyEricsson Arc because very awful.

Quadrant scores are useless. Please do some homework before posting inaccurate remarks. P.S. google quadrant scores and gingerbread.

Wow this one looks superb!! I like this one very much..I like SonyEricsson phone for their unique music features.
PHP Development Company

You had better like it just the way it is. It is a Sony. It will never be updated. No Ice Cream for you.

Your lack of reading comprehension and knowledge on the topic is appalling. The article itself has already stated that Sony has announced they will keep up with updates and they have previously mentioned that they were unaware of the importance of updates when they first started making phones, but realized this and plan to keep updates in a timely manner. Even this phone is shipping with one of the newest version of Android. If you look at other phones being announced, more often than not they are not shipping with Gingerbread like this phone. Even some of SE's old phones are getting updates: http://www.androidcentral.com/sony-ericsson-xperia-x10-will-get-gingerbr.... Next time do a little reading before making up facts.

If this had a dual-core I reckon it'd become a must-buy for a lot of people. The rest of the hardware is great, with one of the best cameras on a phone, good looks, nice screen and little additions like HDMI-out that altogether make a really good phone.

Trolls are NOT welcome here!

I've been an Xperia Arc owner for the last four weeks and I can tell you it's a great little device! A (highly subjective) list of my user experience for you guys who are interested in this phone: The good:
+ Truly great screen! Awesome even outdoors in the sun.
+ Best camera I've seen on an Android phone yet.
+ Very smooth UI.
+ Android 2.3 out of the box.
+ Root/Developer friendly!
+ Great looks that takes a step from the normal android look!
+ Form factor of a higher but less wide screen makes it very easy to use with a single hand.
+ So thin and light! I'm surprised every time I pick up my girlfriends Desire HD.
+ The arc shape on the back actually makes it very comfortable in the hands when using it in landscape mode. The bad:
- 512 MB RAM is a bit on the low side, but I move my large apps to the bundled 16 GB SD Card, so that is a minor issue.
- Back cover could be of better quality. Will have an eye out on eBay for third party replacements.
- Suffers the common Android 2.3 WiFi bug that occasionally chews battery power when phone is idle. Should be fixed by next android release.
- Placement of the loudspeaker could be better. I often get my fingers in the way when in landscape mode. More an annoyance than a problem. The other:
~ I'm not a hardcore gamer, nor editing video on my phone. Thus single core CPU is fully enough.
~ Camera button was way too rigid in the beginning. It's getting better after use.
~ I checked out both the Silver and Midnight Blue versions before deciding on the Silver one. Turns out my evaluation was correct. The Blue is prone to smudges, the Silver has no visible finger marks what so ever.
~ There is a lot of speculations regarding the placement of the USB and headphone jacks. I don't find any of them a problem.
~ The noise cancelling with the second microphone generally works very well, though there seems to be some weirdness going on when I hold the phone with my shoulder against my cheek that cancels out my voice. Should be a software issue, thus fixable. My priorities for deciding on the Xperia Arc were approx as:
1. Android device, preferably rootable.
2. Camera quality.
3. Hardware specs vs Looks. (I don't really appreciate the regular HTC nor Samsung/iPhone looks, so the Arc was a great discovery.)
4. Portability. (Didn't actually expect to get a 4+ inch phone.)
5. Everything else, like game performance etc. In sum:
Very happy with my choice. There are some issues, but then again, there will always be. Every phone has their strong and their weak sides. This one fits me very well.

Another thing that I would've really loved for phone is the addition of a front-facing camera..

Have some trolls dropped Engadget and come here? Phone looks great, too bad it has competition that have dual core processors and 1gb ram...time to catch up Sony Ericsson, the smartphone industry moves very fast and in Q4 there will be phones with quad core processors. Even though this phone has a great camera, compared to the Samsung Galaxy S II, it is second best: goo.gl/PkeLA I'd like to see a camera shootout between the Arc, Galaxy S II and Nokia N8.

Is anyone else starting to think the next Nexus should be Sony Ericsson commissioned? Nexus Xperia, maybe?

Nexperia? I have a soft spot for SE. My first mobile was one. So when I saw the Arc at a store, I tried it out. It was quite smooth. Even when I pinched the home screen to reveal the widgets screen. And a nice launcher as well. I quite like it. Better than Sense and TW, I think. A question for the reviewer: I know this is just an initial review, but how many apps did you load on it? Was there any lag when lots of apps were open and running?