Dailymotion Video Stream app announced for Android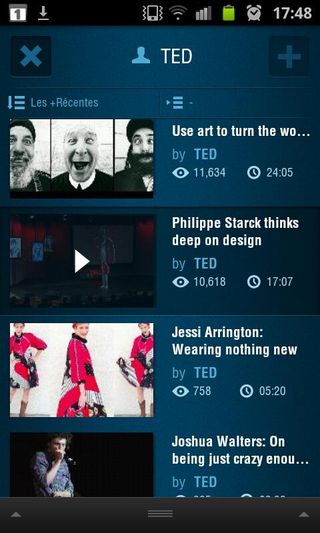 There is a lot of streaming video services out there these days aside from Youtube. One of the more popular ones is Dailymotion. While Dailymotion has had a web launcher app available for quite some time now, they've gone ahead and scrapped all previous versions and released Dailymotion Video Stream -- essentially, a full fledged Android app offering all of what you would expect.
A new UI is now in place, users can share videos with ease and make use of the new customizable dashboard. Plus, add channels, playlists and user search making it easier to find the content you really want.
Dailymotion Video Stream is available now in the Android Market, you'll find the download link and the full press release beyond the break. Give it go and feel free to leave some comments -- I've used the app in the past but always found it rather buggy and hopefully v2.0 will fix that.
DAILYMOTION RELEASES ENHANCED MOBILE APP FOR IOS AND ANDROID, SETS NEXT STANDARD IN MOBILE VIDEO STREAMING
Leading Global Video Sharing Platform Launches Robust App Introducing New Capabilities in Mobile Viewing, Browsing and Customization
November 9, 2011 – New York, NY – Dailymotion, the world's largest independent video streaming platform generating more than 114 million monthly unique visitors worldwide, today announced the release of its first consumer mobile app for iOS and Android operating systems. The mobile app is a breakthrough in the video streaming platform offering original solutions in the areas of customization, search function and video player.
Free to download, the app will allow users access to 17 themed categories featuring more than 20 million high-quality Dailymotion videos, including original and exclusive content, and will be available in 15 different languages. Innovations in the mobile app include:
Customized Dashboard: With a few swipes, users enter "edition mode," which allows them to compile playlists of favorite videos into groups and customizable home screens that give direct access to top channels, topics, content providers and single videos.
Universal Search: Users can search across users, groups, playlists and videos, which provide more accurate search results.
Immersive Player: With vertical and landscape viewing modes which enhance browsing across related videos, and the ability to skip through videos while ensuring continuous play. Users can also share favorite videos with friends on Facebook, Twitter and email. Tabs on each video provide access to video information, comments and related content that can be viewed while a video is still in play.
"With millions of unique visitors accessing Dailymotion's video on mobile devices, we wanted to create an app that enabled users quick access to our massive video library with an intuitive personalization interface that makes this app their very own," said Roland Hamilton, managing director of Dailymotion. "I'm confident we accomplished this here."
Synced with the Dailymotion website and user subscriptions, the application reflects site usage and preferences across platforms. The mobile app is available for download on iOS and Android. For additional information about Dailymotion, visit Dailymotion.com or connect on Facebook and Twitter.
About Dailymotion
As one of the leading sites for sharing videos, Dailymotion attracts over 114 million unique monthly visitors (source: ComScore, May 2011) and 1.2 billion videos views worldwide, offering the best content from users, independent content creators and premium partners. Using the most advanced technology for both users and content creators, Dailymotion provides high-quality and HD video in a fast, easy-to-use online service that also automatically filters infringing material as notified by content owners.
Offering 32 localized versions, Dailymotion's mission is to provide the best possible entertainment experience for users and the best marketing opportunities for advertisers, while respecting content protection. For more information, visit https://www.dailymotion.com/.
Get the Android Central Newsletter
Instant access to breaking news, the hottest reviews, great deals and helpful tips.