Cricket's Muve Music service will be bundled with all Android plans starting September 2nd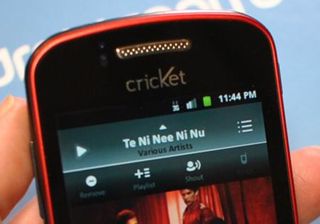 Back in January, Cricket announced that its music service, Muve Music, surpassed 500,000 users. That number is about to increase as the wireless provider announced that the service will now come bundled with all of its Android plans.
The new package takes effect September 2nd, so any Android plan purchased from Cricket after that will come with Muze Music. It's a pretty good deal, especially considering the fact that the cheapest plans start at $50/month.
If you're a Cricket customer and have been considering Muve Music but haven't yet pulled the trigger, a good time to try it out is after Sept. 2. Full press release after the break.
Muve Music® Included in All Cricket Android™ Rate Plans
~ Music Fully Integrated at No Extra Cost to Consumer ~
~ Global Industry First ~
SAN DIEGO – August 29, 2012 – Cricket Communications, Inc., a leading provider of innovative and value-driven wireless services, today announced the expansion of its award-winning Muve Music service. Beginning on September 2, Muve Music will be included in all Cricket Android rate plans making the music service more broadly available and affordable for its Android smartphone customers. Cricket's new Android rate plans include unlimited nationwide talk, text, data and music for as low as $50 per month. Including music in all rate plans is one component of the Company's enhanced rate plans announced today.
Muve Music, the first unlimited music service to be included as part of a wireless service plan, has quickly become one of the fastest growing digital music services in the US. With other carriers, customers who want unlimited song downloads, ringtones and ringback tones have to pay separately for these services.
"With Cricket, anyone who purchases a Cricket Android smartphone will get the Muve Music service included at no additional cost. Including unlimited music in all of Cricket's Android rate plans is a global industry first," said Jeff Toig, senior vice president, Muve Music. "Through this innovative new model we will deliver a world class music experience to the mass market, on their phones, optimized for wireless network delivery and included in the wireless plan they pay for every month. We are breaking new ground in the wireless industry and digital music space."
Breakthrough New Wireless Model: Integrating Unlimited Music
By including unlimited music in its core Android offering, Cricket is delivering a differentiated and innovative wireless product in the marketplace. Now with Cricket, music will be as universal as the voice mail and text features customers have come to expect when they buy their wireless plans.
In order to deliver a leading customer experience, Cricket combines affordable Android wireless plans with a leading digital music service that customers use heavily and highly value. Over the last 18 months, a majority of Cricket's customers purchasing new handsets selected smartphones or Muve Music enabled devices. Over time, a growing segment of Cricket's customer base is expected to have the Muve Music service included in their plan.
How to get Muve Music
Muve Music is available on the Huawei Mercury, HTC One V, Huawei Ascend Q, Huawei Ascend II, Samsung Vitality and the ZTE Chorus at Cricket company-owned stores, online at www.mycricket.com and through select partner retail outlets. Additional accessories are available for purchase including premium headphones, an audio jack and Bluetooth adapter to connect to home and car stereos, either wired or wirelessly.
With the ever-growing Muve Music song catalog, customers can choose from millions of songs featuring the hottest artists from thousands of record labels, which are distributed through Universal Music Group, Warner Music Group, Sony Music Entertainment, EMI Music and global rights agency Merlin, as well as independents CD Baby, IODA, INgrooves, The Orchard and TuneCore.
About Cricket
Cricket is the pioneer and leader in delivering innovative value-rich prepaid wireless services with no long-term contracts serving approximately 6 million customers. Cricket offers nationwide wireless voice and mobile data services over high-quality, all-digital wireless networks. Cricket's innovative products and services including the award-winning Muve Music® - the first music service designed for a wireless phone, are available nationwide at Cricket branded retail stores, dealers, national retailers and at www.mycricket.com. For more information about Cricket, please visit www.mycricket.com.
Android is a trademark of Google, Inc.
Android Central Newsletter
Get instant access to breaking news, the hottest reviews, great deals and helpful tips
Such a crap low budget carrier, bringing down the industry with its lack of innovation. Go away. . . . They still offer flip phones. The ceo needs to be shot. . .if they even have one. VZW FTW. (Tho they have their issues also, esp with Android).

I have had less trouble with this low budget carrier then i ever did with t mobile or sprint, i have never had a dropped call or lost a connection with Cricket which is more then i can say for the high end carriers. I glad they are going to bundle there mauve music in there rate plans another great idea from a budget carrier. From;
a very happy Cricket customer
Android Central Newsletter
Get instant access to breaking news, the hottest reviews, great deals and helpful tips
Thank you for signing up to Android Central. You will receive a verification email shortly.
There was a problem. Please refresh the page and try again.