Crayta goes free-to-play for everyone on Stadia, rivaling Roblox with simple world creation tools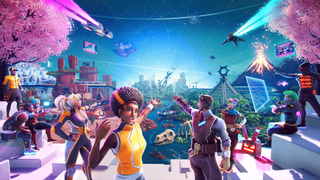 (Image credit: Google)
What you need to know
Crayta is now free-to-play for everyone on Stadia, even without a Pro subscription.
Pro subscribers will continue to receive Premium Edition benefits.
When Crayta launches on PC on March 10th it will also include cross-play and cross-progression with Stadia.
Crayta is also getting a Battle Pass system on March 10th with 'Creator Challenges' for XP.
Today, Google is announcing that Crayta is now 100% free-to-play for everyone on Stadia across any device. Previously, Crayta was a buy-to-play title, although it's remained one of several free Stadia Pro games included with the optional subscription ever since it launched nearly a year ago. Crayta is also one of the best Stadia games in my opinion.
The new Starter Edition (free) includes the entire base game with all playing and creating tools and a set of starter cosmetics; the Premium Edition ($40) includes everything in the Starter Edition, plus a 'Premium Pack' of cosmetics, four extra theme packs, and 500 in-game credits; and finally the Deluxe Edition ($60) contains everything in the Premium Edition, plus one more theme pack and 1,000 additional in-game credits.
This is good news for fans of Google's cloud gaming service after the troubling news of Stadia Games & Entertainment's closure. Although Crayta doesn't have the same level of popularity or mainstream recognition of games like Roblox or Minecarft, it does has the building blocks in place (pun intended) to be a hit. Just like Roblox, Crayta is built on the Lua programming language and has a tremendous amount of flexibility, especially when you consider the cloud-based nature of a title like this.
"Making a single version of Crayta that then runs on multiple devices has also been very liberating for us," says Chris Swan, Publishing Director at Unit 2 Games. "We would normally have had to add many more engineers to our company in order to support living room TV, PC, and mobile versions of our game…Being able to create and collaborate so seamlessly and easily has really helped people to get stuck in."
In many ways, Crayta is essentially two products in one. You've got the "player" version of Crayta, which is essentially a hub world that acts as a connective tissue between various custom worlds and mini games. Then you've got the "creator" version of Crayta in which someone can build a game using their gamepad or phone or dive into the backend of the coding on a PC browser.
Crayta was also the first demonstration of State Share Beta for Stadia, a feature that officially rolled out with the Hitman trilogy last month. In Crayta, this feature lets you share a URL with someone and have them immediately jump into a game you have built.
In fact, if you want to try it out for yourself, click on one of these links Google provided to test it out. Each of them will take you directly into a custom user-made game to see what is possible with Crayta. These are all user-made options selected by Google:
Furthermore, Crayta will expand its feature set with YouTube as well via Crowd Play Beta. This will let viewers instantly queue and join their favorite streamers immediately while they're live.
The Battle Pass that's getting introduced on March 10th will task players (and builders) with completing 'Creator Challenges' for XP to progress along the Battle Pass track itself. It's unclear what types of rewards will be available on the Battle Pass track or how much it will cost, but I'd expect something in-line with industry standards.
While Crayta going free-to-play should be a big plus for Stadia, it's hard not to look at the news with a cloudy outlook. Is Stadia in danger of getting shut down within the next year or two? It's honestly hard to say.
"Without a doubt, we believe that cloud-gaming is the future for videogames," says Swan. "Just like how other media like music and video have moved almost entirely to the cloud, it make so much sense for games to follow suit."
Get the Android Central Newsletter
Instant access to breaking news, the hottest reviews, great deals and helpful tips.