Here's every game available for free on Stadia Pro right now
Yes, you read that correctly: Freebies!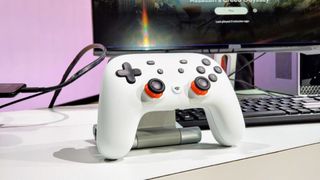 (Image credit: Android Central)
When Google launched Stadia, its aim was to give players access to some of their favorite games without owning a console or gaming PC. While you can use Stadia as a free service, Google offers a Stadia Pro membership for $9.99 per month, which gives subscribers access to special discounts, upgraded 4K streaming options, and one or more free games to claim per month. Once you claim a game in Pro, it's yours to keep as long as you're subscribed, similar to how other online subscriptions like PlayStation Plus work.
As long as your Stadia Pro subscription remains active, you can play any free Pro games you claim. But you can only claim specific games for a limited time, so make sure you're checking back every month as we update the list of games available. If you cancel or suspend your Pro subscription and then decide to resubscribe in the future, all previously claimed games will return to your library. Also, some of the best Stadia games are offered on Pro, so make sure you claim each game every month.
Here is the complete list of all currently available Stadia Pro games. This list does not include games available for free to everyone, such as Destiny 2's base game content and Super Bomberman R Online — consider those extra bonuses.
Full Google Stadia Pro game list for June 2022 (new games in bold)
Adam Wolfe
Arcade Paradise
ARK: Survival Evolved
AVICII Invector
Ben 10: Power Trip
Bloodstained: Ritual of the Night
Blue Fire
Cake Bash
Calico
Centipede: Recharged
Chicken Police - Paint it RED!
City Legends: The Curse of the Crimson Shadow
Control Ultimate Edition
Cosmic Star Heroine
Crayta: Premium Edition
Darksiders II: Deathinitive Edition
Darksiders III
Darksides Genesis
The Darkside Detective
The Darkside Detective: A Fumble in the Dark
Darkwood
Dawn of the Monsters
Deathrun TV
Deliver Us The Moon
Destroy All Humans
DIRT 5
Drawful 2
DreamWorks Dragons: Dawn of the New Riders
DreamWorks Spirit Lucky's Big Adventure
Elemental War II
Epistory - Typing Chronicles
F1 2020
The Falconeer: Warrior Edition
Fast and Furious: Spy Racers Rise of SH1FT3R
FIve Nights at Freddy's: Security Breach
Floor Kids
Foreclosed
Giganotosaurus: The Game
Golf with Your Friends
GRIME
Hello Engineer — Early Access
Hitman: The Complete First Season
Hundred Days - Winemaking Simulator
Ice Age: Scrats Nutty Adventure
It Came From Space & Ate Our Brain
Journey to the Savage Planet: Employee of the Month Edition
Kemono Heroes
Killer Queen Black
Lake
Legend of Keepers: Career of a Dungeon Master
Life is Strange Remastered Collection
Little Big Workshop
The Legend of Heroes: Trails of Cold Steel III
Little Nightmares II
Looking for Aliens
Lumote: The Mastermote Chronicles
Merek's Market
Monster Jam Steel Titans 2
Moonlighter
MotoGP20
Murder by Numbers
Nanotale - Typing Chronicles
One Hand Clapping
Orcs Must Die! 3
Overcooked: All You Can Eat
PAW Patrol the Movie: Adventure City Calls
Phogs!
PixelJunk Raiders
PlayerUnknown's Battlegrounds - Breakthrough Edition
Race with Ryan Road Trip Deluxe Edition
République
Roguebook
Saints Row IV
Saints Row: The Third - Remastered
Shante Half Genie Hero Ultimate Edition
Shantae: Risky's Revenge - Director's Cut
Slaycation Paradise
SteamWorld Dig 2
SteamWorld Quest: Hand of Gilgamech
Tangle Tower
Terraria
The Addams Family: Mansion Mayhem
Those Who Remain
Through the Darkest of Times
TOHU
Transformers: Battlegrounds
Trine 4
Wave Break
Welcome to Elk
World War Z: Aftermath
Worms W.M.D.
Wreckfest
Ys VIII: Lacrimosa of DANA
Ys IX: Monstrum Nox
New games will join the list of free titles every month while others may leave. It's important to claim the games you'd like before they leave, so make sure to head over to your Stadia account and do so every month. You can quickly claim Pro titles on the mobile app for convenience.
What are the other benefits of Stadia Pro?
While Stadia is available as a free service to players, Stadia Pro comes with enhanced features that you can only get by subscribing to the service. This includes the ability to play some of the best games at above 1080p resolution. The free version of Stadia is capped up to 1080p and 60FPS. Still, active Stadia Pro subscriptions will play games in up to 4K resolution, have HDR support, and receive 5.1 surround sound support on any TVs connected to the correct sound system.
Along with the boost in graphics and sound quality, Stadia Pro users also get exclusive discounts on select games available for purchase in the Stadia store. The discounts themselves aren't incredibly steep, but it is a nice bonus on top of the free games and 4K support. Plus, any games you buy that are discounted remain in your library even if you let your Pro subscription lapse or decide to cancel, unlike the free Pro games. You can head over to Stadia's site to learn more about signing up for Stadia Pro if you're interested. There is a one-month free trial to check out any of the games in the list above at no cost.
Additionally, Stadia often has promotional "free play" periods for non-Stadia Pro games. They usually have one or two of those per month, but they're not guaranteed.
Are Stadia Pro games free forever?
The great thing about Stadia Pro is that there's no time limit or cap on how long the games you claim remain free. As long as you keep your Stadia Pro subscription active, the games are available and playable once you've claimed them to your account. However, it's important to keep in mind that if you decide to turn off your Stadia Pro subscription, you will no longer have access to the games until you subscribe again.
A firm grip on what's needed
The Stadia Controller is all you need to use Stadia if you already have the Chromecast Ultra. You can also use it with your other devices. Get the Wasabi-colored one if you can; it's gorgeous.
Get the Android Central Newsletter
Instant access to breaking news, the hottest reviews, great deals and helpful tips.
Anthony Nash has been writing about games and the gaming industry for nearly a decade. When he's not writing about games, he's usually playing them. You can find him on Twitter talking about games or sports at @_anthonynash.