Stadia Games and Entertainment shutting down, changing focus to partnering with third-party teams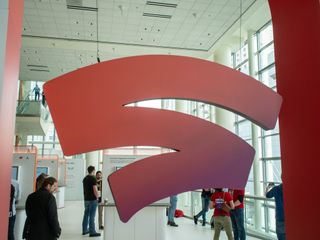 (Image credit: Android Central)
Updated Feb. 2 6:10 p.m. ET: Jade Raymond released a statement about her departure.
What you need to know
Stadia Games and Entertainment is Google's first-party wing of development teams for Stadia.
Stadia Games and Entertainment is being shut down, with head Jade Raymond leaving the company.
The focus is now on Google partnering with third-party developers for Stadia content.
Stadia Games and Entertainment is Google's first-party development studios for Stadia. Led by Ubisoft veteran Jade Raymond, the organization consisted of two internally built studios, one of which is led by Shannon Studstill, formerly head of Sony Santa Monica studio. Google also acquired Typhoon Games, creators of Journey to the Savage Planet, for further first-party growth. Now it's all shutting down.
Google announced today that Stadia Games and Entertainment is being shuttered, with head Jade Raymond exiting the company. According to a report from Kotaku, around 150 developers will be losing their jobs as a result of this closure.
Google cites the time needed and expensive nature of new games as the reason for the closure, since "cost is going up exponentially" Google will instead be working to partner with third-party companies. Google will be keeping Stadia's infrastructure intact and believes this is the correct way to turn Stadia into a "long-term, sustainable business that helps grow the industry."
All Stadia games will remain playable and Google states that more titles are coming from third-party partners in the future. So if you're currently enjoying playing the best Stadia games across the internet, this isn't going to change.
Most recently, Ghost Recon: Breakpoint and WWE 2K Battlegrounds were added as free games for Stadia Pro subscribers. Meanwhile, in a truly interesting bit of timing, Journey to the Savage Planet from Typhoon Games was added to the service today.
Jade Raymond releases statement on Stadia departure
In a statement to Kotaku, Raymond said the following:
Raymond hasn't commented on where she'll be going next.
Samuel Tolbert is a freelance writer covering gaming news, previews, reviews, interviews and different aspects of the gaming industry, specifically focusing on PlayStation on Android Central. You can find him on Twitter @SamuelTolbert
Well that didn't last long. Stadia is already on track to hit the google graveyard as it won't attract good game makers. Google problem in it's quest for market share is it led to fragmentation of phone makers, fragmentation in the quality of app makers, and just an overall confusing and depreciating way everything is made or designed for Android in the first place. They need to basically demand quality from themselves before they can seek it from their partners.

Oh Google! even though this isn't the end of Stadia (it pretty much is) I don't expect it to last much longer typical Google!!

And in another year they will shut it down entirely. One reason why I never got on board with it, Google loves cancelling things way too much.

Yet another reason NEVER to fully rely on anything by Google.

"Google cites the time needed and expensive nature of new games as the reason for the closure..." I love this reason by Google, LOL, they obviously had no freaking clue what they were doing. Seems like they were thinking games should go from concept to published within a year? They should have done some more research just look at CyberPunk and Final Fantasy XV which was introduced in 2006 along the PS3 as Final Fantasy Versus XIII and didn't release until 2016. Google is moronic.

Reason I never got a Stadia is because I knew Google would eventually shelve it like everything else they done. stadia ain't dead yet but the bullet that will kill it is being loaded.

good idea let down bad playing experience it nearly impossible to control the car in a multiplayer game due to the screen freezing and then jumping doesn't even come close to console gaming , shame really

There is a plot available right next to Quibi.
Android Central Newsletter
Get the best of Android Central in in your inbox, every day!
Thank you for signing up to Android Central. You will receive a verification email shortly.
There was a problem. Please refresh the page and try again.