Acer already makes some of the best Chromebooks on the market, but the Chromebook Vero 514 offers a completely different take. This unique design provides a great option for those who want a powerful machine that stands out from the pack. Just be prepared to deal with a display that isn't ideal if you want to work outside.
Pros
+

Unique design stands out from the crowd

+

More than enough performance

+

Long-lasting battery life

+

The keyboard is comfortable to type on

+

Plenty of ports
Cons
-

It's time to move away from these kinds of displays

-

Bottom-firing speakers aren't great

-

Casing material might feel rough to the touch
Why you can trust Android Central Our expert reviewers spend hours testing and comparing products and services so you can choose the best for you. Find out more about how we test.
When you look around at many of the best Chromebooks, they all just kind of look the same. It's the same problem that we're seeing in the smartphone space, as the Galaxy S23 Ultra is almost identical to its predecessor. That's not necessarily a bad thing, but it's nice when a company tries to buck whatever the current trend is, and that's what Acer is doing with the Chromebook Vero 514.
I was lucky enough to spend some time with a pre-production model a few months ago and came away mostly impressed. This time around, I've been using the same version that's available for purchase. But have my thoughts changed? And how does this environmentally-conscious Chromebook stack up to the competition?
Acer Chromebook Vero 514: Price and availability
Acer announced the Chromebook Vero 514 in September 2022 before making it available a couple of months later. The configuration used in this review features the Intel Core i5-1235U with 8GB of RAM and 256GB of storage. This model is the same version that is available at Best Buy with a retail price of $599.
The Chromebook Vero 514 is available in a total of four different configurations, with prices ranging from $499 to $949. The higher-end model is powered by the Intel Core i7-1255U with 16GB of RAM and 256GB of storage. However, that model is only available through select retailers.
Acer Chromebook Vero 514: What you'll like
Getting the basics out of the way first, the Acer Chromebook Vero 514 is powered by the Intel Core i5-1235U, paired with 8GB of RAM and 256GB of NVMe storage. This is the same combination you'll find across many of the best Chromebooks, including the Acer Chromebook Spin 714 and the HP Dragonfly Pro, which was announced at CES 2023.
What this means is that you'll get similar performance across the board, including the ability to play Steam games thanks to the onboard Intel Iris Xe graphics. While there's a lot of focus being put into gaming Chromebooks in 2023, the reality is that you'll be able to rely on the Vero 514 for pretty much anything.
Acer even made sure to include plenty of ports, as you never quite know what you'll be getting yourself into. With the Chromebook Vero 514, you'll find dual USB-C 3.2 Gen 2 ports, a single USB-A port, HDMI, and a 3.5mm headphone jack.
Swipe to scroll horizontally
| Category | Acer Chromebook Vero 514 |
| --- | --- |
| Display | 14-inch, 1920 x 1080, 16:9, 300 nits brightness |
| Processor | Intel Core i5-1235U |
| Graphics | Intel Iris Xe |
| RAM | 8GB LPDDR4X |
| Storage | 256GB NVMe SSD |
| Connectivity | Bluetooth 5.2, Wi-Fi 6E |
| MicroSD Card Slot | No |
| Camera | 1080p w/ privacy shutter |
| Ports | 2 x USB-C 3.2 Gen 2, 1 x USB-A 3.2 Gen 1, 1 x HDMI, 1 x 3.5mm audio jack |
| Additional features | Dual bottom-firing speakers, MIL-STD-810H rating |
| Battery | 56 WHr, up to 10 hours, 50% charge in 30 minutes |
| Dimensions | 12.3 x 8.8 x 0.8-inches |
| Weight | 3.09 pounds |
| AUE date | June 2030 |
As is the case with every Chromebook review, we've run the Vero 514 through a few different benchmarks. And here's how Acer's latest option stacks up against some of our other favorites:
Swipe to scroll horizontally
| Benchmark Test | Acer Chromebook Vero 514 | Acer Chromebook 516 GE | Framework Laptop Chromebook Edition |
| --- | --- | --- | --- |
| Wirple HTML5 3D Benchmark | 8884 | 8657 | 8368 |
| Octane 2.0 | 83333 | 83697 | 73572 |
| Speedometer 2.1 | 191 | 185 | 128 |
| Jetstream | 228.525 | 237.639 | 179.327 |
| MotionMark | 744.75 | 279.72 | 864.28 |
It also has plenty of screen real estate to work with thanks to its 14-inch display. And Acer is even helping everyone out a bit with ergonomics as the top lid actually lifts the Chromebook up, putting the keyboard at a more comfortable angle.
Now that I've established that this is going to be a performance beast, let's pivot over to the design. Over the past few years, many Chromebook makers have decided to continue using the same design over and over again. That's not necessarily a bad thing, but the Vero 514 is a breath of fresh air without leaning into RGB keyboards or the like.
As I noted in my previous hands-on, the "little accents you'll find around the chassis help push the uniqueness of this Chromebook even further from the competition." The little specs found across the entire chassis aren't just from a "cookie cutter" design. So while you'll be able to notice when someone else is also using a Vero, it won't look exactly the same as yours.
All of this was done as part of Acer's latest initiative to "be part of a more sustainable future." The Vero 514 ditches the traditional plastic and metal combination we've become accustomed to, in favor of using Post Consumer Recycled (PCR) materials.
According to Acer, the Vero 514 "uses 30% PCR plastic in the chassis and screen bezel and 50% in the keycaps and audio speakers." Moving the needle even further is the "OceanGlass touchpad" which looks and feels like glass, but is actually "recycled ocean-bound plastic."
Acer made a lot of great decisions when it comes to the Vero 514, and one more that I'd like to mention is battery life. Of course, as this is powered by an Intel chip, it's not going to last as long as something like the HP Chromebook x360 13b, which is powered by a MediaTek chip.
I was still surprised to see that I'd reach into my bag after a day of working at a coffee shop and find that I didn't need to run and grab a charger. Part of this can be attributed to the lower 300 nits of brightness combined with the excellent power management of ChromeOS.
That being said, if you do plan on playing some Steam games, your battery will get chewed up and spit out pretty quickly. Thankfully, Acer has implemented fast charging, as it'll take just 30 minutes to go from 0-50%. This has been really handy for those times that I forgot to charge it, plugged it in while I was getting ready, and worked away from home for the day.
Acer Chromebook Vero 514: What you won't
While Acer is bucking the trend of boring Chromebook designs with the Chromebook Vero 514, it's taking a side step when it comes to the display. The 14-inch display is fine in many scenarios, but whenever a shimmer of light hits the screen, you'll find yourself repositioning it just to see.
The 300 nits of brightness does help a bit to combat the potential screen glare if you're sitting next to a window or near another light source. But if you want to sit outside, good luck. It almost feels as though the matte finish was applied a bit too heavily, and it was actually pretty frustrating at times.
I also would've liked to see Acer opt for a 16:10 or 3:2 aspect ratio, instead of the "tried-and-true" 16:9 one. You can't win them all, and if I had to pick, I'd hope Acer used a brighter display or one with a glossy finish over a change in the aspect ratio. But I still felt that it was worth noting if you're in the market for a new Chromebook.
So I've spent a lot of time gushing about Acer's decision to overhaul the design and introduce something new to the market. However, something kept nagging at me during my time with the Vero 514, and that's the palm rest.
It seems that the PCR material being used in the chassis is more rigid than what you'll find in something like the Chromebook Spin 714. That's great and all, especially if you're like me and can't stand when a keyboard flexes while you're typing.
Time and time again, I found myself wondering why in the world was my wrist hurting when I was either sitting at a table or using the Vero 514 on my lap. As I do nothing by typing words and taking pictures for a living, I just chalked it up to regular wrist pain.
I realized the problem is the same one that I have with the iPhone 14 Pro Max's design. Except for the divot where you lift the lid, the palm rest on the Vero 514 comes to a 90-degree angle at the bottom. So after a while, the pressure was just too much and it was actually a bit uncomfortable. This might just be a "me" problem, but again, I felt that it was worth pointing out.
Acer Chromebook Vero 514: The competition
If you're looking for an eco-friendly Chromebook, Acer's Chromebook Vero 514 is really the only party in town. More and more companies are making changes to things like the packaging that your Chromebook comes in. But I haven't seen another Chromebook that takes things to the next level in the same way that Acer has.
In terms of performance, that's a completely different story. Pretty much every new "flagship-level" Chromebook released in the last year is available with the same configuration as the Vero 514. This includes Acer's own Chromebook 516 GE, which has a slightly-altered design compared to the other Acer Chromebooks. But it also has a larger 16-inch display with a 120Hz refresh rate and a keyboard with RGB backlighting.
There's also one Chromebook lurking in the shadows that you should keep an eye out for when it's released. The HP Dragonfly Pro Chromebook was announced at CES 2023, offering much of the same DNA as the Elite Dragonfly Chromebook from last year. It uses the same Core i5-1235U chip but paired with 16GB of RAM and a 14-inch display that can reach up to 1200 nits of brightness.
Acer Chromebook Vero 514: Should you buy it?
You should buy this if:
You want a Chromebook that looks different from the rest of the crowd.
You want a Chromebook that is mostly good for the environment.
You need a Chromebook that can be used for work and playing games.
You are looking for a Chromebook with all-day battery life.
You shouldn't buy this if:
You're in the market for a cheap Chromebook.
You need a bright display with few compromises.
Acer did a lot of things right with the Chromebook Vero 514, as it doesn't make any compromises in terms of performance. The keyboard is as comfortable to type on as any other Chromebook on the market, and the OceanGlass trackpad doesn't feel any different.
While I might be in the minority when it comes to my qualms with the display, it does play a factor in the final decision. I really, and I mean really wish Acer would've used a different display here. Outside of convertibility, it's the only thing holding me back from using the Vero 514 as my main Chromebook.
Of course, the story here isn't with performance, but in the design, and Acer absolutely nailed it. No, it's not convertible, it doesn't use a touchscreen, and it obviously can't be used with a USI stylus.
But I'm a big fan of the way that the Vero 514 looks and feels, and I couldn't be happier to see something different. It might not be for everyone, and that's fine, but between the unique design and military-grade drop protection, this is well-suited for students.
Beast of a different color
Acer's Chromebook Vero 514 is a breath of fresh air in a market filled with boring designs. Not only does it look great, but it's quite impressive on the performance-front, too.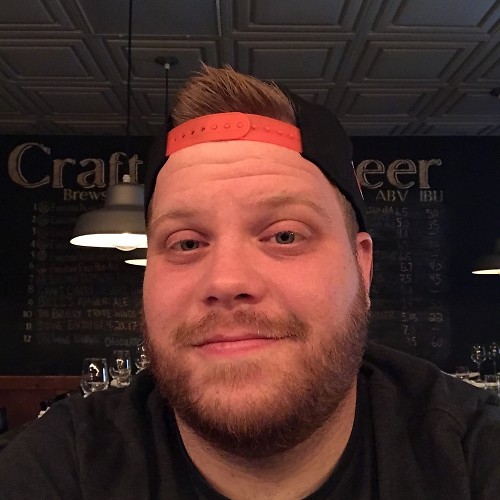 Senior Editor - Chromebooks, tablets, and wearables
Andrew Myrick is a Senior Editor at Android Central. He enjoys everything to do with technology, including tablets, smartphones, and everything in between. Perhaps his favorite past-time is collecting different headphones, even if they all end up in the same drawer.