Cardinal Red Samsung Galaxy S10 now available exclusively on EE in the UK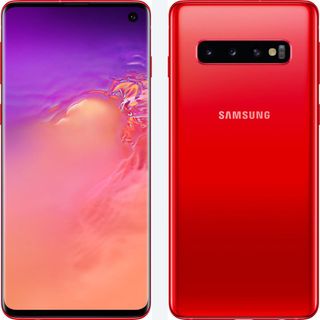 What you need to know
The Cardinal Red Samsung Galaxy S10 is now available exclusively from EE in the UK.
All three models are available in the new color excluding the Samsung Galaxy S10 5G.
The new red color is only available for the models with 128GB of storage.
Back in May, we got a look at the Samsung Galaxy S10 in its brilliant new Cardinal Red color, but at the time it was uncertain when and where it would launch. Well, good news for EE customers in the UK, because it looks like this red beauty is headed your way.
According to a tweet sent out, the Cardinal Red variant of the Galaxy S10 is now exclusively available from EE in the UK. The new color is available in the 128GB variant for all three models, including the Galaxy S10e, Galaxy S10, and Galaxy S10+. However, it is not available for the recently launched Samsung Galaxy S10 5G.
Besides the fresh coat of paint, the Cardinal Red Galaxy S10 variant is no different from the other colors. It still packs the same processor, RAM, in-display fingerprint scanner, and cameras that make it one of the best phones of the year.
There is still no word on what other countries or markets we can expect the Cardinal Red version of the Galaxy S10 to pop up next, so count yourself lucky over there in the UK.
It looks nice but is not as pretty as the flamingo pink which I wanted but didn't get because it's hard to find in stock.
Android Central Newsletter
Get the best of Android Central in in your inbox, every day!
Thank you for signing up to Android Central. You will receive a verification email shortly.
There was a problem. Please refresh the page and try again.