BlueStacks announces GamePop Mini, the 'forever free' version of its Android-powered console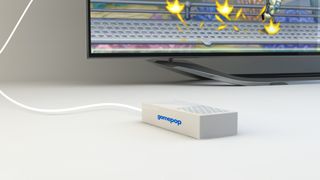 Access to hundreds of apps from well-known developers with no up-front hardware cost
In an effort to expand the audience of its upcoming GamePop gaming subscription service, BlueStacks is announcing today that it will offer a smaller "forever free" version of its GamePop console. Dubbed the "GamePop Mini", this smaller console will offer much the same experience as its larger counterpart, but will be free with a subscription to its gaming service whereas the original GamePop will jump up to $129 up-front once its pre-order period ends.
This "Mini" version of the GamePop console will work in the same way as the larger version, connecting to your TV via HDMI and pairing up with your smart phone as a controller. The GamePop subscription service will remain the same for either console, giving customers access to games from over 500 partners -- including some of the best-known developers such as HalfBrick and Glu -- for just $6.99 per month. BlueStacks says at this point the subscription will offer customers access to the equivalent of $200 in paid apps with the single subscription.
Pre-orders for the original GamePop will end on June 30th, along with its promotional pricing, which will then open up the market for GamePop Mini pre-orders on July 1st at that magical $0 up-front price. The GamePop Mini is expected to ship to consumers this Winter.
GamePop Launches 'Forever Free' GamePop Mini
First ever free hardware with subscription; GamePop service to be available across multiple form factors
Palo Alto, CA June 28, 2013 – Mobile company BlueStacks has announced a second vehicle to deliver its new GamePop mobile gaming service, the GamePop Mini. Like the recently announced $129 GamePop, the new device will also run Jelly Bean 4.2, connect to TV via a supplied HDMI cable and include a curated group of 500 popular mobile game partners. Announced partners include HalfBrick (Fruit Ninja, Jetpack Joyride), Glu (Blood Brothers), #1 Kids app developer Intellijoy and more. BlueStacks says the 6.99/month subscription will include access to over $200 in paid games for free.
"We have always planned on having a free console option," said BlueStacks CEO, Rosen Sharma. "The biggest value of the GamePop service is its content – not the box. Hardware costs have come down so fast that we're able to undercut the rest of the market. With the free promotion we've been doing in June we're already seeing a ton of adoption. That volume then attracts more developers and therefore more and better content. It's building momentum."
In addition to announcing a lineup of several popular Google Top Developers, BlueStacks also came out with its "Looking Glass" technology earlier this month. Looking Glass will allow iOS-only developers to easily launch on GamePop. Titles such as iOS's first major franchise the Fieldrunners series will be able to come to TVs this way.
"We want to make things as easy as possible for app developers to come on board," said Ben Armstrong of the company's developer relations team. "There is a virtuous circle between great content and volume that we're having a lot of early success jumpstarting that so far. The launch titles a service comes with are critical." Pre-orders went on sale May 9 for GamePop at Gamepop.tv and while not releasing specific numbers, the company reports they are stronger than expected. The free promotion for the GamePop console will end June 30, when it will go back to its regular price of $129. The GamePop Mini will be available for pre-order July 1. It is slated to ship this winter.
ABOUT BLUESTACKS
BlueStacks was founded in 2009 to bring the energy and creativity of the mobile app world to every type of device. The company is funded with 15M from Intel, Andreessen-Horowitz, Radar Partners, Redpoint, Ignition Partners and Qualcomm. The company's App Player software has over 10 million users. Join their more than 1.2 million Facebook fans at Facebook.com/BlueStacksinc, or on Twitter at @BlueStacksinc
Android Central Newsletter
Get instant access to breaking news, the hottest reviews, great deals and helpful tips
Andrew was an Executive Editor, U.S. at Android Central between 2012 and 2020.
I will wait and see what google gaming system has to offer. till then no xbox/PS4/ouya/gamepop

I'm super excited that android is being loaded into game consoles now, but I can't get over the fact that these guys want a monthly subscription. If it's like that I'm gonna wait for Google's announcement to decide if I want a nexus console or an ouya....but if I have to make a prediction, I'm going to guess I'll be buying an ouya.

Yeah, I don't like the subscription idea. I don't spend $7 on games every month as it is, and I still do a fair amount of gaming on my Android devices.

$20 got me an HMI/HDMI converter hooked up to my GNex that mirror's everything to my HDTV with a 10 foot HD cord, everything on my phone can be done on the tv screen, pair that with a sony bluetooth controller, and boom, gaming on my tv, for less than $129 Can also get an android stick and pair it with a controller and keyboard for less and NO monthly fee. I've been waiting for the Archos TV connect, that also does the same, but i guess archos gave up on releasing it.

I spend 30-50$/mos on Apps & Games on my Android devices so might look into this to see if I can reduce my spending.

I don't like the subscription model because if the service ever goes away so do all your games. Posted via Android Central App

So why pay for the full sized one over the free mini? I'm assuming the full sized one had better specs? Posted via Android Central App
Android Central Newsletter
Get instant access to breaking news, the hottest reviews, great deals and helpful tips
Thank you for signing up to Android Central. You will receive a verification email shortly.
There was a problem. Please refresh the page and try again.