Best Watch Bands for Samsung Gear S2 Classic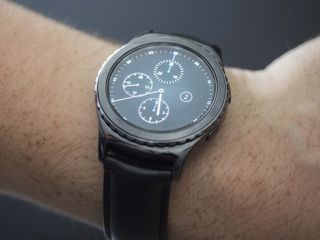 Updated May 2017: Added Moretek's great silicone band — perfect for fitness fanatics.
If you've bought or are looking into buying the Samsung Gear S2 Classic, then you're probably someone who enjoys the traditional watch look with some sweet tech under the hood.
We've rounded up the best watch bands for your Gear S2 Classic so that you can match your smartwatch to your personal taste and lifestyle.
SLG D7 Buttero Italian leather band
Why you can trust Android Central Our expert reviewers spend hours testing and comparing products and services so you can choose the best for you. Find out more about how we test.
SLG (Small Leather Goods) make some beautiful leather straps and the Buttero Italian leather band is our favorite. It blends the classic, sophisticated look of leather with a modern and fresh design.
SLG, based in South Korea, makes its bands from high-quality Italian leather from the Walpier tannery. While most leather bands can feel somewhat oppressive, becoming soggy from sweat, SLG's Buttero bands are designed with patterned holes to make sure your wrist can breathe.
That and they just look great. SLG Buttero Italian Leather bands come in beige, black, and blue. We particularly dig the blue, but they'll all look great with any color Gear S2 Classic.
Infantry
Infantry makes another awesome leather band that eschews sophistication for the more rugged, distressed leather look. The inside of the band is soft and comfortable, while the outside is a deep and warm brown.
There is one downside to Infantry's band in that it does cover your Gear S2 Classic's heart rate monitor. Oh well. Fashion first!
Infantry leather bands come in different shades of brown and black, with different color combinations for buckles and straps. You might as well get a few, since they start around $12 each.
See at Amazon (opens in new tab)
Geckota
Geckota shark mesh bands are a unique blend of cool and functional. They resemble Milanese loop watch bands, but feature a more spread-out design that looks like a series of woven chains, which looks really neat and offers excellent durability and strength. Your Gear S2 Classic is never coming off your wrist accidentally and you should have a pretty hard time breaking the band.
The clasp is an easy to use stainless steel fold-over with a brushed finish. Even if you rest your wrist on hard surfaces, scratches shouldn't mare the clasp or scuff it up too badly like they would with a glossier finish.
It's worth mentioning that the black features ion-plated coating which could chip off over time, though these Geckota bands are of high quality.
See at Amazon (opens in new tab)
Casetify
Casetify has partnered with Samsung to make bands specifically for the Gear S2 Classic. Each band is made of comfortable and flexible TPU, which is often used to make phone cases. That means that Casetify bands are durable and strong, so you shouldn't have to worry about everyday wear and tear.
These bands come in five quirky designs, which will certainly add a definitive accent your Gear S2 Classic. You can get Casetify bands in Gold and Coral, White Marble, Dark Marble, Diamond (which features a multi-colored geometric pattern), and Woodland Camouflage.
If you're looking for a band that makes a statement while also fitting comfortably, then check out Casetify's line. If the band you want isn't available now, you can ask Casetify to notify you by email when it does become available.
See at Casetify (opens in new tab)
Barton Ballistic Nylon
Barton makes great watch bands, and its Ballistic Nylon line is there for you to mix and match. At around $12 apiece, you might as well grab all 21 colors and color combinations (well, maybe not all of them).
Ballistic nylon was originally developed by DuPont as a material for flak jackets for airmen during WWII. That's why these types of bands are sometimes referred to as "NATO-style." It's a tough and durable material that'll secure your Gear S2 Classic, but it'll also breathe and move with you.
Like the Infantry bands above, Barton bands unfortunately block your Gear S2 Classic's heart rate monitor. However, if that's not a huge deal and you put comfort and fashion above that function, then you really can't go wrong with a Barton band.
Make sure you select the right size – 20mm – before checking out.
See at Amazon (opens in new tab)
Barton Quick-release
Barton makes silicone bands that definitely deserve a mention in our best list. They're thin and lightweight, while also breathable and very comfortable.
These quick-release bands come in vibrant colors and are the epitome of convenience. A little slider on each side of the band allows you to quickly change bands on the fly. And for around $13 each, you might as well grab a few and change them daily!
The best part of silicone is that it's waterproof and washable. If you're wearing a Barton band because you'll be pretty active, easily remove it and wash it with some gentle dish soap. No stinky wrists (like leather bands can cause).
If you like the comfort, durability, and versatility of silicone, then check out Barton's line up.
Make sure you have 20mm selected before you check out.
See at Amazon (opens in new tab)
Cbin Milanese
If you love the light, stylish Milanese loop style, then Cbin's band is the one for you. It comes in black, silver, and rose red (who you foolin'?), and has a fully magnetic closure, making it easy to put on and take off.
This band is great for everyday use (though the black is plated, so you won't want to order that one if you're doing anything repetitive that might rub it and cause the finish to come off.
If you like a light metal band and want something that's great all the time, you really can't go wrong with the Milanese loop.
See at Amazon (opens in new tab)
Moretek
Moretek's sport band is perfect for the days when you know you might be a bit rough with your Gear S2 Classic. These silicone bands feature many holes so that your wrist can breathe and sweat can dry quickly. Moretek's bands are also waterproof and washable, so easily remove it from your Gear S2 Classic with the quick-release, and give it a thorough cleaning now and then.
You have your choice of six vibrant color combinations, and Moretek provides a one-year warranty should anything go wrong with your band.
See at Amazon (opens in new tab)
What's your favorite?
What's your favorite watch band for your Samsung Gear S2 Classic? Sound off in the comments below!
Get the Android Central Newsletter
Instant access to breaking news, the hottest reviews, great deals and helpful tips.
Mick is a writer and duty editor for Android Central. When he's not on the job, he can usually be found vacuuming up pet hair or trying to convince his wife that he needs more guitars.
I like the lizard https://www.slgdesign.com/collections/gear-s2 Posted via the Android Central App

Love my Verizon gear s2 classic,but as far as 95% of these bands go-NO thanks.Different strokes for different folks.Enjoy. Posted via the Android Central App

i agree. At one point, Samsung was going to release a ceramic band for the S2, but so far has not surfaced in the states.

As a gear s2 owner, mainly because the gear classic was not available at the same time (damn you samsung)kinda wish i had a regular 22mm. Band for more choices. Bring on the gear s3 classic Posted via the Android Central App

You can purchase an adapter to fit on your Gear S2 so you can swap out regular bands. Samsung sells them.

Yes I saw that adapter might have to look into it more Posted via the Android Central App

You can buy 20mm pins and use any 20mm band. I personally use the Infantry band listed above. I have little interest in measuring my heart rate. The band looks great and the price can't be beat. The one advantage to the Samsung pins is the quick release.

The stock black leather works for me

My thoughts exactly. Goes with just about anything. It however, doesn't feel like it is as durable as a leather band should be, so a replacement may be in order before long. Good to know there are choices out there.

Was waiting for this article. Thanks Posted via Android Central App

I picked up a black steel link band from ebay when I pre-ordered my s2 and was surprised when the finish matched the body perfectly. Even better that it was under $30. I'm set until the s3. luvin my s7 edge

I finally stepped up and bought the Verizon Gear s2 classic (3g version OF COURSE) at launch, but got a black steel link bracelet and a silicone rubber clasp strap as my "daily", because I will abuse this watch, have gone in pools with it on and the beach with it, just like I did with my Gear S. The silicone is this one, great for long term wear.. http://smile.amazon.com/dp/B001N9FG56 . I wish the Google mode straps came with a clasp option. I HATE BUCKLE STRAPS.

I love the Barton leather watchbands with quick release for my Pebble Time Steel. They are a little more expensive than the silicone. I won't buy another band without the quick release now I have gotten so spoiled with switching bands to match my outfit. Ok maybe I will if I go with the NATO bands like the barton nylon straps. You can buy those nylon NATO bands anywhere (online) but that leather infantry looks exceptional.

Stainless steel black mesh! Easy install and secure fastening and has held up pretty well. https://www.amazon.ca/dp/B01FCXS47A/ref=cm_sw_r_cp_apa_AMtEybSY6ZPA6?tag... Or this lovely crocodile embossed leather is a step up from the stock band. https://www.amazon.ca/dp/B01N57HESL/ref=cm_sw_r_cp_apa_sOtEybDPZ3BTG?tag... Surprised some of these other bands made the list as they're pretty tacky and don't match the Gear S2 Classic at all.

If you have a classic. I highly recommend the KR-NET 20mm Ceramic Watch Band at http://a.co/cuY4sQU. It is a color matched ceramic band at under $35. Hard to beat. Looks just like the Samsung ceramic band without the branding and $100 price tag.

For those that have the classic, I would highly recommend Crown & Buckle Straps. Classy company, far classier than most. I have a Gear S2 (standard) with band adapters, sporting a 20mm NATO Strap, which is constructed of nylon, fitted with chrome buckle loops. Fast shipping, and pricing from $10 to $20 per strap.

Does the Gear S2 work with a Pixel?

I don't like any of these watch straps recommended. I found a classic metal band with rounded edges on aliexpress, that makes the watch look like a elegant high end watch with metal straps. It took some slight modification to get it on, but was able to make it work just as I wanted and minimal gap between the watch and the strap.