Best Cases for the Honor 7X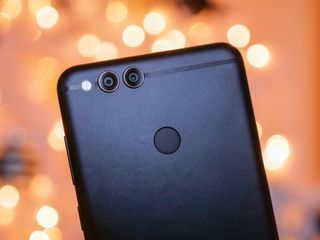 The Honor 7X is one of the latest phones in the Huawei subsidiary's lineup, and we've called it one of the best budget phones you can buy. It's fast, it's long-lasting, and its display and cameras both outperform most similarly priced options.
If you're the proud owner of a 7X, you probably want to keep it safe. That's why we've rounded up some of the best cases we could find.
Spigen Rugged Armor
Spigen is one of the most recognizable and reputable case brands around, so naturally it's the first choice on our list. The Rugged Armor provides full coverage protection for the Honor 7X without adding much bulk.
Its TPU material is flexible and easy to apply, and uses a webbed inner lining to absorb shock from drops. The cutouts give full access to all of the Honor 7X's ports, and the carbon fiber styling up top and bottom adds a nice aesthetic touch.
The Spigen Rugged Armor case is available on Amazon for just $11.99.
See at Amazon (opens in new tab)
KuGi Flexible Soft
If you prefer the look of leather to carbon fiber, KuGi's case may be more to your liking. This case offers similar protection to the Spigen Rugged Armor, wrapping around the Honor 7X to protect the sides and back from damage.
This case is made of TPU, with a ribbed texture along the sides to make it easier to grip. Though the leather on the back isn't real, it adds some nice texture of its own, and maintains a clean look that's mostly free of branding, with just a small logo in the upper right corner.
The KuGi Flexible Soft case is even cheaper than the Spigen case, at just $8.50 on Amazon.
See at Amazon (opens in new tab)
TopACE Silicone Cover
This clear silicone cover from TopACE is perfect for shoppers who still want to be able to see the premium design of the Honor 7X through a case. Like the others before it, this case is made of a flexible TPU, offering enough protection to save the phone from most drops.
The TopACE case offers large cutouts for its ports — unlike the clear case included in the box with the Honor 7X — as well as for the cameras, ports, and fingerprint sensor.
You can snag one a TopACE case for just $7.55 at Amazon.
See at Amazon (opens in new tab)
Nillkin Slim Thin
Though full coverage cases offer the most protection, some users simply want the lightest case possible to keep the back from getting scratched up. The Nillkin Slim Thin is a simple shell-style case that clips onto the sides of the Honor 7X while leaving the top and bottom of the phone exposed.
This case's polycarbonate material is harder and more durable than TPU, and comes with a grippy non-slip finish. The open bottom makes it easy to plug in cables of all sizes, and the buttons are exposed for easy access as well.
The Nillkin Slim Thin is just $9.99 on Amazon.
See at Amazon (opens in new tab)
Yiakeng Dual Layer
Slim cases are great, but sometimes you need a bit more protection — that's where Yiakeng comes in with its dual layer case. This case combines soft TPU with a hard polycarbonate outer shell, offering superior drop protection.
In addition, the textured backing adds some grip to the phone, and the case even features a pop-out kickstand for watching movies.
The Yiakeng dual layer case is available on Amazon for $7.98.
See at Amazon (opens in new tab)
Which one should you buy?
Why you can trust Android Central Our expert reviewers spend hours testing and comparing products and services so you can choose the best for you. Find out more about how we test.
There are plenty of good cases to choose from, but no matter which you use, the important thing is that you're protecting your phone. Let us know what case you're using (or thinking about ordering) in the comments below!
Get the Android Central Newsletter
Instant access to breaking news, the hottest reviews, great deals and helpful tips.
Hayato was a product reviewer and video editor for Android Central.
I have this case...https://www.amazon.com/gp/product/B078HHVQM5/ref=oh_aui_detailpage_o04_s... , and while it is slightly bulky. It provided everything you could ever need in a case...

Don't get the Honor 7X... uses micro USB and only has slow charging.. takes 2 hours to charge. Plus, Huawei is spying on their customers.

The 3rd leading phone manufacturer in the world would never risk their brand by building in a backdoor. Give me a break. Read Jerry's article.

I just received this phone today. It's for the wife. Basically, talk, text, pics, email, snap chat. Lol. I had the kugi case waiting for the phone to arrive. Not the leather looking one. The regular one. Feels nice in hand. My only issue is the screen protector. I installed the tempered glass kind but due to the beveled screen there is that Halo around the phone. I hate to install that "plastic" kind. Anyone have any luck with a glass one?