Android Quick App: ESPN FLB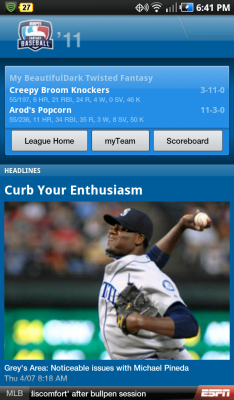 It's baseball season, and for the many of us who play fantasy baseball, there has been an app missing from Android for quite some time that finally arrived recently: ESPN FLB (or Fantasy League Baseball). With this app, you can manage your ESPN fantasy baseball team on the go from any Android device.
This app is offered in two versions: a free and a premium. The free version will allow you to manage your rosters, including proposing and accepting trades and setting lineups while the premium offers additional content from ESPN. If you're someone who just wants the app to manage your baseball roster, the free version will probably work just fine. If you want extra analysis and tips, you may want to spring for the premium version, which is $4.99. This article will mainly talk about the Premium version.
When you first open the app, you will see ESPN's Fantasy Baseball homescreen. Once logged in, it will display your current matchup with up-to-date scoting to give you a quick glimpse as to how you're doing. Underneath that box, recent headlines from around the baseball world are displayed. As you scroll down the page, there will be an array of options to choose from: Latest Headlines for a more indepth look at the news, MLB Scoreboard, which gives you scores from around the league, Video, which will display a clip of a major recent news story, Latest Tweets, which is essentially a list that compiles all of the baseball analysts' Tweets at ESPN
Within the scoring box on top of the homepage, there are three options: League Home, myTeam and Scoreboard. Selecting League Home will bring you all of the latest news and transactions from around your specific league. myTeam will display your current roster, giving you the option to adjust your lineup accordingly and Scoreboard will show all the current scores in your league at the moment.
Other options within your League include: Manage DL, Standings, Players, Schedule, Message Board, League Settings and Waiver Order; all of which are pretty self explanatory. In the top right corner though is an button I really like. Once you click the button, you will be brought to your Activity Feed, where it will provide the most up-to-date news on players that currently reside on your roster in addition to players that are added or dropped in your league. It's very handy and prevents you from having to go through each player's news individually. You can narrow it down if you want to if you only want transactions or player updates displayed.
Overall, the app is very handy for managing your ESPN fantasy baseball team. It took a while, but there is finally a dedicated app from ESPN to help with your fantasy baseball season. Good luck! More pics, and download links after the break.
Free version:
Premium ($4.99) version:
Now, if only Yahoo would get off their ass and make one. Great article.

Loved the article. Makes me happy once either the Merge (bitter laugh) or Dinc2 release that I'll have something to take care of critical issues.

I bought the ESPN Fantasy Football App during the NFL season. I was willing to accept that it would only work for the 2010 season. I even overlooked some of it's annoyances, but what really pissed me off was when they updated it to include adds. Excuse ME?!?!?! I pay 4.99 then you update it to include adds? That's just not right. Anyway, I submitted a complaint and never got a response on it. figures. So my question is, does this app include ads?

Mordecaidrake -- check out Fantasy Guru. It's free and works great for managing Yahoo fantasy baseball leagues. zachavm -- I was similarly irritated by ESPN charging $5 for their FF app and then sneaking in ads after the fact (I did manage to never run that update, however). I don't use ESPN for any leagues now, Yahoo only.
Android Central Newsletter
Get the best of Android Central in in your inbox, every day!
Thank you for signing up to Android Central. You will receive a verification email shortly.
There was a problem. Please refresh the page and try again.