10 best free shows and movies on Vudu right now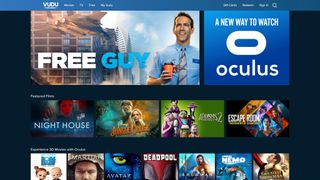 (Image credit: Fandango)
Vudu recently announced it's launching its movie and TV store in conjunction on Oculus devices. While the Vudu movie and TV store offers a ton of content for sale and for rent, the platform also offers a variety of ad-supported free content. In celebration of Vudu finally coming to Oculus devices, we've compiled a list of some of the best free content streaming right now.
Free Movies on Vudu
In addition to the various movies you can buy or rent in the Vudu movie and TV store, the on-demand platform boasts an impressive library of movies that are available for free with ads. Here are some of the best free movies available on Vudu right now.
Big Eyes (2014)
Directed by Tim Burton, Big Eyes follows the early '60s artist Walter Keane (Christoph Waltz), who rises to fame for his unique portraits of big-eyed characters. It's soon revealed, however, that Keane is keeping a big secret: his wife Margaret (Amy Adams) is the true artist.
The Boondocks Saints (1999)
The Boondocks Saints stars Sean Patrick Flanery and Norman Reedus as fraternal twin brothers Connor and Murphy MacManus, who become vigilantes after finding themselves in the midst of a pub brawl, which ends with them killing two Russian mobsters in self-defense.
Cake (2014)
Cake stars Jennifer Aniston as former attorney Claire Bennett, who finds herself battling chronic pain and attending a support group one year after surviving a car accident that killed her son. When a woman in her support group named Nina (Anna Kendrick) succumbs to suicide, Claire befriends the woman's widow (Sam Worthington).
The Exorcist (1973)
Based on the 1971 novel of the same name by William Peter Blatty, The Exorcist follows the demonic possession of a 12-year-old girl named Regan (Linda Blair), whose mother recruits two Catholic priests to conduct an exorcism in hopes of rescuing her.
The Imitation Game (2014)
The Imitation Game stars Benedict Cumberbatch as Cambridge mathematics alumnus and secret agent Alan Turing, who was recruited by Great Britain's MI6 to crack Nazi codes that were previously thought to be unbreakable. The film also stars Keira Knightley, Mark Strong, and Matthew Goode.
Free Series on Vudu
Vudu offers a ton of ad-supported episodes of classic television series. Whether you're looking for something that's action-packed or something that will laugh out loud, the Vudu movie and TV store has a lot to choose from. Here are some of the best TV series available for free on Vudu right now.
3rd Rock From the Sun
3rd Rock From the Sun follows a crew of aliens who must learn to live as humans while exploring Earth and its inhabitants. The sitcom starred John Lithgow, Kristen Johnston, French Stewart, Joseph Gordon-Levitt, and Jane Curtin. Seasons 1-6 are streaming for free now.
Blue Mountain State
Originally aired on Spike (now Paramount Network) Blue Mountain takes place at the fictional titular college and explores various aspects of the American university experience, including football games, romance, partying, and hazing. Seasons 1-3 are streaming for free now.
Hell's Kitchen
Hosted by Gordon Ramsay, Hell's Kitchen follows a group of U.S. chefs as they compete against one another in hopes of winning the opportunity to be a head chef. Season 1-14 and 16-18 are streaming now for free.
Highlander: The Series
A pseudo-sequel to the 1986 feature film Highlander, Highlander: The Series follows Immortal Duncan MacLeod (Adrian Paul), who was taken in by the same clan of Scottish Highlanders that had found and raised Connor MacLeod decades earlier. All six seasons are streaming for free now.
Unsolved Mysteries
Unsolved Mysteries revisits the details and evidence collected in various unsolved cases of disappearances, murders and paranormal encounters. Seasons 1-12 of Unsolved Mysteries with Robert Stack and Seasons 1-8 of Unsolved Mysteries with Dennis Farina are streaming for free now.
More on Vudu
Beyond the free content mentioned above, the Vudu movie and TV store features more than 200,000 movies and shows right now, including a ton of new and classic content that's also available to rent or purchase.
It's also worth pointing out that Oculus Quest 1 and Oculus Quest 2 owners who download Vudu now on their headsets will have the option to immerse themselves in the action by renting new movies like the Ryan Gosling-led Free Guy, The Addams Family 2, and Disney's Jungle Cruise. Oculus users can also choose to take things to the next level by accessing Vudu's selection of of 3D content.
Buying and renting made easy
Your hub for buying and renting content
Vudu's Movie and TV store makes it easy to both rent or buy new and classic media to stream. Sign up now to watch a variety of classic TV series or new movies like Free Guy, The Addams Family 2, and Disney's Jungle Cruise. You can also take your viewing experience to the next level by downloading the Vudu Movie and TV store app on your Oculus device.
Get the Android Central Newsletter
Instant access to breaking news, the hottest reviews, great deals and helpful tips.
Keegan Prosser is a freelance contributor based in the PNW. When she's not writing about her favorite streaming apps and devices for Android Central, she's listening to a true-crime podcast, creating the perfect playlist for her next road trip, and trying to figure out which fitness tracker she should try next. You can follow her on Twitter @keeganprosser.