The U.S. unlocked HTC U11 doesn't support Verizon's CDMA network, and that's okay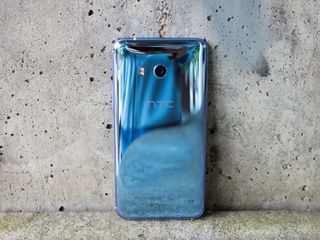 The U11 is arguably the best flagship phone HTC has ever made, and it properly competes with the other great phones released in the first half of 2017. But in coinciding with HTC's general decline in the U.S. market, its partnerships to put phones in carrier stores have dwindled, leaving us with a single carrier "partner" here: Sprint.
That means if you want to use the HTC U11 on any other carrier, you'll have to buy it unlocked — both Amazon (opens in new tab) and HTC (opens in new tab) will sell it to you directly without any carrier shackles for $649. That's great for discerning consumers, but it has also led to questions — primarily, does the phone support our favorite giant carrier, Verizon? Well, yes, it does — HTC says so on its website. Confusion has set in, though, as we all dig through the specs and realize it doesn't have a CDMA radio.
Not having CDMA isn't the end of the world, nor does it preclude HTC from legitimately stating that the U11 is compatible with the Verizon network — let me explain.
Verizon's upcoming CDMA sunset
Verizon doesn't want to use its CDMA network anymore. It has confirmed that it hopes to effectively shut down the old network by the end of 2019. Once it does so, the remaining spectrum and towers currently in use for CDMA (which have been dramatically scaled back in recent years already) can be repurposed for other uses as Verizon turns LTE into its baseline network and moves on to 5G deployment.
For most people using Verizon today, CDMA might as well not exist. Its LTE network covers 98% of the country. As of Q1 2016, 92% of its network traffic was traveling over LTE (opens in new tab) — and remember that includes some legacy devices that only use CDMA. So there's a dramatically small (and decreasing) number of places without LTE coverage, and surprisingly close to 100% of network traffic by LTE-capable devices is running on the modern network.
Even if your phone has a CDMA radio, chances are you don't actually use it anymore. When your phone has an LTE connection available, it will use it for both data and calls across Verizon's network — other times, you may be using Wi-Fi calling. In 2017, CDMA offers a suboptimal experience — only to be relied upon when there is no other option. Yes those places where CDMA is the only option do still exist, but Verizon clearly doesn't think they'll be around much longer.
Reason says that it won't be long, then, before Verizon itself stops selling smartphones that have CDMA radios in them. Including the old technology for a network that won't exist in the reasonable lifespan of the phone (roughly two years from sale) doesn't make sense from multiple perspectives. Having a CDMA radio requires extra licenses and technology (read: money spent) in smartphones, and just continues to sustain a user base of people who will have a device capable of using a network that will soon no longer be available.
HTC did the necessary work
HTC isn't hiding the fact that the U11 doesn't support Verizon's CDMA network. Every radio, band and network the U.S. unlocked U11 supports is listed right on HTC's website (opens in new tab) — including LTE band 2, 4, 5 and 13 for Verizon. But this is still confusing to some because HTC says it supports Verizon while also not having CDMA — and for some people, that doesn't mean "full" support.
Here's the thing: HTC lists the U11 as being compatible with Verizon because it truly means it. The U11 will work just fine on Verizon's network, without any unreasonable hang-ups. Considering nearly all of your data and voice traffic is already going over LTE on your current Verizon phone, you won't likely notice a difference on the U11.
More important than simply having a CDMA radio inside, HTC has gone through the process with Verizon to certify the U11 for use on its network — and that's why it's confident enough to list Verizon compatibility. It has done the same sort of testing for AT&T and T-Mobile as well; there are no guessing games here, the unlocked U11 does what HTC says it will do. That means your U.S. unlocked U11 will support VoLTE (aka HD Voice), Wi-Fi calling and Carrier Aggregation (in some combination) on the major networks. HTC even goes on to list popular prepaid carriers like Cricket, MetroPCS, NET 10, Straight Talk and WalMart Family Mobile as fully compatible.
Read: Our complete HTC U11 review
Some people just won't buy a phone for use on Verizon that doesn't have a CDMA radio in it — there's no convincing them otherwise, even though the information on the impending death of CDMA is clear. But this is where we're headed, and at a rapid pace. There's a good chance the HTC U11 won't be the only phone released this year — and certainly not in the next 12 months — certified for use on Verizon without a CDMA radio. At some point, we're going to have to let this go as a requirement for buying a phone to use on Verizon.
For the average person who wants an HTC U11 and has Verizon as their carrier, they will buy the phone, pop in their SIM and use it fully without knowing the details — and they shouldn't have to. This is the future we've wanted for so long and continually complained about in relation to using phones on Verizon. Now that it's finally here, let's enjoy it.
Andrew was an Executive Editor, U.S. at Android Central between 2012 and 2020.
It's good to see the CDMA networks going away for many reasons, but one of those us that Qualcomm will no longer be able to charge every CDMA provider for their CDMA patented module. This means for example that if Samsung has the bandwidth, it can ship Exynos to the US instead of Qualcomm because they do not have to worry about Verizon and Sprint's CDMA networks requiring them to use a separate CDMA module. Using a separate module makes no sense space wise, so they're forced to just use Snapdragons with CDMA built in. That's just my theory. There are many other factors that go into it. But I do believe that once CDMA is completely gone, we'll start seeing Samsung shipping Exynos in their own phones along with producing the Snapdragons for Qualcomm for other phones.

As someone on Verizon who has always wanted to use a OnePlus device, I hope this is the route they take sooner or later. They can save money by ignoring Verizon's CDMA network and just support the LTE side. There are rare occasions where I see my signal drop to 3G, but for the most part, I'm almost always on LTE, even in rural areas.

Unfortunately for us, without the CDMA radio, those times when it drops to 3G (or worse) would be a lost connection. I live in a small town in a rural area and regularly visit family in an even more rural part of Georgia. I've had to walk around outside trying to find a spot where I could get even a CDMA signal. AT&T isn't any better in that area so switching networks wouldn't solve the problem. I'm stuck with devices that support CDMA as a fallback for now.

I'm almost always in a "4G area" but I see the phone drop down to "3G" more than once in a while. Specifically, when in the center of some buildings. 3G still allows me to get emails, or get/send whatsapp texts to my wife, etc.

They said the same thing about the A9, and we saw how that one turned out... The GSM BB KEYone actually supports Verizon LTE and if you put a SIM in it, you'll get full LTE data coverage, BUT no voice service (even though the compatibility is there). I hope there aren't hangups with this LTE only HTC. They've failed miserably in the past...

I don't think it's surprising that the KEYone, which is going to sell to the enterprise in dramatically higher numbers than the U11, still supports CDMA.

There is a CDMA model, but you missed my point. The GSM model supports Verizon LTE and works fine with LTE data, but voice service does not work. Why is that if CDMA isn't at all necessary?

Because they want you to buy the CDMA model, which is the one they tested to work on Verizon.

Then why do you think BlackBerry/TCL not go the same route testing wise that HTC went with the U11? Wouldn't it make sense just to make one device that would be compatible with all the carriers? Wouldn't that save money?

LOL. Not trying to be a smart alec, but these past 10 years, have you not been paying attention to how Carriers operate?

to this day there a patches and buildings in LA and OC County where I wouldn't be able to make a phone call without cdma Network. so, no it's not okay to buy a phone which doesn't utilize full capacity of wireless network. once Verizon replaces all the towers, then you can go ahead and make this statement.

the keyone is not going to sell in any comparable numbers to the U11. enterprise or elsewhere. This is not 2008 anymore.

U11 wont sell that great either since most still buy their phones from carriers and this only being sold in sprint stores wont help.

To be honest, between an irrelevant BlackBerry selling devices in all the major carriers vs an irrelevant HTC selling a device online and at Sprint....I think I'll predict BlackBerry will sell more devices. But the weird thing is...I think Imma order me a U11 in Blue.

Imma ordering the U11 in blue too... or silver, or blue, or silver. ARG!
Anyway, it would be interesting to see the numbers in a year. The U11 news is all over the place, and they are actually doing advertising this time that does not make you wonder what the heII they are talking about. My little company of about 13,000 employees and medical staff used to be all about the BB, but we officially dropped support and I can't remember seeing a BlackBerry on campus at all in the last year.

They probably didn't go through Verizon's process for certifying the GSM model for use on Verizon. Maybe it doesn't have enough of Verizon's LTE bands for it to get certified? VoLTE still isn't plug-and-play like standard GSM is, there has to be a configuration somewhere telling the phone how to do VoLTE on that network, and the GSM KEYone must not know how.

The difference is HTC One A9 was compatible with Verizon, while HTC U11 is certified for it. A9 wasn't certified for Verizon's network, but leveraged its LTE (GSM-based) radio bands. U11 is actually going through Verizon's full Open Network Certification.

In the middle of NC, between Charlotte and Greensboro / Raleigh, and also along the coast in Wilmington, there's very mediocre Verizon LTE coverage during the spring, summer, and fall because of the trees and I guess the new (limited) unlimited plan. I guess I will not be getting this phone, le sigh.

Where are you at? I live in Raleigh used to live in Greensboro for 11 years. Before they I grew up in the Burlington area I've never noticed the issues you talking about during summer months. Been in NC all my life.

Richfield, Gold Hill, Rockwell, China Grove, Salisbury, High Rock Lake, Uwharries, Mt. Pleasant...and the connecting roads tend to have 3G only. Additionally, the coverage along highways 53 and 210 between Fayetteville and Wilmington is LTE to 3G. Also the coverage in the Ogden and Wrightsville Beach to Mayfaire areas of Wilmington are pretty sketch inside any building.

I'm grew up in Lexington, High Rock Lake is a crap shoot for most carriers.

Yeah, that's a big area of T-No still!

The only people that I could see as needing CDMA are the people who rely on Verizon's mini cell repeaters for coverage since. Not everyone wants to give out their WiFi password so that guests can use WiFi calling (and not everyone wants to provide a guest WiFi network)

I think people could stop being jerks and just set up a guest Wi-Fi network.

Unless you don't WANT them to have high speed internet access (like at a summer camp where calling is important, internet is not)

I think that's a pretty specialized use case.

So I'm a jerk because I don't want my neighbors using my WiFi for free? How about you pay my high speed internet bill and I will open up my WiFi, idiot.

Yep...why would I want little Suzy next door jumping on my bandwidth and hitting my monthly cap? Guess that means that we're jerks for wanting to use all of the bandwidth we pay for? Why is that such a difficult concept?

And those of us living at the edge of LTE coverage. My phone reads 3G as I type this. There is no way anyone is using my Satellite Internet to make a call with the latency issues that come with it. Nobody is going to lay a cable or fiber out to the Middle Of Nowhere.

Maybe Verizon will start putting up the mini-cell systems in those areas to prepare for CDMA sunset. Throughout Chicago and the Suburbs, you can see the mini towers on top of street lights and utility poles.
You can tell they are mini-towers, they look like upside down round garbage cans.

I am hoping! I would even offer VZW land to build a tower if I were closer to the main road. They want it to be within 100 yards.

Thanks for this. I'm on T-Mobile, but this article seems to have addressed my concerns about possibly losing features like WiFi calling. Now all I need is for HTC to release a US version of the solar red...

Wish it was available at launch :(

I wish it were too. My take is that it's the best looking one, so they'll release it later to boost sales once they lag. Kind of like the midnight black OP3T, and the red iPhone. Doesn't make it any better, but then people notice it again and maybe pull the trigger on buying it. Maybe?

I really want this to be the death of Verizon (and Sprint) programming the IMEI's into a database before a device can connect to the network. Because BYOD dammit!

You can just put an active SIM into a capable phone and it works even if their data base doesn't accept the imei.

Sprint, no. On verizon 100% yes. I've put an active sim in several verizon phones without ever contacting verizon or going to a store. It worked every single time.

My recently sold non Verizon Nexus 6 worked just fine on Verizon, as does my Nexus 5X which is also a non Verizon phone, using the SIM that I used to use on my Galaxy Note 4 that I trimmed from a micro SIM to a nano SIM.

Verizon doesn't currently have any idea what device I'm using and the website complains everyone I'm logged into it, simply because they have no idea that I'm using the US Cellular version of the G6 on there network.

Ummm, yes you can. Absolutely. My phone of record with Verizon is an iPhone 7 plus.
Anytime I feel like it, I swap the SIM card into my Pixel XL or regular iPhone 7 with no problems whatsoever in use and functionality. You know, like right now, as I send this from my one handed friendly iPhone 7. By the way, the Pixel XL was purchased from the Google Store, and the regular sized iPhone 7 was purchased directly from Apple 🍎. Have a good one, and learn something new every day. 😉

Great Post Andrew! I think that clears up most of the misconceptions that are out there about the lack of CDMA and the "verizon" version that HTC is selling.

With the DM i received from Jeff Gordon and your article, it's easier to understand now. Thanks again

Slightly off topic, what was the best coupon code to order an HTC 11? was there a $100 off one?

Hmm, I've only seen $50 and $75 off.

Whats the $75 off code? :)

I think the $75 was canadian

Yup. Great deal — equivalent to $55 USD!

Here your go, $50 off code for the HTC U11
https://slickdeals.net/f/10157356-pre-order-htc-u11-599-50-off

Does not matter. Nobody is buying this anyway

Go back under your bridge.

This is the reason I didn't get an HTC 10 last year. The 'Unlocked' edition wouldn't work on Verizon. Now it will!

I bought the unlocked version because it had the necessary LTE bands but it never worked. Now this phone will. Makes me wonder why they didn't do this last year despite selling the phone in stores.

They were wrong about one thing. The HTC U11 only Supports 4xCA on Sprints b41. All other bands and carriers are 3xCA.

I know the article is about Verizon, but I'm still with Sprint on their CDMA network. What do I lose (from a technical standpoint) if I buy an unlocked U11 as opposed to buying the Sprint branded U11? I just want to get rid of all the Sprint bloatware...

The phone won't even activate on Sprint's network. So you'll get no service. You might get LTE if you buy a data-only SIM from sprint.

According to Andrew, the unlocked HTC U11 can be activated on the Sprint network with a Free Sprint SIM and get full service. I hope so because I just pre-ordered the unlocked Amazing Silver for $599

It's supposed to work, because both the unlocked and Sprint models are technically identical from a hardware perspective. The only question is whether Sprint will let you use it — they still hold the keys, so to speak.

So when I contacted Sprint they wouldn't tell me if the unlocked version worked or not because they want the MEID of the phone (which I don't have). So how do I go about getting it if I have to order the phone online? I told them that and they basically said "you need the MEID". Wouldn't even let me tell them its an HTC U11, they did not care.

The Sprint version has a different ROM, therefore Sprint only accepts IMEI's that are flashed with the Sprint ROM. After discussion with HTC, I have authorization to return for full refund the 'unlocked' Amazing Silver version. More colors are expected to become available for the Sprint version. No time frame or guarantee.

I think I saw in another thread that it was supported, but not all of the bands. So, I think that means I'l get LTE, but in area's where there's only 3G, would service still be available? Would their carrier aggregation still be supported with an unlocked version.

Andrew, You are totally forgetting that it doesn't have Band 30 for AT&T LTE, which is a killer.

Is it really a killer? AT&T's primary LTE bands are 12 and 17. Band 30 is only one of multiple supplemental bands for AT&T.

In Chicago it is. Band 30 is blanketed all across downtown and the suburbs. Same for New York City.

Why do you ALWAYS say this Andrew? Where do you live (obviously in a broad sense)? In LA & OC, Band 30 for AT&T is going to be their high speed carrier. Actually, if you bothered to do any fact checking you'd see that's their plan for 2016/2017 and to turn on 5G.

There are many old DAS systems in hospitals, malls and airports that rely on CDMA and I wouldn't trust WiFi calling in such situation. Many of these systems support all 4 carriers, so CDMA will be around for a whlie. It's also a shame that Samsung, Google and Apple have been doing unlocked phones for all carriers for years. HTC has never had engineers capable or been willing spend resources on providing an unlocked handset that worked with all carriers. Their "unlocked" / "international" handsets were a joke since they typically supported less networks than an iPhone, so might only work with 1 carrier in each country.

I think you underestimate the cost of creating a phone that supports these networks, and improperly put the blame on the engineers and not the overall business decisions surrounding these choices. Considering that HTC has made phones for Verizon and Sprint, I think we can say the company is more than capable of making phones that support CDMA networks. Whether or not it's monetarily worth it for the company is a different question altogether. There's more to this decision than just putting a radio in a phone. There's configuration, testing and longterm support involved — and it all costs money. Lots of money.

It's a marketing decision to create a handset branded as "international" and "unlocked" which suggests openness and freedom, but at the same time limiting it 1 or 2 carriers per country. IIRC, HTC 10 "international/unlocked" model doesn't support all the LTE bands used in the US and many other countries. If you want a world phone and use it on Sprint, then HTC doesn't offer such a product. It's a short term optimization because while you might save money on in testing, you burn money in managing inventory. Consider that they need to stock multiple models per carrier, per color, per storage and up front savings, cost you in the back end.

I get that HTC says the phone supports the full range of Verizon's LTE services but has Verizon said they'll allow it? There have been several unlocked phones now that said they were fully Verizon compatible but they were blocked from using VOLTE and wifi calling by Verizon.

Did you read the article? It says it was approved for Verizon so yes services will work.

Yes, read they went through the certification process but I was under the impression from reading on the forums here that other phones have been certified in the past but didn't have full access to everything unless actually sold by Verizon. I believe the Nexus 6 fit that description? They only gave the Verizon "model" access to VOLTE but not the identical unlocked version.

Verizon doesn't have to "allow" phones. Only Sprint does that. Read the article again. HTC says it works (properly) on Verizon, it works (properly) on Verizon.

Hope that means they will actually install decent LTE coverage at my house, which isn't in that remote of a location. Wonder if they will also make an LTE microcell.

If Verizon isn't using CDMA for voice currently then what are they using, VOLTE.?

Unless it's changed in the last year since I was on Verizon, unless VOLTE is enabled on your account and enabled on your phone, all voice calls are CDMA. I was one of the Droid Turbo owners who learned, after the purchase, that the phone only had one antenna so couldn't do simultaneous voice and data. It took several months until Verizon turned on VOLTE and even then, it didn't work well.

They are still using CDMA for voice to support older devices yet that don't support VoLTE. That's why they don't plan to shutdown the CDMA network until the end of 2019 to allow those older devices to be replaced/retired.

I used a Google Nexus 6 and Nexus 5X both non Verizon phones on Verizon with NO ISSUES.

$75 more and i can get an S8, unlocked.

With worse camera and worse audio and no sense squeeze for taking photos of other shortcut functions, you will also get a phone HTC U11 that has 7.1.1 and not Samsung 7.0, with the Samsung you will have to wait until next year for 7.1.1 while everyone else will be on 7.2

Sprint be like umm...yeah...

So... does the Sprint version have CDMA? I want to buy the unlocked version and use it on Sprint. Can I? it would have me $50 and I would have an unlocked phone. I have been looking for this forever.

That's my beef with HTC. The "Sprint" model works with Sprint. The Unlocked model does not. In fact, if you look at specs for the unlocked model, it doesn't show a CDMA radio:
https://www.androidcentral.com/e?link=https%3A%2F%2Fwww.kqzyfj.com%2Fcli...

I have looked at those frequencies up and down, for both the unlocked model and Sprint. There is no difference. I don't even see CDMA on the Sprint version. I think I might just have to buy the Sprint version full price and then have them unlock it. Andrew said "It's supposed to work, because both the unlocked and Sprint models are technically identical from a hardware perspective. The only question is whether Sprint will let you use it — they still hold the keys, so to speak." In one of the replies to someone earlier. I also contacted Sprint and they refused to check unless i have the MEID number....... Told them I wont have it until I order it and it comes in, so how was I suppose to make a decision. They basically said your SOL.

Isn't CDMA the same as 3G? If so, Sprint uses 1900 & 850 for CDMA EVDo Rev A, and the HTC specs shows 1900 as a supported CDMA band. Wouldn't that indicate there is at least some 3G/CDMA coverage? Not that it matters much since as Andrew pointed out, even though the two phones are the same, Sprint decides what they'll allow on their network. I guess when the time comes to purchase one, since I still want an unlocked phone, I just might switch over to another carrier.

I was thinking the same thing. I looked up the Sprint network and all the frequencys are supported. So if CDMA is 3G then wouldn't the U 11 support Verizon network? I was thinking the same thing. I have a really good unlimited plan that I have been holding onto for a long time with sprint, but it gets old trying to get a new device and make sure it compatible and "allowed". I have been with Sprint for a long time to. Also I might get the U 11 on Sprint but I was going to buy it full price. Then I would have them unlock it cause they can't say no if I am not obligated to them at all. I was planning on getting it full price anyway even the unlocked. I just now have to pay $50 more if I want the one from Sprint. Annoying.

Ah. That does clear that up. Thanks, Andrew! Had my hopes up. While I could probably use the U11 in most places I go, there are areas where the ONLY cell service is Verizon CDMA. (EVDO or occasionally even just 1X!). Verizon did do a pretty good job blanketing the US with 3G. Bet a beer that they'll push that 2019 date out further. Didn't it used to be 2017?

So does this mean I will finally be able to buy a One + device and put it on VZW's network? I thought VZW had/has some kind of system where they have to list your device in their system to use it. I remember this was the case when the nexus 6 dropped that they didn't import the phone into their system for a couple months or something to that effect and they wouldn't activate them for people. Does this mean that system is no longer in place as well?

Yeah, that listing system was put in place simply because CDMA devices did not have SIM cards back then and it was the only way to allow/disallow devices on their network. Once their devices get rid of the CDMA dependencies and run solely off SIM cards, that system should be defunct.....unless they decide to re-purpose it as a "black listing" system......which is entirely possible, as I've found out, given how draconian Verizon's attitude towards customers can be.

Funny because a cooperate Verizon store close to me tells everyone to turn off the VoLTE because it works better... Personally I have found it to work better over LTE as I have a stronger signal at my house with LTE than with 1X however I can be on the road sometimes in a fringe area a drop to 3G

Htc offers 30 days no questions asked returns. This may be a good device for me to try out before the oneplus 5 drops

So does this mean Verizon is GSM?

No, it means Verizon is LTE.

LTE is one of the stages where GSM and CDMA technology paths begin their convergence. Once 5G rolls in, you can bet there will be almost no difference in the actual inner-workings save for the bands/frequencies between carriers.

I did not know that. So it's just about the bands now?

Its a miracle if I'm able to make or receive a phone call on CDMA even with full bars. Both my HTC one m9 and my Moto Z Play are basically useless in some parts of Texas. For example Junction Tx. I've complaint to Verizon a bunch of time's and they tell me they don't have coverage. Keep in mind that's with either phone having full bars of 1X signal.

Thanks for looking into this Andrew, very much appreciated. Unfortunately, it won't be for me. My parents' home and summer homes in Upstate NY are in Verizon 3G areas (despite what Verizon may claim) so no CDMA makes it a no-go. Too bad. Really great job breaking this down though.

This author is full of sh*t. The main reason that people choose VZW over the others is their exceptional coverage in more rural areas. With no CDMA you lose most of that coverage, and then they're no better than T-Mobile, Sprint, AT&T. Plus, none of the MVNOs offer VoLTE, and without that you can't make calls unless you have CDMA capability.

If you open Verizon coverage map (https://www.verizon.com/featured/better-matters/#maps) and compare "4G LTE Coverage" with "3G/1X Coverage" (CDMA), you'll be surprised to see that it's the other way around - LTE coverage area is much larger than CDMA coverage area. People who have been following Verizon network deployments won't be surprised though, because they know that Verizon has been deploying a lot of LTE-only cell sites in the past few years.

Their coverage map makes it seem like they cover a whole lot more than they actually do...

Maybe, but it doesn't change the fact that today they have more LTE coverage than CDMA due to many LTE-only cell sites.

Agreed, this article uses the notion that it's OK to not have a CDMA radio today even though that part of Verizon's network may not be shutdown for 2.5+ years...

They're not going to just flip a switch and turn it off. They'll draw it down

No CDMA means a lot more dead zones here in northern California. And no CDMA radio also means no "roaming" on US Cellular to compensate for Verizon where US Cellular has service. Until 4G is everywhere 1x and 3G is now, CDMA will probably be around

We're in the same situation here in southern Oregon. In and out of LTE coverage and USCC roaming all day.

How long ago was Verizon's LTE outage where the only data you were getting was guess what? CDMA. Might not be a good idea to do it just yet.

Is there any difference in choosing the unlocked versus verizon version on the HTC.com website for preorder?

"Some people just won't buy a phone for use on Verizon that doesn't have a CDMA radio in it — there's no convincing them otherwise, even though the information on the impending death of CDMA is clear" This would include the employees at their stores! Don't dare walk in and ask them for a sim for your phone! Order it. According to my local store, my G5 is the only unlocked Android device to EVER work on Verizon's network! They argued that LG and THEIR OWN WEBSITE were lying to me! If it's not sitting on the shelf, the store zombies know basically nothing about it.

that is not true I have worked for VZW for 6+ years and I know all about phones we don't carry and both support and don't support ie the one+ 3t and u11 or the Nexus devices and even what iPhones work and don't so we are not all zombies. Also I educate my co workers on the things I know regularly.

There is a difference in behavior of reps at an "Authorized Reseller" and an actual "Verizon" store. Both stores almost look the same on the outside until you notice the "Authorised reseller" in small font on the signage. Being burnt by this distinction several years ago is the reason I reverted to ATT after my 2yrs commitment was up at Verizon. I am inclined to think your experience was at a reseller store.

Nice spin. Your sophistry is nigh mythical, my good Sir. Well we're not in 2019 yet, it's still eons away, and when you're in an LTE dead zone with no CDMA fall back from now till 2019 actually comes about, what do you do?
So VZW folks should pay top dollar for a device that is not 100% kosher on the network. Sorry, ninety-something % is not good enough. Even on VZW's awesome LTE network, there's still instances where inside a building or some dead zone corner (like at work right now), there'll naturally be 3G to fall back on, but no such luck if i have this U 11.

100% agree. In the training facility I train at there is literally no LTE reception in the building - from any carrier. Your phone is struggling to hang on to 3G in those instances. Without a CDMA Radio, this phone is going to be a liability. If there is any emergency, NO ONE will be able to get in contact with me, because this phone will literally have NO SERVICE without that fallback, while any other phone (or an iPhone, etc.) will at least be able to make/take calls and send/recieve SMS as a fallback from VoLTE and iMessage, etc. The U11 will be - literally - useless to me for 20 hours a week. This is not something I need to try, and it's not something that is exclusive to any particular phone models. No phones get LTE in that building. It's a bunker. You need the fallback, of your phone is a brick for the entire time you within the structure.. No one should have settle for this. We're only halfway through 2017. They should have put the CDMA radio in the phone. It costs too much to skimp on something so critical. I think we're closing in on the point where we're completely overrating the "PC" utility of phones and absolutely underrating the need for it to be able to do what it's primarily intended to do in as many places and situations as possible - make/recieve phone calls and send/receive simple text messages. "Oh, I'm sorry. I didn't know you had gone into labor. I was at <place> and my phone doesn't have a CDMA radio, so it's just an iPod in there..." But hey... You can squeeze it! Sorry, but no. It's literally not a phone as far as I'm concerned - as it pertains to my life situation. It's an expensive Android PMP.

"We're only halfway through 2017. They should have put the CDMA radio in the phone. It costs too much to skimp on something so critical." This is reason enough to stop reading the comments on this post. You make it sound like the world will end without CDMA. Newsflash: the vast majority of Earth never had CDMA in the first place, and the world is still turning.

I'm pretty sure VoLTE will drop calls if you lose LTE, but CDMA calls will not because it's using the legacy protocol, which has more coverage than LTE (it's wherever LTE is, and then some). I don't use VoLTE on my phones for that reason. Yes, I've had calls drop because of it, similar to WiFi calling (unless you're using an older Blackberry on T-Mobile... that implementation was pretty baller).

I love how every single person ragging on the author of the article failed to acknowledge the fact Verizon themselves admitted their plan to sunset and get rid of CDMA by 2019..which is LESS than 2 years away. Guess what people...the person whose work location has only 3g...and every one else complaining..come 2019...your **** out of luck ANYWAY...Verizon isnt going to add any new towers...their LTE coverage is their LTE coverage...the new towers they may put up are gonna be their spanking new 5g ones. And all phones will be no different than the U11. So great....dont buy this phone now....fair enough...hold onto your cdma ones...doesn't change the fact Verizon is getting rid of cdma and in 2019 that corner of your workspace and all the other people complaining will STILL end up having no further service there as your new phone at that point wont have CDMA. As the article points out...MOST people wont even notice the difference..and the random dropped call due to no cdma wont be any different than any other kind of dropped call (congestion or hiccup) and no one will care.

It's over 2.5 years away (end of 2019) and that's no guarantee as was stated in the FierceWireless article (www.fiercewireless.com/wireless/verizon-to-shut-down-2g-cdma-1x-network-...): Verizon confirmed to FierceWireless that it is currently planning to shut down its CDMA 1X network by Dec. 31, 2019. However, the carrier said it would work with its current CDMA 1X customers and would consider operating its CDMA 1X network into 2020 if those customers need more time to move onto Verizon's LTE network. "We will not abandon a single customer," Verizon spokesman Chuck Hamby told FierceWireless. "We will work with each of the customers one-on-one." "Should there be stragglers, we will continue to work with them," Hamby added.

"We will not abandon a single customer," Verizon spokesman Chuck Hamby told FierceWireless.
I'm sure he'll stay true to his word.

Interesting take, but I am dubious for two reasons:
1.) What happens if you happen to be in an area without LTE coverage?
2.) Will Verizon even agree to activate the phone on their network? This isn't wouldn't be the first phone to be technically capable of working on Verizon's network only to be blacklisted at activation.

So what about our aging parents / grandparents who refuse to get off their flip phones?
Will those devices get LTE radios?

Yes it has Verizon LTE (Ban 13 NO Band 4)
VOLTE works fine.
There's no Wifi calling though.
No Verizon Visual VM either. This really ins't a story because Nexus 6P works on VZW too. With no VVM or Wifi calling.

A lot of this article is now out of date. HTC no longer lists anything but Band 13 and a rep told me that only Band 13 works with Verizon. Kind of unfortunate since it was advertised differently when most of us purchased it.

The only brand smartphone I have ever used is an HTC . I have traveled from one end of the USA to the other - north south-east-west (family spread-out). The HTC works everywhere. Best phones on the market - blows any Samsung away by miles. Also, the Samsung constantly brags about how good their camera's are in the phone. Please, spare us this nonsense, the cameras in the HTC phones are miles above it - always have been.

So all of a sudden I've not been able to receive MMS messages, particularly those with pictures attached. How does CDMA play into this? I thought MMS went over CDMA? I've had to reset my U11 to factory defaults 3 times in the past week in order to get messaging back. I've also had been in touch with VZN tech support, have swapped out the SIM card, and have done everything else I can think off. The last thing to do is to have VZN check that the IMEI is listed in their database (per xda-developers forums) and then I'll swap out the phone. Thanks
Android Central Newsletter
Get the best of Android Central in in your inbox, every day!
Thank you for signing up to Android Central. You will receive a verification email shortly.
There was a problem. Please refresh the page and try again.