Step into a new world with $20 off the HTC Vive virtual reality system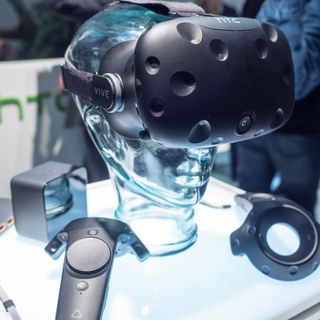 The HTC Vive virtual reality headset has dropped to $480.41 at Amazon. This price is the best we've posted all year. Usually, the system would run you $500, and it has never reached this low on Amazon before. While those savings might not seem substantial, there's no telling when it'll fall back down this low again considering how rarely it goes on sale.
The worlds might be fictional, but the savings sure aren't. The HTC Vive turns desktop VR into a room-wide experience, and this price is better than we've seen in months.
The HTC Vive is one of the most popular virtual reality systems out there. It turns the room into a full-scale virtual environment, allowing you to physically walk around the world you're playing in. The first time I ever put on an HTC Vive headset, I was speechless. It changed the way I'd see video gaming forever. I spent hours in that virtual environment, completely baffled by the way it transformed even games I'd already played into something equally memorable and difficult to explain. Trust me: you haven't lived until you've slaughtered a seven-foot-tall Deathclaw in Fallout 4, or physically had to duck and cover in one of the many popular zombie titles.
Your purchase includes a six-month trial of Viveport Infinity, which is a subscription service that grants you access to over 600 games and apps. That trial has a $50 value considering typically the service costs $100 per year. The games you play will track the movement of your headset and the controllers you hold, giving you a full body virtual reality experience.
Note that the Vive is not a standalone system. You'll need a capable computer to run it. Check out this roundup of the best VR computers for more information.
Louryn saves money on everything she buys (which is a lot.) In between waiting for Amazon deliveries, she pines for the next Elder Scrolls installment and checks Reddit for gaming rumors. She also loves Hearthstone, makeup, and beer. Find her on Twitter: @lourynstrampe
Android Central Newsletter
Get the best of Android Central in in your inbox, every day!
Thank you for signing up to Android Central. You will receive a verification email shortly.
There was a problem. Please refresh the page and try again.