Tell us how you use Voice Assistants and you could win a $150 Amazon Gift Card!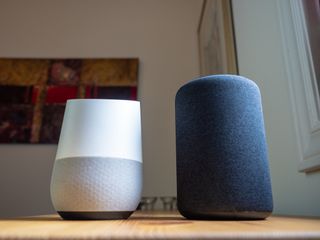 Voice assistants aren't in just your pocket anymore. Today you'll find them on your comptuer, in speakers, on your TV, and even built into your thermostat or lightswitch. Whether it's Alexa, Google Assistant, Siri, Cortana, or any of the dozen upstarts nipping at their heels, these smart voice assistants are everywhere and getting smarter and more capable every day. They're more than just light controls and music players — they're woven deeper and deeper into our lives. Need a Lyft? Ask Google. Video call with family? Sup, Alexa. Directions to the park? Hey Siri.
Not everybody uses a voice assistant, and all that do use theirs differently. So we want to know how you use voice asssitants in your life. Whether you're a Siri pro or an Alexa novice, we're interested in your experience with these up-and-coming digital helpers — give us a few minutes of your time to fill out our survey and you'll get a chance to win a $150 Amazon gift card!
Hey Google, thank the reader for their time, please.
Daniel Bader was a former Android Central Editor-in-Chief and Executive Editor for iMore and Windows Central.
There is something wrong with the form. It forces one to log in using Google and then stated that I had already entered the contest. "You've already responded You can fill out this form only once.
Try contacting the owner of the form if you think this is a mistake." I have not filled out any form yet. This form may have been created poorly. RWB
Android Central Newsletter
Thank you for signing up to Android Central. You will receive a verification email shortly.
There was a problem. Please refresh the page and try again.