Sony's new audio offerings include Google Cast-enabled speakers and more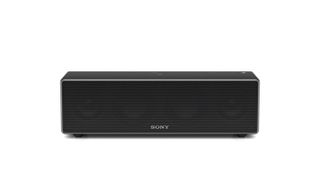 Sony has just unveiled the latest entries into its wireless speaker portfolio, and there's plenty to choose from. At the top of its range is the new SRS-ZR7, which features four speakers and supports hi-fi audio, Google Cast and Spotify Connect. Sitting a bit lower on the totem pole is the smaller SRS-ZR5, which also supports Google Cast, and both speakers can be paired with one another. The SRS-ZR5 also features Bluetooth and NFC connectivity for easy pairing.
Sony is also expanding its h.ear series with three new products. There's the portable speaker, h.ear go, along with the h.ear in Wireless earbuds and h.ear on Wireless NC over-ear headphones — all of which feature hi-res audio support. Likewise, Sony's Extra Bass (XB) range of products are getting a boost with the MDR-XB650BT headphones, SRS-XB3 and SRS-XB2 wireless speakers, and GTK-XB7 high power audio system. Each Extra Bass offering is meant to enhance the latest popular tunes with thumping bass and, as sony puts it, "practically transport you to a club or music festival, allowing you to enjoy soul-shaking bass anywhere."
For more from CES 2016, keep it locked to Android Central as the show continues.
It seems silly to buy cast enabled speakers unless they're guaranteed to work with whole home auto/other ChromeCast Audios

They don't. I have the SRS-X88. I really like it, but it's an island unto itself, unless you have other Sony wifi speakers.

I asked Google support why it's not supported and they told me it's a feature that's been overlooked (the feature being multi-room streaming with Chromecast Audios). They said they're looking to add it, hopefully. I hope they do. Soon. Posted via the Android Central App

According to another article posted today, it's coming: "Google also announced that multi-room sync support is coming to Google Cast sometime later in 2016. It will let users mix and match different Google Cast-supported speakers with those that are connected to Chromecast Audio." Here's hoping it's not *much* later in 2016, because multi-room sync is going to be the icing on the Google Cast cake.

Could we have some more pictures please? Posted via the Android Central App
Android Central Newsletter
Thank you for signing up to Android Central. You will receive a verification email shortly.
There was a problem. Please refresh the page and try again.