Some U.S. retailers already selling new Nexus 7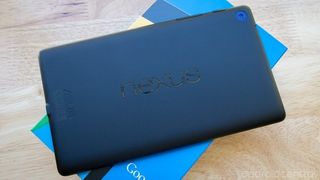 The new Nexus 7 won't be officially available until July 30, but that hasn't stopped some of the big-name brick-and-mortar retailers from selling a few tablets to customers ahead of the official date. AC reader Tony Hoffman tweets (opens in new tab) that both he and a friend were able to snag new Nexus 7s from two different Walmart stores. And The Verge is reporting that Best Buy is now selling to customers in some stores, including at its Union Square location.
There are only a few more days left before the official Nexus 7 street date, but if you're hoping to get one in time for the weekend, you might want to check your local retailers. If you've been lucky enough to pick up a new Nexus 7 already, hit the comments and let us know how you're liking it.
For more on the new Nexus 7, check out our hands-on walkthrough.
Source: @TonymHoffman (opens in new tab), The Verge (opens in new tab)
Android Central Newsletter
Get instant access to breaking news, the hottest reviews, great deals and helpful tips
Alex was with Android Central for over a decade, producing written and video content for the site, and served as global Executive Editor from 2016 to 2022.
Why does it look blue (-ish?) in so many photos? Posted via Android Central App

Cause it is :) Posted via Android Central App

It looks jet black in every video I've seen of it...

It's the lighting, probably didn't put much effort into color correcting the image.

Or it's simply just a mediocre camera.

Looks like quite a few BB locations are selling it. Just checked online for in-store availability, and the majority of them are displaying as available today. I wish I could pick one up but no time today. I can wait one more day for my Amazon order to be delivered tomorrow (yay Saturday delivery!)

were did you find it on amazon cause i can't find the new one on there

Here you go http://www.amazon.com/Google-Nexus-Tablet-7-Inch-Black/dp/B00DVFLJKQ/ref...

hey thanks i did find it right after i posted this i got it coming tomorrow

You bought last year's N7. Not yet available on Amazon. Might want to check on that.

It's the new one Posted via Android Central App

If only there was a retailed that stocked the LTE model....

Sounds like the LTE model won't be available for a few more weeks (Google's actual words "coming weeks").

I checked Best Buy earlier this morning, and while they weren't available in the closest store to me, they are at the next-closest. Went ahead and ordered the 32gb model, and will be picking it up at lunch. Already got the notification e-mail it was ready for pickup.

Me too. Can't wait!! Part of me wants to get it before Best Buy says, "Oh wait, Tuesday? Sorry, it's not ready to pick up yet!"

I would like to try it first. If the hisense sero pro 7 gets updated to 4.3 I may just be getting that one. I really don't need 1080p. Either way it's good to see that they are available already. Via Android Central App from a Galaxy Note 2

Soooo tempted...It's in stock at my local Best Buy. I could pick it up on my lunch break. Bah!

Just ordered mine for pickup. It appears that almost every store in the DC area has them available.

Ordered mine for in store pickup. Just waiting for the email that it's ready. Posted via Android Central App

Bought 32 gig for pickup at local best buy today. Thanks or the heads up.

My local stores only have 16gb in stock, no 32s.

My BB has 20 in stock, but they won't sell me one until the official date. Posted via Android Central App

Hello, There has been a change to the release date of the pre-ordered item listed below. The new release date is 07/26/2013. To find more information on this order please check your order status. If you have any questions, please call us at
1-888-BEST BUY (1-888-237-8289). If possible, please have your order number handy. Thanks for shopping at Best Buy. Sincerely, Lisa Smith
Vice President
Best Buy Customer Care

I got the same email I was and am excited.

A BestBuy near me had them in stock so just ordered one for pick-up :-D

Dang it its too late to cancel my best buy pre order and just get one at walmart.. Oh well im just glad im getting it early.

Mine will be ready for pickup today :-) Posted via Android Central App

Is there any kind of special promotion with the new nexus 7 like a free movie or 25 google credit? I sort of remember the original having that and I am just curious. Posted via Android Central App

1st gen was Credit and movie. This one nothing this time around. But I am fine with that. Just glad I am not dealing with play store for this tablet.

Sweet, thanks for the heads up. Just ordered one for pickup at a BB near me. Now waiting for the e-mail to pick it up.

I went into my local Best Buy when they opened and bought a Nexus 7! It wasn't easy though... I got rejected a few times until one of them checked their system. There's a new memo in it (that was added very recently) that states the release date was changed to July 26. So, if you're having issues, get the employee to check for that memo. The release date is definitely today.

Available at most Best Buys here in Harrisburg PA and the surrounding area. I am at least going to go over there and play with it a bit...

Thanks for the tip! I just snapped up my 32GB new Nexus 7 here in Orlando.

I had pre ordered a nexus 7 thru best buy . Boy I am pissed . If I knew they were going to release it early I would have never pre ordered it. Best buy is going to have a bunch of pissed off customers on their hands. Posted via Android Central App

I preordered it too and paid extra for faster shipping because it said I would get it on the release date. I'm annoyed about that so I called to complain. They couldn't cancel my preorder (which was fine because it's actually not yet available in my local stores, I would have to drive about 2 hours to get one), but they gave me a case number. I will have to call again, but they will refund the $15 extra I paid once I receive it.

Just ordered Nexus 7 online and got email that it is ready for pick up at Best Buy in Phoenix. Getting new Geek toy on SysAdmin day, how appropriate!

I just checked and ALL my local best buys have it in stock....gonna be buying it today. Posted via Android Central App

Just came back from BB with my N7...but no cases/covers yet :-(

My local BB had 2 cases available.
Targus Vuscape @$24.99 and M-Edge @ $39.99.
We checked and both fit the new Nexus 7.

Were they listed as being for the new N7?

Just talked to a supervisor at Best buy customer service. Most people who I know who pre ordered are pretty pissed off. She told me Google decided to release it early not Best buy. I personally will never pre order anything from best buy again. Posted via Android Central App

So you're blaming Best Buy for Google's decision? That makes as much sense as blaming the earth for being hot that day. If anything be pissed off at Google for once again messing up a launch of a Nexus device.

My Walmart has some and they are holding one for me as I type this... Here we go!

Just picked mine up. the screen is gorgeous :) worth the extra money alone IMO.

Picked mine up from my local Beat Buy as well. Worth every penny so far, this thing is so fast! Posted via Android Central App

Picked mine up last night at Walmart!... Have to say this Tablet is Awesome, this is my third 7 inch Tablet and by far the Best!!... It's smooth as Butter!! Posted via Android Central App

Just picked one up at Gamestop. Feels nice, looks nice. Not sure I like the off center camera, but I seldom use the camera on the tablet anyway.

Picked one up at best buy and they had an extra Chromecast in stock. Picked it up and got the Netflix code to boot! Posted via Android Central App

I blame best buy because I also called Google and the rep told me they got the stock into the stores early and it was the individual stores decision to put it out earlier. Posted via Android Central App

got mine this morning at 10am at bestbuy. the lady thought she gave me a 16gb model and called me 5 mins after i left. i told her "do you really think i would leave your store without checking that i got my 32gb of space lol". this thing is rock solid. nice work this round google

Ordered two 32GB at 3:30 pm and picked them up an hour ago from the Best Buy on Rt. 23, Riverdale NJ. They had a few more left and a few set aside at the pickup counter. When the kids go to bed I'll try it out.

Walmart in Snellville, GA outside Atlanta just sold me a 32GB version for $229! Posted from my HTC DNA via Android Central App

Just went into my local Best Buy and they still had plenty of both the 16 and 32 GB models in stock. Thanks so much for reporting this! You guys made my weekend.

My local Walmart had the new Nexus in the same place as the old one and almost sold it to me for $199. After it appeared as $285 (tax), the cashier checked with her manager and they wouldn't let me have it at $199. I'm guessing someone will get lucky. Posted via Android Central App

Typing this from my new 32 GB nexus 7 I picked up at bestbuy today. Significant speed improvements, way better screen colors, and no lag when updating apps like on original. Posted via Android Central App

I picked mine up today at best buy its amazing so far

I got mine today at my local best buy, one guy immediately said we're not selling it right now but another employee I asked went and got one for me. Nexus 7 feels and looks great! Oh and they even had it on display. Posted via Android Central App

I found one at GameStop on Friday. Posted via Android Central App
Android Central Newsletter
Get instant access to breaking news, the hottest reviews, great deals and helpful tips
Thank you for signing up to Android Central. You will receive a verification email shortly.
There was a problem. Please refresh the page and try again.