Keeping your devices powered up while on-the-go gets much easier with a power bank as powerful as Mophie's Encore Plus 20K. This 20100mAh Power Bank has enough juice on a full charge to add up to 210 additional hours of power to smartphones, and today only you can snag one for 50% off at B&H! At just $24.99, this is one of the best prices we've ever seen this product reach, and B&H includes free shipping with its purchase too.
Mophie's 20100mAh Encore Plus 20K power bank is a bit more helpful than others, in large part due to its integrated charging cables that allow you to charge iOS or Android devices simultaneously. With Lightning and micro-USB cables built into this portable charger, you can forget about having to remember to bring separate cables along on trips. This single item keeps you prepared to power up all by itself.
Power On The Go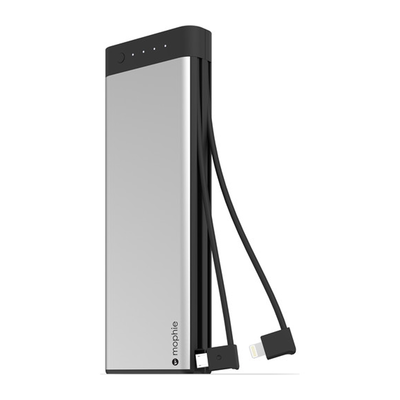 At 50% off its regular cost, now's the time to pick up this portable power bank that adds up to 210 additional hours of power to smartphones or up to 74 hours for tablets. You'll save even more thanks to its built-in Lightning and micro-USB cables.
$24.99 $49.99 $25 off
This power bank is even fast charge compatible, though you'll want to make sure you have a fast charge USB wall charger to power it up at maximum speed. Mophie built fail-safe circuitry into these power banks to help keep them from overheating. Meanwhile, LED power indicators on the front keep you informed of how much power is left and when your battery has reached a full charge.
Having a portable power bank is pretty important when you're packing for a day trip or vacation, but once you've checked that off your list, this guide on best travel accessories in 2019 can help you figure out the other tech essentials you need to bring.
We may earn a commission for purchases using our links. Learn more.