Official Wikipedia Android app finally lands in the Market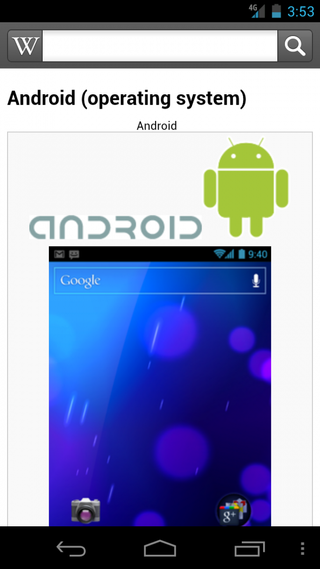 It's been a long time coming, but Wikipedia has finally released an official Android app, sneaking it into the market a few days ago. It's kind of ironic timing given that Wikipedia is blacked out today in protest of SOPA and PIPA, but everything seems to be working on the mobile version.
Features of the app include:
Save for later for offline use
Search articles nearby
Share articles
Multiple language support
Full screen search
It's great to finally see an official Android app from Wikipedia. Alternatives that we've used have been decent, but it's nice to have one straight from the Wikipedia developers. The free app is available in the Android Market. We've got links to it after the break.
Android Central Newsletter
Get instant access to breaking news, the hottest reviews, great deals and helpful tips
Is it blacked out today too? :)

How is this better than Google Search?
Another useless app to consume phone memory.

It makes the pics bigger! http://tinyurl.com/cend4gm

I prefer Wapedia over this...

Wapedia has a dark theme option.

Agreed. Wapedia supports Wiki Travel, for one thing.

As amusing as it is to see this today of all days, it looks like it was actually released 5 days ago. So no, they didn't release it on the SOPA blackout day...that's just when AC wrote about it. :-)

I just book marked the mobile site...::shrug::

Google's search in the Market leaves something to be desired. I typed in Wikipedia, and the actual official app was something like 12 items down. I've seen this strange ranking on other app searches as well. I wonder what their criteria is.

Actually, mobile Wikipedia was not blacked out at all. I used it several times today. Although through a "desktop" browser, it is. Anyway, I don't see the need for yet another "app" that is just a wrapper around a perfectly usable website. But, to each their own!

Very nice and at quite an appropriate time!

Very nice. Works well and has some nice features. Kudos!

If you've got the NoScript extension for Firefox, Wikipedia works just fine today anyway.

Been using Wiki Encyclopedia Pro (paid app) for sometime and its great. You can get it free from getjar gold apps.

Can't be moved to my SD card so I immediately uninstalled it without even opening the app.

I'm getting pretty bad screen blinking after scrolling on the Verizon Galaxy Nexus.
Android Central Newsletter
Get instant access to breaking news, the hottest reviews, great deals and helpful tips
Thank you for signing up to Android Central. You will receive a verification email shortly.
There was a problem. Please refresh the page and try again.