How to connect Harmony Elite or Harmony Companion to Alexa, Echo Dot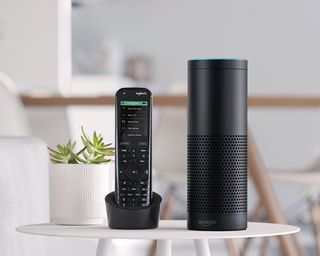 The Logitech Harmony Elite and Harmony Companion remote controls are a great way to control your home with a single remote instead of having to shuffle between different remotes for different devices. Whether it's launching a game of Metro Exodus on your Xbox One X or setting the mood in your house, Logitech Harmony can bring it all together with just the press of a button. But what about adding Alexa to the mix? Taking it one step further, the two devices can hook up with Alexa to make your experience truly hands free, as a good smart home should be.
What you'll need:
How to do connect your Harmony remote to your Amazon Echo
Open the Alexa App on your iOS or Android Device.
Tap the menu icon in the upper left corner of your screen and select Skills & Games.
Tap the magnifying glass icon in the upper right corner of this screen.
In the Keyword or skill name field, type in "Harmony."
Select the blue Harmony icon that comes up.
On the next screen, click Enable Skill
As soon as you set this up, you will be able to use your Echo Dot — or other Alexa device — to control your Harmony Elite or Harmony Companion-connected devices with simply your voice! Set up the home theater for your next movie night and introduce some Harmony with your Alexa devices!
Our top equipment picks
If you're looking to introduce Alexa into your Logitech Harmony set-up, you'll need the following devices:
Make it hands-free
A hands-free Harmony helper awaits
The Amazon Echo Dot, beyond being the center of your smart home functionality, plays exceptionally well with the Logitech Harmony devices.
The Echo Dot is small and unintrusive, making it the perfect accessory to pair with your Harmony Elite or Companion devices. You can tuck it out of sight, and just simply forget about it as you go about with your day. There's also the music streaming and alarm/reminder capabilities of this device, making it the perfect linchpin for a smart home.
The key to harmony
Logitech Harmony Elite Remote Control
The central hub for a hands-free Harmony experience
The Logitech Harmony Elite allows users to connect all of their major devices into one central hub, enabling full control over every facet of your smart home.
The Harmony Elite plays nice with all of your Amazon Alexa-enabled devices, as well as the various devices connected to your home wi-fi network. Doesn't matter if it's your Xbox One, PlayStation 4, your Philips Hue or LIFX bulbs, or even that crazy routine you set up through IFTTT, it just works.
Value pick
Logitech Harmony Companion Remote Control
A cheaper alternative to the Elite
The Harmony Companion does everything the Harmony Elite does, just without the touchscreen on the remote.
If you don't need the touchscreen, you can save some money by purchasing the Companion instead of the Elite. It'll still get the job done and you can still connect it to Alexa.
Additional Equipment
You'll need to download the Amazon Alexa application in order to set this all into motion.
Alexa App (Free at Google Play Store)
The linchpin of this whole setup, allowing you to connect your Harmony and your Alexa-enabled device to one another.
Be an expert in 5 minutes
Get the latest news from Android Central, your trusted companion in the world of Android
Clinton Bowman is an Amazon Product Expert at Android Central. He mainly focuses on the Amazon technological ecosystem as it pertains to Echo, Alexa and Amazon Fire devices. When not writing and talking about technology, you can find him playing video games on the Nintendo Switch, Xbox One and PC, as well as watching and talking about anime, NBA basketball and pro wrestling. He's also an avid mobile phone and PC building enthusiast.