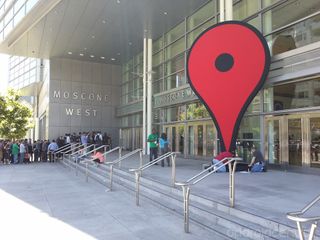 A giant pin stuck smack in Moscone West can mean only one thing.
Google I/O is here! Everybody's favorite search engine/Internet Giant is, of course, having its annual developer conference in San Francisco this week. And, of course, we're here to bring it all to you as it happens, live and in living color.
We're at Day -1. Things don't really get going until morning, at which time we'll be back at 9:30 a.m. PDT for the Day 1 keynote. (Go ahead and bookmark that, and our Day 2 keynote liveblog as well.)
In the meantime, ease on past the break for a quick photo gallery and an appearance from yours truly. (And be sure to actually watch the video -- there might be a little giveaway involved.)
It's gonna be a hell of a week.
I have entered a lot of these Android Central giveaways and statistics show I will probably die before I win one.

How did you read my mind? I was thinking the same thing! Good luck to everyone!

lol I'd show up to your funeral wearing the T-shirt too lol and say "if only you live, oh well, I won" (JK)

I've won once. It was that Valentine's Monster Bluetooth speaker thing. They said "Name the love song that describes your life" and I said "Withered Hope" by They Might Be Giants.

Bet I die first before I win!... wait... :-D EDIT: ...way too much Smithwicks tonight!

I want it, dead or alive.

Would love the rock that shirt!

I would love to have the shirt. Android Central Rocks!!

I never win but oh well it does not hurt to try!!!!!!!!!!!!

Hope I win that shirt is awesome! Wish I was there...

Hey, I would love that shirt. I work not far from Moscone West, I'll pick it up for a free along with I/O invite (kidding).
Looking forward to the coverage.

My T-shirt drawers are full, so I'd probably have to give away one of mine to good will or something. It's like giving me the shirt creates two winners, me and poor people who like funny T-shirts.

So my only question is this, is it an XL t-shirt if not give to someone else please lol.

That's a sick shirt! I/O will be awesome

I need that shirt! My personal economy sucks!

That's an awesome t-shirt =)! I think we all want one =P!

You Need Someone sexy to Rock that Shirt.. And THAT IS ME :)

Are staff allowed to enter too ;-)

That shirt is really cool, and I'm really looking forward to watching lovestreams all day for the next three days!

I'd love to rock this shirt.

Nice looking shirt, would be great to wear to work just to annoy the iphone users.

I could really use a new t-shirt... I can't seem to get those Ice-Cream Sandwich stains out of the ones I have right now.

I'd probably swim in that shirt, but would still love to win something from AC!! Can't count how many of these things I've entered...lol Thanks for the coverage guys! Can you please ask about Flash & ICS? I couldn't watch the video on my newly updated RAZR...BOOOO!!!

Give the t-shirt to Alex and get him to post it to me once back in the UK. Cheers!

That's a pretty sweet shirt. Would look great on me. :)

Can't wait for things to get started tomorrow. Thanks for the chance to win guys!

Fingers crossed for Google SWAG!

Should have had the girl in the black boots model the shirt for you. Will always comment for SWAG.

Nice tee... can you throw in a Samsung Galaxy S III (verizon)?

Sweet, hook me up please.

I need a shirt! My wife just threw out a bunch of good ones!

I want that tshirt! Google/Android for life!

I would love to sport that shirt!

This is me leaving a comment, because shirt.

I would love one of those shirts!

What size is the shirt? Anyways, could I have it?

I'd rock that shirt. Good luck everyone and a happy Google I/O to all!

I need that t-shirt in my life

I'll wear that shirt to next years I/O
If i get tickets

Yay I would love the shirt

Here i go entering another contest maybe ill actually win for once, good luck to everyone!

Oh why not, I'm in for a shirt!

Just in case you were wondering, I would enjoy that shirt very much.

So, which one of you pushed that Dodgers fan off Pier 32?

I'll take that shirt off your hands :P

Toss the T-shirt this way!

T-shirt please! want haz!

I think the code finishes off the shirt. Would love one too.

Cool. Looking forward to the coverage from I/O.

I work with ALL crApple fanboys and therefore am abused daily, even violated on a regular basis. All of my psychological trauma would be resolved if I could just when this shirt. Oh Freud, if you are there , I need this shirt! Help him win (that was my other persona talking, sorry)!

I am ready for some awesome...

I'll take the awesome I/O shirt.

I would love that t shirt!!

I have won before but never got my prize. I sent emails n tweets but nothing. But that hasn't stopped me for entering.

I would love that t shirt!!

Free shirt! Something to wear while I wait for my Nexus 7 Tablet.

Looking forward to your commentary from the event, and particularly to see what's coming for Android.

I would wear it with pride!

Would loveeee to win this shirt!! Please please pleaseeee! <3

Hmmm... Google's on tshirts now? I'm in

would love to win the shirt

I'd love a shirt. Thanks for giving a few away!

no question that shirt would help me get chicks. i want it!!! please

c'mon i'd be the only girl in my office of apple lovers to wear a Google I/O tshirt!

That shirt looks awesome! Would love to win it!

Would rather be at Google I/O, but I'll take the shirt instead. :-)

Hey Phil! you seemed a little distracted and seemed like you did not want to do this promo. What gives? I know, you said it was your 3rd year, but still, it is fun. It is always very interesting to see how people sell their products or come up with new ways to make our lives easier.

This will fit in with my other geeky t-shirts. Thanks for the contest.

I'll take the shirt just to show the world my inner nerd

Hey Phil, thanks for covering Google I/O for us. Please feel free to send a shirt my way.

Oops. Double post. Please remove.

I'm a rather small sized ladee, and anything larger than a male medium may as well be a night shirt on me(meaning if it's bigger, it should go to someone else) anyway, still excited for the episode!

I'll need a large Phil, and get google to sell them...I'll buy one outright!

This is the comment that is picked ;)

Phil if I win this you have to show up at my house and shot it to me from the street w/ a tshirt gun, oh then we can have a few beers.

I will happily receive said shirt.

Man I sure would like to wear this and gloat.

Wanna win the t-shirt! Thanks for the chance, Phil! :-)

<------------ Uno right here Phil!!!!!!

toss my number in the hat!

Since I couldn't be there to get the swag in person you can just send it to me.

Awesome t-shirt. I want one! :)

I want this shirt so much, but seriously I would like one :P

I'm gonna win this time, I just know it!

Ill take a shirt. What size is it ?

TSHIRT! I design them for a living. Would love to add this one to my collection.

TSHIRT! I design them for a living. Would love to add this one to my collection.

TSHIRT! I design them for a living. Would love to add this one to my collection.

That is an awesome looking t-shirt!! I want it.. please!!

That is an awesome looking t-shirt!! I want it.. please!!

I would love a new T-Shirt to make all my Apple friends envious.

I would love a new T-Shirt to make all my Apple friends envious.

I won. Awesome. Thanks for the T-shirt guys.

I'll take the shirt but can you stop by In-N-Out Burger and pick up a double double animal style while you're there and send it too... Thanks in advance

Me wearing this shirt will be my next icon pic.! (positive thinking lol)

Phil love the last photo shot, did you shoot that? And what lens did you use? You gonna need A/C because AC is going to be hot starting tomorrow... hail to the F5 key.

That's one fine looking shirt....

This will just be buried under all the shirt comments, but if today is -1, tomorrow is 0. Since tomorrow is day 1, today is day 0,

I'll take one of those if you don't mind.....

I'd love to win this awesome shirt. Thanks AC

Me...Want...Teeee-Shirt...Ahhh...Ahhh...Ahhhh....!!!!!!!!!!!!!!!!!!!

Too bad I don't wear clothes...

Love me a T-shirt!!! Hope I win!

hope i win. really sick t-shirt

hope i win. really sick t-shirt

An IO T-Shirt would be awesome to own. Thanks.

I could always use another T-shirt. Fingers crossed.

I've synced all other parts of my life with Google, might as well sync my clothing too! Pick me for the free shirt Phil!

and this would be a comment on this post

wild giveaway has appeared!

I could do that shirt justice!
just sayin . . .

Would love to finally win something .... been trying to win for months ...

Love the video Phil! Looking good in front of the Moscone.

Looking forward to the streaming. I get all giddy over things like this.

Man, I would love to get one of these T-shirts...looks badass!

That shirts pretty sweet. Id love to rock it.

I'm in! Tell Alex "Welcome to the U.S.!"

Id love to win something for once...

Very cool shirt. I would love one!

Maybe, just maybe this time.

Great looking shirt! And it even looks big enough to fit my fat ass.

Super cool Tee, awesome!!

GOoooooOGLE SHIRRrrRRT!!!!!

I'm ready....! (exactly what she said)

Nice Tee!~ I would love to have one~!

2XL please and thanks ;-)

What in the world? Wormsss !! RARRR

Well after posting on the G+ thread, I will now post here in hopes of winning a shirt.

Unforseen prediction. Jelly Bean Will Allow for a strictly STOCK option that overrides Sense, Wiz, Motoblur, etc. Allowing EVERYONE to update as soon as possible if they desire. oh....oh oh oh oh oh I want shirt too! That'd be slickness!

ooooooh I would so rock that shirt at school and make all the other nerds drool lol

No one said "I'm to sexy for my shirt"

I want dat shirt. Looks nice. :)

It won't fit but I'll take it. The wife needs a little nerd in her sleepware selection lol

I actually look good in black, and I need all the help I can get when it comes to looking good... :-)

Wow. That is an awesome shirt!

Go go gadget t-shirt send it here.

I would wear this everywhere... Forever,.... Even at my wedding

awesome, I hope I win that awesome Google I/O shirt

I MUST GET ONE OF THESE!
(That's an international contest right?)
I wonder why I'm such a fanboy as well.
Anyway good luck to myself XD

Love the site can't wait to see the coverage. Love the shirt, too. Hope to win.

Count meeeeeee in! Hope to get one!

Do these shirts usually end up on eBay?

Let's see.. ONE tee shirt to give away and .. hmmmm.. 12 million members? Pretty good odds I think, LOL.. so yes, PICK ME and prove I'm wrong!!

Oh, perfect timing. I need to get myself a few new clothes. Some freebies won't hurt. :) One IO t-shirt coming right up. Right? plz plz plz.

I gotta say, I'd love that shirt! Looking forward to I/O 2012!!

Oh goodie I won me a tshirt!

Awesome shirt! If choosen I will make all my friends and family jealous please pick me!

I'm feeling luckyy. My favorite Android news supplier will surprise me with a T-shirt!!!! woohooo

Google Eye Oh? Google IO. Google UO. Google You Owe (me a shirt)! ;D

I am in need of clothing.

That t-shirt shall be mine!!!

Send my shirt via t-shirt cannon!

Not me this time around :(.

(Insert comment here) *edit: changed to parentheses so that the text would appear.

comment left (will whimsy really give me any heads-up?)

Sweet Jelly Beans TShirt!!!!

Phil, I want your shirt. No, I need your shirt.

Well, it seems the time has come for the wife and I to move from our years of phone loyalties (her to BBerry, me to Palm). Can you see it in your heart to welcome these wayward souls to the Green Robot? A Google IO shirt would do much to ease the transition. Thanks ever-so-muchly!
Long Live Lloyd!

A T-Shirt ! that's what I want !

Shiiiiiiiiiiiiiiiiiiiiiiiirt. lol Have fun at the I/O

I would wear the shirt until I get mushrooms growing out of the arm pits. Then I would wash it and do it again.

Dude. That shirt looks great! How about we make a deal? If I promise to refresh your live blog pages from my tab 10.1, GNex, laptop and Google TV, could I win the shirt? I think that sounds like a fair deal, but I'll let you guys be the judges ; )

Strange pattern on the T-shirt but still, I'd love one!

Cool shirt! Looking forward to see what comes out of Google I/O this year, there are so many things that need some attention (Jelly Bean, Google TV, Google @home, Nexus Tablet, news on the update alliance, BETTER news on the Google Maps update...etc.). Hopefully it's a big week in Google world!

awesome shirt, hope I can one day attend a Google I/O!

Its a long shot but i would love to get that shirt.

all these coment for a t-shirt
any way hope i win

Win and learn what what it means as it will get a lot of questions which will help spread the word, Android :-)

I...WANT...THAT...T-SHIRT! :)

I want a jumping Jellybean shirt, cause I'll prob never get it on my phone :P

I can understand why Phil looks and sounds ragged. After covering CEDIA for about 5 years even though you look forward to being there it can get a bit old at the same time. BTW, who does the camera work for you? As someone that has shot a lot of videos myself I have always appreciated the quality of the video and audio clarity with coverage done by AC. I know all the work that goes into shooting, editing and then uploading it to the web. Great job. I look forward to the coverage. BTW, as someone that is in the "I never win anything group" I vote that you just get a T Shirt for all of us.

Ummmmmmm...... pick me?[obligatorycontestentry/]

Nice shirt I will take one please

So excited for I/O this year!

I definitely think one of those t shirts ought to come to the UK, ME.

I think it would really suit me, so it will be great if you send one medium sized one my way.

Shirt me, please! I will wear it at an upcoming golf tournament! :) Beggers can't be choosers, but I'll take it in a schmedium if possible!

Let's hope is isn't a one size fits all t-shirt!

Yes I will take that shirt....Thank

Here I go, not winning again.

I would love one of those t-shirts

This comment is another vain attempt at winning an online prize (for a shirt that probably won't fit)

I'm guessing the shirt isn't 3X, but whatever.

I don't want the tshirt. Oh...???...Did I just enter myself to possibly win? Ooops.

Cool. Sorry I didn't get to go and get my own

Oh wow, I was just at the Moscone West Center 3 weeks ago for my cousin's graduation. When I was there, a creepy old man wearing a dust filter mask kept walking back and forth on the second floor in front of me. He wouldn't stop, it really started to get on my nerves. Why the hell was he wearing that mask? Why was he walking back and forth constantly? Why was he so DAMN CREEPY?! Er uh, sorry for that! Anyway, I wish I could be there at the Google I/O! And watch out for any creepy old guys with masks on!

Really nice t-shirts this year, would be awesome to have one :-)

I wanna make my apple fanboyz friends so unhappy.

would love to win this shirt.

SWEET....cant wait for google I/O to start!!!

I got a business card, cause I wanna win some lunches! (T Shirts). That's what my business card says: "Mitch Hedberg (Pickle3782), Potential Lunch (T Shirt) Winner. - Mitch Hedberg

Comment! (I wish they would sell these, they can give the profits to charity!)

I'd rather acquire an Asus 4.1 tablet.

LOOKS SO SWEET!!! LARGE OR XL IS GREAT

Awesome shirt - will wear with pride!

i took off work for this i cant wait to see whats coming i just wish i would have been able to purchase a ticket before it all sold out :(

Phil, be a dear and give me that shirt!!

Id love a shirt from google to bug all my ios friends.

By the beard of Jerry, I want and SHALL have that shirt! That is if you give it to me.

me want shirt; cool shirt.

Awesome shirt, would make many of my friends jealous : ) DO WANT!

I definitely want one of those shirts!

I'll take a tshirt... preferably not Phil's size! ;-)

My favorite Android Blog whent to Google I/O 2012 and all I got was this Awesome T-Shirt!! Please send the T-Shirt my way...I will wear it proudly!!

That is one sweet shirt :)

Is that a girl in the 3rd picture. She must have gotten lost. :)

Ooh, I'd love to win the shirt!

Sitting bored in Ohio...don't even have ICS on my skyrocket yet. Blah...I need a shirt.

I would love one!! This shirt looks totally awesome!!

Nice! Hope to go next year! (say this about every year this thing starts)

My desk is the next best thing to being there live.

Must...have...cool...Google...shwag!!!
kthxbai

I'm always in for a free T-shirt

Really like the look of that shirt... would love to have one of my own.

I would love this shirt anyway. It's OFFICIAL from Google I/O!!!

Have a great week. The T-shirt looks cool.

A simple kind of garment, orig. a man's undershirt, typically short-sleeved, round-necked, buttonless and made from knitted cotton fabric, and forming the shape of a letter T when spread out flat; now a similar garment of various designs, widely worn as a shirt by men, women, and children for sport or as casual wear. Sounds good.

My SUN JAVA shirt is ready for the trash, this would be a great replacement!

I could always use a new shirt!

If there is a size choice, I'll take a 2XL when I win, if there's not a size choice (which is more likely) I'll take whatever you've got. I'm not picky except when I'm allowed to be.

I would love to have one of those tee's,I'd wear it for all to see....

I'm definitely interested in one of those shirts.

i would like a shirt! if we can choose sizes i take medium! you guys rock!
Android Central Newsletter
Get the best of Android Central in in your inbox, every day!
Thank you for signing up to Android Central. You will receive a verification email shortly.
There was a problem. Please refresh the page and try again.