Google and Amazon want to control all your smart home gear, but it's still not good enough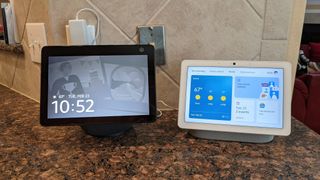 (Image credit: Jeramy Johnson / Android Central)
We've seen smart homes in movies and TV shows for decades now, but in those instances, we're led to believe that all of that tech is harmonious and works together seamlessly. However, in reality, it is a very different story, and, for the most part, the question you have to ask is this: is Google or Amazon better for my smart home?
Sure, there are other ecosystems you can choose, like Samsung SmartThings , which can integrate several different brands into a single app for you to manage those devices. But if you want to truly have a smart home, you're going to want to have voice control — and then it's back to the Google or Amazon decision. Choice is a great thing to have in almost every situation, but when there are only really two options here, and when neither has really solved the equation, it can be a bit of a letdown.
Though each platform works with thousands of IoT products, not all functionality is available through the app or voice. So, if you want to use a specific product to its full potential, you will still need its dedicated app to do so.
Both of these companies also make some of the best smart speakers on the market, as well as other excellent first-party devices to integrate into your smart home — but a device or product doesn't lead to a good experience by itself. Much like what makes a good smartwatch experience, it takes all of the parts from the software, hardware, and integration to come together in harmony for it to work.
Personally, I use Google as the intelligent assistant to power my smart home. I've used Alexa off and on since I had the first-gen Echo, but not for any significant length of time. For the other part of my smart home, I have SmartThings connecting various devices together. My primary reason for using SmartThings are the device rules and automations that I can set. While Google has improved routines within the Home app, there are still missing options there that can be found in SmartThings.
This, of course, goes both ways where the Home app has options that SmartThings doesn't — thus continuing the struggle. For as open and inclusive all of these platforms are attempting to be, there are still devices and features that are understandably withheld from the competition. This results in sub-optimal experiences, but it's clear why these companies don't put more effort into interoperability — each company wants to win the home.
I give a lot of credit to Samsung and its SmartThings platform for seemingly being the most willing to work with the other companies. I use Google Assistant to control devices that are set up only in SmartThings, and for those that aren't, those interactions work very well — that is when the correct phrasing is used to get the desired result. Work still needs to be done on that front.
Both Amazon and Google will connect with SmartThings and will show those devices in each of the respective apps. Unfortunately, there are issues with this as well. I use Philips Hue for a lot of my smart home lighting needs, and I control some via a motion sensor that isn't Hue branded. This means I connect the two within SmartThings to get the interaction I want. When interacting with the Alexa app or the Home app, you see duplicates of all of these lights. Again, not optimal.
While that duplication isn't a huge issue, it can cause problems when creating automated routines. Sure, if I happen to choose the office light option that is actually synced through SmartThings rather than the Home app directly, the task will still get done; it will just take even longer.
In December 2019, Google, Apple, and Amazon announced Project Connected Home Over IP as an effort to create a single protocol that all IoT devices will work on. While this sounds great in theory, it's a very long road in practice to get that standard finished and into the thousands of available smart home devices.
Until then, as consumers of these devices, we have to continue dealing with the gaps in interoperability between what Google and Amazon offer us. Neither Google Assistant nor Alexa have yet to completely solve the natural language problem, and so we are left to figure out what series of confusing commands will get us the smart home control we want.
Get the Android Central Newsletter
Instant access to breaking news, the hottest reviews, great deals and helpful tips.
Chris Wedel is a fan of all things tech and gadgets. Living in rural Kansas with his wife and two young boys makes finding ways to get and stay online tricky. By utilizing his years of experience with the tech and mobile communications industries — success is assured. When not conquering connectivity challenges and testing new gadgets, he enjoys cruising a gravel road in his UTV with some good tunes.
I have Alexa hot a smart home. It is amazing. My only complaint is I want an Echo device to send only audio (like a chromecast audio) with digital out for under $100.

Samsung is pulling out of the smart home market, smart things is vanishing. Compatibility between different products is a huge problem, I have 6 different apps on my phone for the few things I have, Philips hue, Switchbot, smartlife for the sockets and one for my thermostat and blinbk for my outside cameras. Sure alexa can use routines to combine them if I use Alexa, but sometimes you don't always want to speak to do home automation
Sometimes things don't work as they should and it can be annoying. Need an all-in-one system that is easy to use.

This is not correct. They are pulling out of hardware while solely dedicate themselves to software. They are in the process of essentially rebuilding their software stack and integrations.
Samsung is the closest to give a unified view.

But if there is no hardware then their software will be no good unless they get another company to produce and sell the hardware. I suppose they could do something like Tuya, they make the app and other companies make the hardware.
It won't matter what Samsung does, the smart home market is to be honest rubbish, it will never get unified.

I have none! Even google assistant is disabled, and there will never be an Alexa device in my home.

I have 2 Google home mini in my house. They are fun for a couple of days then they just collect dust. It's just as easy to turn my lights on by the switch then talk to a speaker

If you have a little house/apartment, yea. There is something to be said for saying, "Alexa, Good Morning," and having the kitchen and family room lights come on and turning on the radio. Or better yet, "Good Night." turning off every light in the house, that family may have left on. In some cases it isn't a matter of talking to Alexa. Through echo routines, the pantry lights come on based on an IR sensor when you walk into that room with armloads of groceries to put away, and turns off when you walk out loaded with dinner ingredients. They are first world conveniences, but you get used to it, and miss it if it isn't working right.

I agree with the lights, that is why I got some Hue remotes, so i can still turn the lights on and off as normal, I even got a remote so I can turn the living room light on and off from the back door of the house now.
but sometimes it is still nice to say Alexa, turn on lights.

I used to be like that and not so long ago. While i am still careful and there are some things I still won't do or have, like a camera connected to the net in the house, I am glad I changed my mind. The first smart thing I apart from my phone was a remote switch for my outside light from Sonoff, it was great as I could set a timer for it to come on as I was coming home from work, so I could see the steps in the dark.
I was offered a smart thermostat from my energy company, so I thought why not, then I got my first Echo dot, so I could control that thermostat with my voice. This was about 4 years ago if that, now I have 4 Echo dots, philips hue for lights, a load of smart plugs and I even have my coffee machine turn on using a switch bot. Tomorrow I am even looking at a smart watch.

Same here. I can maybe see the benefit of a voice assistant while driving, but sitting around the house? Nah. I prefer peace and quiet. Besides, if this technology was actually smart, it wouldn't be dependent upon me telling it what to do.

They only say something when you speak to them, normally,
so you would like a smart home to turn things on without any input from you? I want some control, I don't want things in my house doing things without my input, even if it is only a timer i set.
Smart is the wrong word to use, I call it home automation.