The Note 10 isn't compatible with Samsung's Gear VR headset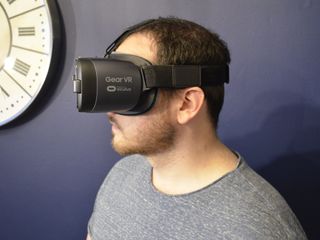 What you need to know
The Samsung Galaxy Note 10 and 10+ are incompatible with the Gear VR headset.
A Samsung spokesperson confirmed this saying, "The Gear VR is not compatible with Galaxy Note 10 and Note 10+. We remain committed to innovating in VR and AR to deliver incredible new experiences to our consumers."
Previously, Samsung would make adapters to make its phones compatible such as the ones it made for the Galaxy S10 series.
Samsung announced the much-anticipated Galaxy Note 10 and Note 10+ yesterday in New York City. Along with being the first time Samsung has released multiple versions of the Note phones, it was also the first Note without a headphone jack. That's not all the Note 10 lost, though: we now know that it will not support the Gear VR headset (opens in new tab).
That would make the Note 10 the first flagship since the Galaxy S6 to not support the virtual reality headset. Over the years Samsung has typically come out with adapters to make its newer phones compatible with the Gear VR. Even the Galaxy S10 (opens in new tab) series received such adapters, but the Note 10 series appears to be breaking that trend.
Does this mean Samsung has given up on VR the same way it has given up on the headphone jack? It sure appears so, but when contacted by Engadget a spokesperson had this to say:
What that means is anyone's guess. Perhaps, Samsung will make a new Gear VR headset in the near future, or it could have plans for a standalone VR unit. Who knows at this point?
One thing is for certain though, if the Gear VR is one of your must-have features, then the Note 10 series is not for you. However, if must have the Note 10 and you're still looking to get your VR fix, then you can still do both. Just pick up an Oculus Go (opens in new tab) which, at $199, won't break the bank and it'll still provide a tether-free VR experience.
New Note
The newest most powerful Note
The new Note 10 comes in three flavors this year, some without a microSD card slot but all without the headphone jack. What it lacks it makes up for with top-of-the-line specs featuring a gorgeous screen, speedy processor, three top-performing cameras, and a gorgeous display. Of course, you can't forget about the S Pen which truly makes a Note a Note, and it has more features this year than ever before.
Get the Android Central Newsletter
Instant access to breaking news, the hottest reviews, great deals and helpful tips.
Is this the start of the end for vr?

I was never interested in it. I have enough going on in real life.

I have too much going on, which makes it nice to close the door and go for a virtual walk exploring other parts of the world. Also gives me an excuse to LOCK the door to keep the girls out. Of course, 1080p on the Note 10 makes it a sub standard VR experience anyway.

The more I hear about the note 10, the more i feel like Samsung kind of shirt the bed this year. Probable not a popular opinion, but there you go.

Agreed. Just nothing to make me want it over the Note 9, or just about any other phone.

The Note 10 makes me feel that Huawei managed to sneak one of their executives into Samsung as head of mobile products.

Will it work with Google's Daydream headset?

I really don't think Samsung nor Google care. I sure don't.