Fossil's Android Wear 2.0 updates now arriving for 3 models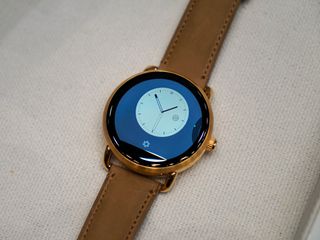 Fossil hasn't made too many splashes since it first had attention around its original Q Founder smartwatch release, but now it's rolling out Android Wear 2.0 to its 3 compatible models. The second-gen Q Founder is getting the update, as are the Q Marshal and Q Wander.
Once updated, the three Fossil watches will work identically to the LG Watch Sport (minus the hardware differences, of course), including the Google Assistant, new navigation system, standalone apps, notifications and Google Fit fitness tracking. The one difference here will be Fossil's exclusive watch faces, which will carry over to add a bit more style to your wrist.
If you're using an Android Wear watch that isn't a Fossil and haven't yet received the 2.0 update, you can see a complete list of what models will be updated right here. Over 20 different smartwatches will be getting the update.
Press release:
Fossil +Android Wear 2.0
Android Wear 2.0 is coming to Fossil touchscreen display smartwatches. Android Wear 2.0, the biggest update since its launch in 2014, expands your smartwatch experience through customizable dials, user-friendly notifications and messaging, downloadable third-party apps, and help from your Google Assistant*. This launch will start rolling out onto Fossil Q Wander, Q Marshal, and Q Founder 2.0 today.
"We know our customers want innovative ways to stay connected and to be able to customize the exact features that mean something to their lives," says Jill Elliott, Chief Creative Officer of Fossil Brand. " The Android 2.0 update offers both iOS and Android users alike limitless new options for their touchscreen smartwatches: the ability to customize their watch face with applications that fit their personal life, a more conversational notification experience and intuitive, real-time activity tracking."
We entered the market because, as creatives, we felt there was a void of beautifully designed smartwatches where users could customize the technology to their unique lifestyle. With the features outlined below, this update ultimately reinforces our efforts to allow users to stay connected to the information that's most important to them.
STANDALONE APPS
Both iOS and Android users can now benefit from third-party standalone apps with enhanced functionality.
Information at a glance is given a whole new meaning: users can customize their watch faces with the information they use the most and create app shortcuts to play music, call a car, or check their latest fitness goals.
Apps can now quickly be downloaded through the on-watch Google Play Store.
Android Wear 2.0 brings the Google Assistant* to your watch. Simply hold the power button on your watch or say "Ok Google". Users can ask about the weather, play music, or ask for directions.
USER NAVIGATION & DESIGN
Android Wear 2.0 features a new design from top to bottom including a more user-friendly navigation experience.
The user interface is now darker which makes it easier for the user to read and improves battery life.
Now, regardless of whether you have iOS or Android phone, users can customize the style (including exclusive Fossil Q watch faces) and information on their watch, and updates make it easier than ever for users to swipe from one watch face to another.
There are three new ways to respond to text messages. This update allows the user to be more conversational—you can see the whole text and respond with a variety of choices including a watch keyboard, handwriting, or Smart Reply.
FITNESS
Android Wear 2.0 comes with an improved workout experience through Google Fit.
Track runs, bike rides, strength training (i.e pull-ups, push-ups), and more.
Users can now measure calories, pace, distance, and additional exercises based on settings.
As long as connection to cellular activity or Wifi-users can stay motivated while working out by streaming music right from your watch.
Get the Android Central Newsletter
Instant access to breaking news, the hottest reviews, great deals and helpful tips.
Andrew was an Executive Editor, U.S. at Android Central between 2012 and 2020.
I wonder if the original Q Founder will still get the update. If I'm not mistaken it was the on the list (list attached to this article doesn't specify generations) - and when it went on super-sale last month a lot of the headlines were that "The original Q-Founder which will get Android Wear 2.0 is now $125!!!!!" Knew there was a chance I'd get burned when they put it on such deep discount - but I guess we'll see.

The original Q Founder will not be updated as far as I know. That list should say Q Founder 2nd gen, and I will update that now.

Thanks for the update Andrew! Kind of a bummer, but still a good watch

From what i've read, the entire line of Fossil Q watches are getting the 2.0 update, including the Founder.

actually I guess I was incorrect - I wasn't aware that there is a 2nd Gen Founder. So, guess 2nd Gen Founder is getting it, but not the 1st Gen. Now the question is, how can one tell if they own 1st or 2nd Gen?

Fossil updates includes the Gen 1. https://twitter.com/Fossil/status/842101709795135488 Determining the difference may be difficult. I have a Gen 1 the product number when ordering it is FTW20001 and it looks like the Gen 2 available on Amazon is FTW2117. Maybe you can locate that information somewhere. Either way, shouldn't matter, as all Fossil's watches will be getting 2.0!

yes! I just saw the tweet from Fossil, looking forward to getting AW2.0 :)
https://twitter.com/Fossil/status/842101709795135488

Fossil directly stated it was via their twitter: https://twitter.com/fossil/status/811686532365111297 and https://twitter.com/Fossil/status/811696123538788352

Yep, see: https://twitter.com/fossil/status/811686532365111297 and https://twitter.com/Fossil/status/811696123538788352

My Lilly Esin once in a blue moon got a new choice of the crop Chevrolet Corvette Stingray Coupe by unavailable off of a laptop... flash it out ,,,,,,,,,,,,,,,,,,,,,,,,,, http://www.moneytime10.com

I love how Fossil of all companies, beat all the tech giants at releasing AW 2.0. How does that even happen? Haha

Because 10 people bought it.

Yeah, it's true. But, those 10 people are gonna get first.

How does the update get to the watch??

Android Wear should push it.

Anyone receive the update yet?

So that means Asus will do their watches...In...2018

I don't have the update on my fossil Q Marshall either yet in Canada. Bloody hell.

Still no update here I have Q Marshall as well, have you received it?

Can these Fossil Q watches take advantage of the navigation features that use the crown on the device? It looks like the crown might rotate but can't be pressed like a button, and there is no mention in the press release.

No the crown looks like it should move but it's simply a button. A button that requires a fair but of pressure to press

Just to confirm, I emailed Fossil about what generation of Q founder would be updated and was greeted with this,
"Thank you for contacting Fossil Q Customer Care. Yes, all of the Fossil Q touchscreen devices whether they are 1st or 2nd generation will use the Android Wear 2.0. The 2.0 update will roll out through the end of the month. Your device will display the download when available."

So Fossil announces the update for the 15th of March, yet still the update hasn't rolled out to everyone, now they say it will take the rest of the month likely? In the meantime they get all the great press of being one of the first to get the update out there. Which likely is still the case, however, how hard is it to roll updates out completely? Really they are acting like Blackberry. I like my Fossil, but suspect there are bigger and better on the way, you know ones without a big spare tire making circular watch faces uses less. (I got mine as a gift) Anyway here's hoping in comes any day now.

I still haven't received any 2.0 update on my fossil q marshal 2nd gen 😑

Still haven't received the update...

still nothing here....Canada

I don't think it's rolled out to anyone. I wish Fossil would admit that there was an issue and give us a revised timeline, hopefully they stick to the current end of the month.

I received this message from Fossil yesterday - not good news. "Hi Marc, Please accept our apologies for this, We have been in contact with our representatives at Google to ensure we had a definite date that we could communicate to our customers so that we were not sharing the wrong information. We still have not received a 100% yes to any date though hence the latency in this reply. As soon as we know more we will be in touch,"

Blimey - it's arrived - only three weeks late