Eharmony and Alexa team up to make finding a date that much more weird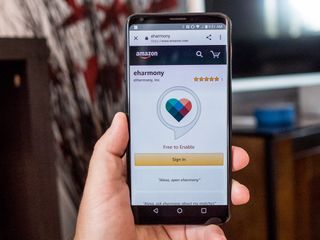 I've been married for 13 years next week. I can't even imagine what it's like to do that in the age of smartphones and dating apps and Instagram and text messages. I am old.
Also: There's now an Amazon Alexa Skill that ties eharmony to your Amazon account. So you can find more info on potential lifelong partners without even having to pick up your phone, or log into a computer.
Or, as eharmony puts it:
Or, as eharmony also puts it: "With the eharmony skill for Alexa, people can focus more on the other elements of a profile by listening to her."
OK, then.
You can enable the eharmony Skill for Amazon Alexa here.
'ALEXA, SHOW ME MY MATCHES FROM EHARMONY'
The eharmony skill for Alexa, Reading New Matches, Sharing Messages, and Summarizing Your Daily Activity
September 6, 2017 - Los Angeles, CA - Whether you are lounging at home or getting ready to start the day, eharmony brings a new element of excitement to online dating with a skill for Amazon (NASDAQ:AMZN) Alexa. eharmony users will be able to enable the eharmony 'Skill' for Alexa, hear their matches and messages by voice and then ask Alexa for more info on dating prospects. It's a hands-free way to navigate the dating process, as the eharmony skill for Alexa acts like your own personal matchmaker, introducing you to the selected daily matches eharmony has chosen for you. The ability to listen to eharmony matches through Alexa is the latest move by eharmony to make it easier for people to connect with possible matches in a fast paced world. "Alexa provides a unique, human element to eharmony," said Grant Langston, chief executive officer of eharmony. "The eharmony skill for Alexa advises singles on matches who are compatible and sent messages. The eharmony skill for Alexa also surfaces pertinent information, like location and occupation that some people might gloss over if they are just quickly swiping at attractive pictures. With the eharmony skill for Alexa, people can focus more on the other elements of a profile by listening to her."
How It Works
To get started, first enable the eharmony skill, then link your eharmony account in the Alexa app, and say "Alexa, open eharmony." From there you can navigate to the sections of eharmony that you'd like to hear about. As the skill reads through the profiles and tells you about your matches, it also sends a photo of a potential love interest to your smartphone. And those with an Echo Show can see their matches photos right there, resulting in a completely hands-free way to experience eharmony. Here are some helpful phrases to use with Alexa.
To check out your matches, say "Alexa, ask eharmony for my matches."
To read your unread messages, say "Alexa, ask eharmony to read my messages.
To hear who viewed your profile, say "Alexa, ask eharmony who viewed my profile."
To get a summary of your account activity, say "Alexa, ask eharmony to give me a summary." Alexa also offers an element of fun with witty remarks such as…
"Oh my, you have a lot of new matches."
"Let me tell you about your first match. Ooh la la! She lives 5 miles away!"
"Oh and there is NAME. What a catch! He seems great."
"You have five unread messages, woo hoo!"
"You are popular today!"
For additional help, visit: http://help-singles.eharmony.com
Be an expert in 5 minutes
Get the latest news from Android Central, your trusted companion in the world of Android