Earloomz brings art to Bluetooth earpieces [Contest]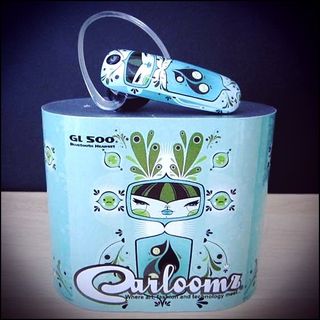 We all know that using a cell phone while driving is super dangerous, and in more and states than not, laws are in effect that make it illegal to do so. In fact, 40 states have some sort of hands-free law in effect, meaning that if you're going to be talking on the phone while driving a vehicle, you must not have the phone in your hand. Luckily, newer cars come equipped with speakers the ability to connect to your phone and take or make calls using the car speakers. If you don't have that option available to you, you may choose to use a Bluetooth headset or earpiece. This is a more versatile option, as you can use it outside of your car as well.
Choosing a Bluetooth earpiece can be difficult. You want one that will work seamlessly, as well as look good, and the options out there don't always combine those factors in an affordable package. Plus, who wants to have the same earpiece that everyone else has? The creative team behind Earloomz saw this challenge and rose to the occasion, designing a Bluetooth earpiece with style and functionality all wrapped up in one. With hundreds of designs to choose from, you're sure to find one that will suit your personality. Each image is mechanically painted onto the earpiece and finished with a moisture resistant coating, guaranteeing quality and durability.
Each Earloomz earpiece comes with 2 earhooks and 4 earbuds as well as a lanyard holder so you always have it handy. Compatible with most mobile phones, set-up is a breeze and took less than a minute when I paired mine. Multipoint technology allows you to stay connected with 2 devices at once, and the earpiece has a range of 33 feet. Headset controls include call/answer, last number redial, and call waiting, all in one button. Keep reading for technical specs of the earpieces, contest details, and information about Earloomz campaign for a national Hands-Free Initiative.
Technical Specifications:
Bluetooth Version v2.1+EDR
Headset & Hands Free Profiles
Rechargeable Lithium Polymer Battery
Video Game Compatible
Voice Prompt
Connects To Two Phones
Noise Reduction
Weight: Approx. 10g
Talk Time: 5 Hours
Standby Time: 120 Hours
Charging Time: 30-60 minutes
Dimensions: 53[L] x 18[W] x 9[H] mm
Earloomz is dedicated to not only providing fantastically designed Bluetooth earpieces, but they are committed to leading a national Hands-Free Initiative -- "Be Aware" -- aimed toward providing awareness to businesses and young adults – the next generation of cell phone users and drivers.
Earloomz is asking consumers, car dealerships, cellular phone retailers, non-profit organizations, corporations, small business owners, medical professionals, and municipalities to join the campaign "Be Aware" and encourage anyone that is mobile to go hands-free – regardless of state laws. Whether, it's encouraging someone to use a Bluetooth that conveys a personal interest, requiring an employee to wear a custom logo Bluetooth while driving a company vehicle, or setting an example for a child, Earloomz is helping keep cell phone users hands-free.
Contest: Earloomz is giving away two Bluetooth earpieces to Android Central readers! The first thing you'll want to do is head over to their website at the link below. Check out all the designs (there are a lot, approximately 400!), then come back and leave a comment in the forums on the contest post letting us know which one is your favorite. The contest ends Sunday at midnight PST. Good luck! (Please note, the contest is only for Bluetooth earpieces on Earloomz that retail for $59.99.)
More information/check out all the designs at Earloomz
Get the Android Central Newsletter
Instant access to breaking news, the hottest reviews, great deals and helpful tips.