Don't want to call Congress? Use this app instead! 🏛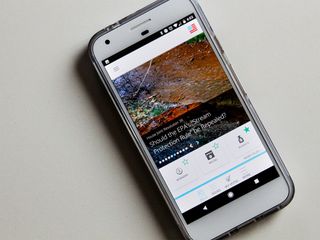 Last week, I wrote a little ditty on the apps you can install to easily keep privy with what's going on in the world. I had mentioned the app Countable (opens in new tab), which keeps you up to date on what's going in Congress.
This week, I'm imploring you to download it, especially considering what happened last week in the United States with regards to immigration policy. Politics and policy-making may not be your thing or whatever, but there is always legislation happening that affects you, even if it's merely tangential. All it takes to start paying attention is checking in with the app once a day. After a while of interacting with the Countable community, I guarantee you'll eventually find something to say.
Every view on an issue
Parsing what's happening above you and on behalf of you can be difficult to do when you're also juggling the events of your daily life. Countable is helpful because it'll keep you informed even when you don't have the time to delve into the particulars. I like the daily notifications what my representatives are voting on in my state, though the app is also good for researching what's what.
For instance, say you're wondering what's happening in the realm of public transportation. You can tap on the Issues category in the Countable app to bookmark it and then see what it is exactly that Congress is voting on that's related. The topic page will have a "featured" bill — typically, the one that's up next up on the voting block— but if you have some time to swipe through, you can also read up on what's coming in the pipeline. I also like to use Countable as an aid for when I have the time to go diving into archived news articles and hackneyed Wiki pages.
Countable has already had three years on the market, which means you can safely bet that enough time has elapsed for there to be enough active users. I know they typically caution that you don't read the comments, but skimming the Opinions section of each individual bill page is a great way to get the tl;dr version of what people are saying about the matter.
Immediate access to Congress
There are a number of policy-making apps already in the Play Store, but many of them are meant to serve as a reference tool. Countable is different in that it actually connects you to your representatives, without having to endure the awkward one-way conversation that typically happens with a voice mailbox.
All you do is select "Yea" or "Nay" on each bill, and then Countable will send an email on behalf of you. You can tack on a custom message if you choose, but it's nice that it isn't required. The only caveat of this particular feature is that you have to input your address, though that's to help confirm to the representative you're contacting that you live in their district.
After you've voiced your opinion, Countable will file that matter away in your personal profile, where you can keep track of the issue and see how it fares over time.
Yes, it's buggy
I can't sit here and pretend that the Countable app hasn't frustrated me a few times with its delayed touch response and general bugginess. Thankfully, the team at Countable is looking to completely rewrite the app for Android users. In the meantime, you can install the app to receive notifications, if the app starts to bug you, simply peruse the topics at hand online at the Countable website.
Android Central Newsletter
Get instant access to breaking news, the hottest reviews, great deals and helpful tips
Florence Ion was formerly an editor and columnist at Android Central. She writes about Android-powered devices of all types and explores their usefulness in her everyday life. You can follow her on Twitter or watch her Tuesday nights on All About Android.
Android Central Newsletter
Get instant access to breaking news, the hottest reviews, great deals and helpful tips
Thank you for signing up to Android Central. You will receive a verification email shortly.
There was a problem. Please refresh the page and try again.