Check out Fortnite's full list of 'Storm Racers' missions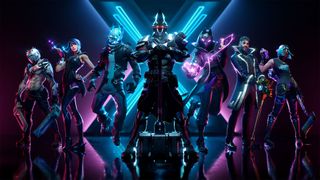 Season X of Fortnite is here, and with it comes significant changes to the way players will be completing challenges. Instead of one week of challenges, players will now be completing missions, which are thematic objectives for those who have the Season X Battle Pass.
Instead of the typical seven challenges, players now have more chances to earn Battle Pass stars, with two sets of challenges opening up this week. This week's set of missions, titled Storm Racers, haven't been released into the game yet but did leak early. Judging by the looks of them, though, they're all easy to complete, with many of them revolving around completing activities near and inside a storm.
Twitter user iFireMonkey — who is well-known for datamining various Fortnite secrets — uncovered the following list.
After you complete the challenges, you'll unlock the ability to do Prestige Missions, which serve as harder versions of the original challenges, but offer extra rewards. Thankfully, none of them are too hard, and you shouldn't be stuck on them for too long. You can check out the full list of challenges below, and remember, the challenges won't be live until 9:30 a.m. EDT Thursday.
Storm Racers Missions
Gain health in the Storm (0/100).
Complete a lap of a race track (0/1).
Survive Storm phases (0/10).
Visit the center of a storm circle (0/1).
Land on Polar Peak, a Volcano, and a hill top with a circle of trees (0/1).
Complete a time trial East of Pleasant Park or South West of Salty Springs (0/1).
Prestige Missions
Damage an opponent in the Storm (0/1).
Damage gliding opponents (0/100).
Deal damage to opponents after the first circle closes (0/500).
Visit the center of storm circles in a single match (0/3).
Deal any amount of fall damage to an opponent (0/1).
Complete a time trial North of Lucky Landing or East of Snobby Shores (0/1).
Dance at different telescopes in a single match (0/2).
As is the case every season, we'll have challenge guides ready for any challenges that might be extra difficult. In the meantime, head out and start collecting some XP and Battle Stars!
The Storm Racers missions will drop Thursday at 9:30 a.m. EDT.
Anthony Nash has been writing about games and the gaming industry for nearly a decade. When he's not writing about games, he's usually playing them. You can find him on Twitter talking about games or sports at @_anthonynash.
Android Central Newsletter
Thank you for signing up to Android Central. You will receive a verification email shortly.
There was a problem. Please refresh the page and try again.