CES 2016, Day 2: Huawei, Samsung, LG, HTC, HP and more!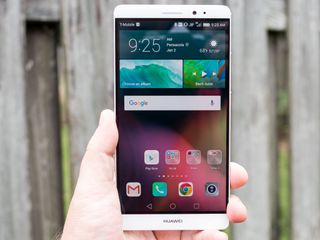 The day before CES is a tradition for the tech media: it's press day. The biggest companies all trot out their latest gear in rapid fashion, and we write about it, take photos of it, and put our hands on it so we can give you a quick taste of what these new wares are like and whether or not you might want them. That day is today. There's a lot to it this year, so let's get started! 05 January
Huawei rolls out the Mate 8 and a bedazzled Watch
Swarovski all up in that bezel
Huawei made a big splash at CES, bringing their new flagship Mate 8 to the show. It's an impressive phone filled with impressive hardware and with a price to match. While there are some detractions — like the 1080p display — they're made up for with the absurd battery life it squeezes out of the giant 4000mAh battery inside the slim metal body. But that wasn't the only thing that Huawei had on hand: they pushed out a new audio-centric MediaPad M2 10.0 tablet with Harman/Kardon audio, plus new models of the well-regarded Huawei Watch with fashion-conscious designs focusing on the female market. And that means Swarovski crystals in the bezel.
Huawei Mate 8 will be available in Europe with prices starting at €599
Huawei's Watch Jewel is all that sparkles and glistens
Hands-on with Huawei's new MediaPad M2 10.0 tablet and its 4 speakers
Huawei's MediaPad M2 10 will start at $349
This is the gold Nexus 6P
Samsung's new laptops are too light to believe
Full-fledged ultrabooks, but with even less to lug around
Samsung's not messing around with their new Notebook 9 laptops. Running Windows 10, the pair of ultrabooks have real Intel Core i5 and i7 processors, Full HD displays, and more, but the real point is how thin and light they are. The 15-inch version is 14.5mm thick and a weighs in at 2.84 pounds, while the 13-inch version comes in at an absurd 13.4mm and 1.85 pounds. And there's more than just laptops in the works — Samsung also announced the Galaxy TabPro S, an ultra-thin Windows 10 tablet with a 12-inch AMOLED display plus a keyboard cover.
HTC Vive Pre VR headset sees beyond the display
HTC's impressive virtual reality project is even more so now, and coming in April
While they've been working on it for a while, HTC has iterated their virtual reality headset again, giving it the name of Vive Pre. The new Vive adds an external camera for recognizing the environment around you and bringing it into the headset. It's not quite augmented reality — it's more like augmented virtual reality. HTC's currently targeting an April release for the Vive Pre.
HTC's next-gen Vive Pre brings 'The Dark Knight' and 'The Matrix' to virtual reality
HTC unveils Vive Pre, its second-generation VR system
Windows (auto)Mobile
Microsoft is staking a claim to your car's computer with Continuum on steroids
You might not realize it, but Microsoft has been at work in automotive for many years — the first two iterations of Ford's Sync system, for example, were powered by the Microsoft Embedded Platform, a version of Windows stripped down to its core. Microsoft's not resting on their past successes, though, and has been working with partners to more seamlessly connect your mobile devices to your car and even directly connect your car to the Microsoft cloud and Office features. Think about being able to take Skype calls, respond to emails with your voice, and reschedule your calendar all from your car.
Honor brings Huawei to the U. S. of A.
Huawei's Honor brand is coming to the United States with the Honor 5X
After launching 2 years ago in China and just over a year ago in Europe, Honor is coming to the United States with their mid-range $199 Honor 5X. And they're wasting no time — the phone will be available on American shores on January 31st. And unlike many of Huawei's other phones, like the previously-mentioned Mate 8, this phone's running on top of a Qualcomm Snapdragon processor and packing a beefy 3000mAh battery. It's a solid phone to bring the Honor brand to the U.S.
Huawei bringing Honor 5X to the U.S.
Honor 5X specs
Honor Band Z1 smartwatch is coming to the U.S.
Under Armour and HTC break into the fitness technology space
Partnering up to take on the sleeping giants of fitness trackers
HTC's a well-regarded, if underperforming, technology company. Under Armour is a well-regarded and overperforming fitness clothing and equipment company. Bring the two together and you get a new set of fitness gadgets that might just be able to take on the Fitbits and Jawbones of the world. For the regular crowd there's the UA Band wrist-worn fitness tracker and the UA Scale connected scale, and for the hyper-fit there's the UA Heart Rate that straps around your chest for precise heart rate-tracking.
HTC and Under Armour Band, Scale and Heart Rate hands-on and first impressions
HTC and Under Armour announce slate of connected fitness products, including the UA Band
Samsung, LG, and Sony are all about connecting your home
Smarter refrigerators, smarter TVs, smarter homes
Samsung, LG, and Sony all took part in CES 2016 press day, but truth be told most of what they announced fell outside our usual area of coverage. By and large the emphasis was on things not-smartphone and not-tablet, though they did discuss a lot of things that could connect to and communicate with your mobile devices. And a damned fancy washing machine.
Live from the LG press conference at CES 2016
Live from the Sony press conference at CES 2016
Derek Kessler is Special Projects Manager for Mobile Nations. He's been writing about tech since 2009, has far more phones than is considered humane, still carries a torch for Palm (the old one), and got a Tesla because it was the biggest gadget he could find. You can follow him on Twitter at @derekakessler.
Yay first!! ( People Seriously Stop this. This is 2016) Posted via the Android Central App

First at what? Posted via the Android Central App

At taking the virginity off a commentless blog that was posted by Derek. By doing so, him and Derek became 1 as they were the only 2 to be on a single webpage. This moment is also known as "one on one", or other varieties depending on the gender of blogger and commenter.

Lots of cool stuff at CES. I am intrigued with all these car stuff and the constant development of self-driving tech and having our digital life slowly taking place in the cockpit, though I hope they don't detract from the driving experience, because nothing beats driving an absolutely fine automobile on a great road like a Porsche Cayman GT4 on a coastline. Still not feeling the smarthome right now since it's early days, and Huawei's Mate 8 pricing is pretty darn steep, but I really love what I'm seeing, especially LG's new OLED TV and Samsung's new laptops, along with all the automotive stuff and of course, the Snapdragon 820. Yes, ladies and gents. IT'S HERE. (Samsung, PLEASE just make an OLED TV already!)

LG OLED TV , yaaay my next TV and the Snapdragon 820 beast FLEX 3 soon to follow. posted via the LG Flex 2

Those Samsung laptops? I want one. Now! Not sure I would want Windows in my car again though. The Ford infotainment system was bad enough for consumer reports to downgrade the cars due to all the complaints. My in-dash flip screen head unit with a huge 20 channel GPS runs Windows, and has crashed countless times, often while approaching the destination. Harmon Kardon used to be a big deal, until they were bought out. They were never the same, and putting the speakers in a position where aesthetics are a higher priority shows it... Posted via the Android Central App

so samsung can make a good product if they don't have to make the software, hmm.. maybe they should do that for android Posted on with Idol 3 via the Android Central App
Android Central Newsletter
Thank you for signing up to Android Central. You will receive a verification email shortly.
There was a problem. Please refresh the page and try again.