Best games to play with the Gear VR controller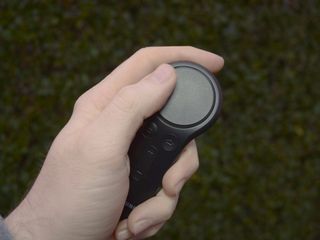 The Gear VR controller is a handy addition the virtual reality headset that adds a variety of controls to your experience. The controller is motion sensitive and has a small set of well-placed buttons. Game developers have taken advantage of this and made solid games to play using the Gear VR controller.
Base Blitz
Why you can trust Android Central Our expert reviewers spend hours testing and comparing products and services so you can choose the best for you. Find out more about how we test.
To play a real-time strategy game, you need to quickly build structures and command troops. Base Blitz takes advantage of the Gear VR motion controller and lets you click easily, and quickly, select actions within the game.
Base Blitz brings out your competitive nature with a basic battle setup that allows you to focus on planning and thinking quickly.
See in Oculus Store (opens in new tab)
Dragon Front
Bringing a digital collectable card game into VR has proven successful for Dragon Front, with versions of the game now available for both the Oculus Rift and Gear VR. Providing fully customizable decks across 300 characters, 5 factions, and a champion system, the transition to VR hasn't come with cutbacks to gameplay.
Offering the depth expected from a CCG, while still granting the immersive qualities of VR, the game offers one of the best-seated experiences available for the Gear VR today. Support for the Gear VR controller only makes this game better, by streamlining its controls to the touch of a button.
See at Oculus Store (opens in new tab)
A Night Sky
A Night Sky allows you to explore the stars in virtual reality and combines the view with some fun and simple activities.
After putting on the headset and grabbing a controller, players can search for constellations and map them out in real time. As these constellations are discovered they'll come to life before your own eyes, leaving mystical creatures to roam the world around you.
While an unusual use of virtual reality, the game is unique on the platform.
See at Oculus Store (opens in new tab)
SingSpace
From all the existing video game genres seeing a revival in VR, the last I'd have considered is karaoke. However, Harmonix's latest virtual reality experience, SingSpace, brings your terrible singing to the Gear VR. Taking advantage of the inbuilt microphone, players can band together and plan their performances.
If anything like my previous experience at the Game Developers Conference 2017, this life-scarring title is surely one to remember. The social aspects of SingSpace are also a focus, allowing players to perform with one another over the internet.
See at Oculus Store (opens in new tab)
Drop Dead
Although mobile virtual reality isn't the best platform for a fast-paced shooter, Drop Dead is among the best on the Gear VR today. While an on-rails experience at its core, the floating gun on your head makes aiming intuitive and accurate through your headset's tracking. Rewarding players who kill the most zombies in style, the game isn't afraid to acknowledge its arcade approach to gameplay.
Gear VR controller integration makes the experience only more immersive, removing the need to tap the headset's touchpad to fire. Instead, these controls are mapped to the handheld controller, with a physical trigger now available.
See at Oculus Store (opens in new tab)
Panzer Panic
Panzer Panic places you behind the wheel of a tank within VR. You can combat other tanks and play games like capture the flag in a third-person shooter battle. The game can be played without a motion controller but adding one adds more depth to your gameplay. You can tilt and rotate the controller to steer your tank and use the trigger to fire at enemies.
One thing to note is that the game seems to forget that you're using a motion controller if you leave during the middle of the game so you'll have to be mindful of your controller settings to fully enjoy the game.
See at Oculus Store (opens in new tab)
Get the Android Central Newsletter
Instant access to breaking news, the hottest reviews, great deals and helpful tips.