With all the tech we carry around and use every day, it can be hard to find space to charge everything each night. For this reason, you need a multi-port wall charger to make the most of your outlet space — especially while travelling — and even better if you can get one that has USB-C PD to get your devices up to 100% quicker. Fortunately, Anker has discounted a pair of wall chargers giving you some affordable choices for juicing up. Both its 60W 5-port PowerPort desktop charger and PowerPort III Duo USB-C wall charger are down to new all-time low prices with no coupon code needed to score these deals. Prices could go back up at any point, though.
Plug in
This is the best direct price drop we've ever seen on this 2-port wall charger. With two 18W USB-C PD connectors you can power up two devices simultaneously with a fast charge. It's also portable with a compact design and foldable plug.
$23.99 $29.99 $6 off
Charge up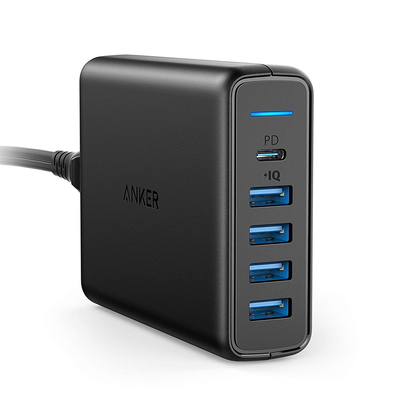 With 4 USB-A ports and 1 USB-C PD connector, this wall charger can power up all of your tech at once with a total output of 60W. It's down to a new all-time low price with this deal.
$34.89 $49.99 $15 off
If you're all-in on USB-C, the PowerPort III Duo is for you at $23.99. It has a 36W output split equally between its two USB-C PD ports. It can give a high-speed charge to compatible Android phones as well as iPhone models if you have a USB-C to Lighting cable. It's also powerful enough to charge up your USB-C tablet. It features a diminutive design and folding plug, making it a great travel pick up. It usually sells for $30 and this is the first time we have seen it drop from that price.
For those with one foot in the USB-C future and the other in legacy USB-A land, the 60W Anker desktop charger has you covered with four USB-A ports and one USB-C PD connector. With its USB-C port, you can get up to a 30W charge which is suitable for larger devices like tablets and laptops as well as mobile devices. The other 4 ports, equipped with Anker's PowerIQ smart technology, pump out a combined 30W of charging power for other devices and you can use them all at once safely thanks to various built-in protections. It's currently $15 off and has never gone this low before.
While you're upgrading your charging gear, you probably want to grab some of the cords featured in our best USB-C cable guide.
We may earn a commission for purchases using our links. Learn more.