Android Game Review: Noogra Nuts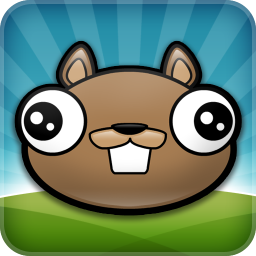 YouTube link for mobile viewing
If I had to pick my favorite cuddly nature animal, squirrel would probably win. They have big, bushy tails, look really soft, and one time I saw one run up to a guy and take the remainder of his sandwich out of his hand. (No lie.) When I found a game about a squirrel busting open nuts on his head and eating them, I figured it was worth a look. That game is Noogra Nuts.
Noogra Nuts is an entirely tilt-based game where your aim is to bounce falling nuts on this squirrel's head until the shells crack, then eat the delicious innards as they come tumbling down to your mouth. This sounds like a pretty fun game until you realize it's completely tilt-based and there's no options to change it to some sort of touch screen control.
There's a lot of good about Noogra Nuts, though, like the graphics. Continuing the theme of nature and squirrels and nuts and stuff, Noogra Nuts has nice green grass fields you jump on, cartoonish nuts that fall, and a terrifyingly absurd looking squirrel that's the star of the game. Yeah, he makes cutesy noises when he jumps and when nuts bonk him on the head, but those eyes freak me out.
The sound is good too, with this loop of weird, upbeat techno on the title screen and nature sounds during gameplay. Nuts bouncing off of the squirrel's head have a satisfying if not muted knocking sound to them, but it's not ill-placed.
Back to the controls, they're just not precise enough for my taste. Doing a completely motion-based game is cool, but it feels like you're either not tilting hard enough or you tilt too hard and overcompensate to move. The result is your squirrel inching along or bouncing from side-to-side on the screen, missing most of the stuff he's supposed to be bouncing up. If the developer added in something as simple like a thumb press on each side of the screen, I think it'd make Noogra Nuts much more intuitive and enjoyable.
At the very least, Noogra Nuts is OpenFeint supported and doesn't cost anything to play. There is an ugly ad on the front of the title screen that you have to pay (via an in-app purchase) to remove, but it never shows up in gameplay, so it's not too terrible of a deal.
To get your nutcracking skills on, there's download links after the break.
Get the Android Central Newsletter
Instant access to breaking news, the hottest reviews, great deals and helpful tips.