Android 4.4.2 OTA for the Google Play edition LG G Pad 8.3 now available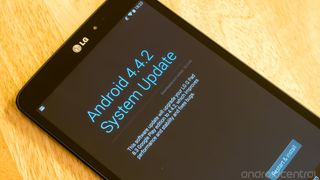 52MB download makes no immediately noticeable changes
Seeing as the latest Google Play edition devices came out of the box with just Android 4.4, it was only a matter of time before the small bump to 4.4.2 came. The OTA is now pushing out to devices, including our own, bringing the first Google Play edition tablet up to build number KOT49H.
The update screen doesn't give much of an indication what's been changed or improved, other than the standard "performance, stability and bug fixes." We're not immediately noticing anything, but you can't expect many changes with an x.x.2 update.
If you haven't yet received the OTA on your own GPe G Pad 8.3, you can grab the download directly from Google at the link above. If you need a refresher on how to update, you can check out our guide, linked below.
Andrew was an Executive Editor, U.S. at Android Central between 2012 and 2020.
That was nice and fast Posted via G2+

How about updates to some other LG devices. I know it is a gp edition but LG's flagship the g2 is still on 4.2.2 even my s3 has 4.3. Posted via LG G2

Do you really NEED 4.4 on your G2? The phone runs nearly perfect as it is. What is 4.4 gonna add to the phone that's gonna make it better? I'd rather it jump straight to 4.4 than make a useless jump to 4.3. 4.4 is only gonna be a noticeable change on a Nexus 5. With LG's skin, you probably won't even notice a difference. Posted via a device much better than yours.

Video highlights and autoawesome magic for videos through the G+ photos app is only available to 4.3 and above. Posted via Android Central App

Well, LG could make it better by removing that God-awful TouchWiz ripoff skin. Posted via Android Central App

Not going to happen. Posted Via VZW Moto X on the Android Central App

Exactly. I prefer jellybean than kitkat nonetheless Posted via Android Central App

Any reason why? Posted via my "Gift from God" Nexus 5

LG doesn't push updates to the Google Play Edition G Pad, Google does. And, as far as you know, LG may have already submitted the update to your carrier. Your carrier has to finish testing the update, before they'll push it out. Besides, there's not much that changes between versions, anymore. There's nothing wrong with your phone, as it is. And, if there is something wrong, you want bug fixes, not an entirely new OS with new bugs. Just my opinion. Posted from my "Gift from God" Nexus 5

Good show old chap. Posted Via VZW Moto X on the Android Central App

I could be wrong but I belive LG has to port aosp to the gpad and then hand it over to Google to push the ota and while nothing is wrong with the phone it doesn't mean there isn't lots of room for improvement. LG's launcher is hideous, nova launcher helps a lot but things such as the status bar need a refresh. I love stock android so I will probably end up flashing cm but it would be nice to see LG taking initiative like Motorola and get the updates out fast regardless of carrier. Posted via LG G2

Except the carrier has nothing to do with this. LG right now appears to be way behind with updates. 4.4 in q2? -----------------------------------------
Dammit man, I am a commenter not a clairvoyant!

I'm not sure, what carrier you have, but I have to ask: Why buy an LG device, if you don't like LG's software? If you prefer stock Android and are worried about updates, then you bought the wrong device. That's my opinion, for what it's worth. Posted via my "Gift from God" Nexus 5

Yeah I do not get it either.

Lol..exactly Posted via Android Central App

Jolly good show -----------------------------------------
Dammit man, I am a commenter not a clairvoyant!

Just waiting on the Z ultra… Posted via my Nexus 5

If I was in the market for a tablet, I'd be very interested in this device. Posted via Android Central App

So rumors out there are that qpair app and feature is actually working with the Google edition lg gpad. Can anyone on here confirm this. I want that feature but would prefer google edition with 4.4 than lg infused version Posted via Android Central App

No rumors. It works fine between my G2 and my GPE. Posted via Android Central App
Android Central Newsletter
Get the best of Android Central in in your inbox, every day!
Thank you for signing up to Android Central. You will receive a verification email shortly.
There was a problem. Please refresh the page and try again.