Some of you might still be enjoying balmy sunshine, but take it from an Illinoisian: winter is coming sooner than any of us would like. Getting prepared before the first bout of inclement weather is a good idea, because not only are emergencies unplanned by definition, but the longer you wait, the more expensive it gets to purchase the necessary supplies. If you don't have a jump starter stashed in your trunk, it's absolutely time to change that, and today you can do so at a discount. Enter promo code 4QGBF9KB at Amazon to nab this Gooloo 800A SuperSafe Jump Starter for $48.99, which is the best price we've seen yet for the item. Typically it costs $70. Shipping is free.
Don't Get Stranded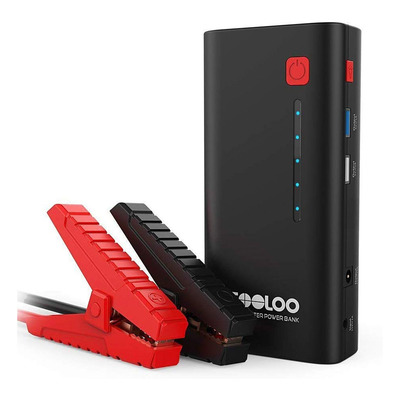 This well-rated portable jump starter belongs in every vehicle you own. Stash it in the trunk and you'll be prepared. It's easy to use, and besides jump-starting a dead battery, it can also charge your phone via USB to help in case of an emergency.
$48.99 $69.99 $21 off
This jump starter has an 800A peak current, making it suitable for everything from cars and tractors to trucks and snowmobiles. The clamps protect your gear from things like short-circuiting and overloading. The device doubles as a charger, with two USB ports that can quickly charge your cellphone and other tech. There's also a built-in flashlight with a few separate modes to help you see or be seen more clearly. Your purchase includes a handy carrying case and an 18-month warranty.
Additionally, the jump starter is designed to be easy to use, as stated over and over again in the device's positive customer reviews. That means even people that aren't car experts should be able to figure it out with no trouble. Is your teen driving in winter for the first time? Grandma determined to drive despite the weatherman telling her not to? A jump starter like this can add an extra layer of security no matter who you are.
While you're stocking your trunk with emergency essentials, don't forget a basic tool kit, blankets, and some first aid. It never hurts to be prepared!
We may earn a commission for purchases using our links. Learn more.