Why Galaxy Note 9 is one ex-Windows Mobile fanatic's favorite new phone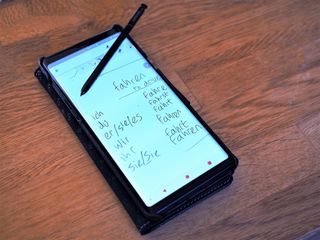 Since the death of Windows phones (shout out to those still hanging on), I've struggled to find a phone that I really enjoy. The closest, up until now, was the BlackBerry KEY2, which made blogging on Word for Android completely viable with its tactile QWERTY keyboard. However, as a mid-range device, I found myself longing for more screen real estate, a better camera (literally, any other camera), and more customization options.
I bit the bullet on a Samsung Galaxy Note 9, and I am so glad I did.
It's the little things
I'm not going to deep dive into the Samsung Galaxy Note 9 hardware, but if you're interested, we have an excellent review over here. For me, the biggest complaint about Android has always been in the little things I miss from Windows Phone 8.1 and Windows 10 Mobile.
As a relative newcomer to the Android ecosystem, one of the central criticisms of Samsung phones seems to pertain to its software. People often call it bloated and messy and decry things like Samsung's Bixby assistant, which cannot be disabled via Samsung's own settings. Thankfully, Android is heavily customizable, and Samsung offers OS tweaks that some other vendors simply don't.
One of the things I miss most about Windows phone is system-level accent colors and dark modes. Samsung brings this with gusto with its Samsung Themes app, allowing me to skin system apps like Settings and the Dialer, in addition to the Notification Center. Personalization was a big draw for me on Windows 10 Mobile, and with the Note 9, it's like I'm back on my red and black Lumia 950 XL.
Whether or not you like Samsung's launcher experience is personal preference. Again, as a heavy Microsoft ecosystem user, simply installing the Microsoft Launcher and setting it to the default brushes away a lot of the extraneous Samsung features, such as the screen-edge navigation bar.
I was also daunted by the prospect of having such a huge phone again without Windows 10 Mobile's one-handed navigation mode. Samsung's phones also have these features, allowing you to either swipe up from the corner or tap the home button three times to shrink the display into the corner, allowing you to reach those pesky hamburger menus with greater ease.
Additionally, Microsoft's SwiftKey seems to have improved leaps and bounds since I last used it, to the point where I can finally say it's better than word flow on Windows Phone 8.1 and 10 Mobile. SwiftKey is also heavily customizable visually, allowing me to match it up to my system theme, and also making it larger for more accurate swiping. I barely miss the QWERTY keyboard on my KEY2 now, although I'm still not sure swiping on glass is reassuring enough for writing out full blog posts.
Inking on Android, wishing for Andromeda
Beyond obvious things like stellar battery life, a stunning display, and an impressive camera, one of the aspects I didn't expect to love so much is the S-Pen.
Finding ink support in the Android world isn't easy. Effectively, the only big-name brand doing it is Samsung, and perhaps that's for good reason. Samsung does it bloody well.
The S-Pen is about as powerful as Microsoft's popular Surface Pen theoretically, stored neatly within the body of the Note 9 with 4,096 levels of pressure sensitivity. I've actually found it performs better with tilt shading, and the tip of the pen provides a type of resistance I'd more associate with pen and paper than what you get with the Surface Pen. The only downside is that it's quite small, and the active button on the stylus is positioned in such a way that accidental presses happen often.
Additionally, the palm muting on the Galaxy Note 9 isn't the best, when compared to a larger device like a Surface, but it's completely usable for heavy note-taking and light artwork in apps like Adobe Photoshop Sketch, which work well with the S-Pen and its features. Being able to use the S-Pen as a camera shutter is also a nice touch.
The Note 9 makes me yearn for a world where a device like Surface Andromeda actually exists.
The future of mobile inking
Clearly, Microsoft is deeply invested in inking, particularly for the education sector. I certainly find that in the German classes I'm taking, the notes I made with the S-Pen have stuck better in my mind than the notes I made with the BlackBerry KEY2's QWERTY keyboard. The issue for me is, despite how large the Galaxy Note 9 actually is, it's still quite a cramped experience for handwriting, at least for someone like me with an "unrefined" inking style.
Samsung and Google are already reportedly working on a collaboration to make folding Android displays a reality, while we've known for a while Microsoft has been spamming patents related to folding tablets under the Surface Andromeda codename. I doubt Andromeda will realistically compete with the Samsung "Andromeda," should either device ever make it to store shelves, purely because of the app gap issue. But Microsoft's services will remain present on Android, making the marriage of Android inking and Microsoft Office a match made in digital heaven.
Get the Android Central Newsletter
Instant access to breaking news, the hottest reviews, great deals and helpful tips.