VUZE announces 3D 360-degree VR camera for $799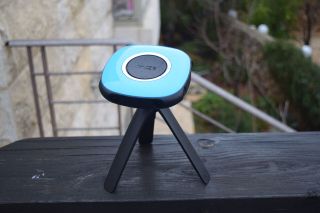 Recently 360-degree cameras have become more popular, and the latest company to announce one is VUZE. It will offer a 3D 360-degree VR camera for $799, which is pricier than the LG 360 CAM and Samsung's 360 camera, but still cheaper than professional-grade hardware. With the increased price you will get higher quality images and video from the camera, as it has 8 HD cameras for creating content, where most other units have anywhere from 2 to 4.
Filming isn't the only easy part here, but stitching and editing can be done with the touch of just a single button, and it offers near real-time processing so you don't spend tons of time post-production. The software will automatically optimize the output for use on VR platforms, headsets and other devices.
Pre-orders have already begun for this camera at $799. If you place your order now, you'll also receive a tri-pod and a VR headset with it, a $120 value for no additional cost.
Press release:
VUZE THE WORLD'S FIRST AFFORDABLE CONSUMER 3D 3600 VR CAMERA BEGINS ORDERS AT A PRICE OF JUST $799
Point-and-shoot camera, one button stitching technology and near real-time processing brings immersive content creation to the masses DENVER, CO May 12, 2016 – HumanEyes Technologies, a leader in photographic 3D, computer vision and lenticular graphic arts, has announced new technical capabilities and started taking orders of VUZE, the groundbreaking 3D 360° VR camera and software studio that captures and renders 3D and 2D VR content in near real-time and with a super easy interface and a click of one button. Priced at an astonishing $799, VUZE is less than 3% of the cost of the Facebook Surround 360 ($30,000) and less than 2% of the cost of the NOKIA OZO ($60,000), bringing immersive content creation to the masses.
Available at www.vuze.camera for $799, the pre-order bundle includes the VUZE Camera and software studio, VR headset, purposely engineered 'selfie stick' and tripod, stylish carrying case and a newly designed handle for alternative ways to hold the device. Pre-orders begin May 12, 2016 with shipping in the fall of 2016. While people need to register a pre-order to secure this price and guarantee their place among the first to receive VUZE, no payments will be taken until shipping.
Changing the VR landscape
The VUZE Camera combines advanced 3D and 2D capture technology using 8 Full HD cameras within an easy-to-use 'point and shoot' form-factor generating 4K resolution 360 video. The VUZE Studio brings groundbreaking advances in 360 3D content creation with state-of-the-art stitching thanks to a proprietary technique called Adaptive Blending that mimics the way the human eye interacts with the brain to form pictures in the mind. VUZE content can be viewed and enjoyed on any VR platform, headset or 3D device or TV.
"We are excited to be taking orders of VUZE and believe it will help fuel the creation of immersive content, something all VR platforms are trying to encourage," said Shahar Bin-Nun, CEO HumanEyes Technologies. "Current VR cameras either require advanced editing skills or in the case of other 3D solutions, demand Hollywood type budgets. With VUZE, we are democratizing VR content creation and putting it in reach of everyday consumers."
VUZE is a game changer in the following was:
Price: A cost within reach of consumers as well as professional movie makers and videographers
Ease of use: Stitching and editing can be done at a touch of one button and with near real time processing (1 minute of processing for one minute of footage) eliminating the need for lengthy post production. It automatically optimizes output for a variety of VR platforms, headsets and devices
Quality: On current playback platforms, VUZE offers the same level of 3D 360 quality as you would experience with NOKIA, Facebook or Google products at a fraction of the cost. With 8 full HD cameras for 2D content, it has superior quality to existing cameras, which typically use 2 to 4 cameras
Size: The highly portable, lightweight design brings VR content creation to the realms of point and shoot photography and even fits in most trouser pockets. No rigs or bulky equipment are required.
VUZE CAMERA – Making 3D VR content easy as point-and-click
VUZE is built on its own technology architecture and can be controlled by a dedicated iOS and Android app. Eight full HD cameras simultaneously capture images, videos and sound to facilitate full stereophonic and 3600 3D spherical content.
Each camera uses lenses that capture 1200 horizontal FOV and 1800 vertical FOV that together generate 4K 360 VR content. Since the VUZE camera can easily generate 3D and 2D content, it is like having two cameras in one. Its 8 FHD cameras deliver one of the highest quality 2D content experiences on the market and greatly reduce the effects of flare and peripheral distortion associated with ultra-wide fisheye lenses.
The camera's battery and removable SD card allows for up to one hour of video capture and internal processing and compression capabilities produce H.264 HD video files for editing. Featuring a stylish, ergonomic design, the VUZE camera is available in red, yellow, black and blue.
VUZE STUDIO – Post-production at a push-of-a-button
The VUZE Studio uses a powerful algorithm that automatically carries out a host of complex editing and stitching functions such as camera calibration, vignette, fisheye and perspective correction, white balance and exposure correction as well as stereo alignment for consistent parallax. This is done in moments and at a touch of a button.
Whether an expert or complete editing novice, the VUZE studio makes it easy to quickly create and share hi-res VR videos. Available on both PC and MAC, it boasts near real-time processing and almost seamless stitching thanks to a proprietary technique called Adaptive Blending.
Conventional stitching techniques merge images together at regular linear points which can result in images appearing slightly disjointed when they intersect detailed or complicated objects. Adaptive Blending solves this by identifying objects the human eye is drawn to such as straightedges, light contrasts and faces, then blends around them to create a seamless stitched image.
It does this within each frame mimicking the way our eyes work with our brains. Just as the brain fills in information delivered by the eyes, VUZE Studio combines captured images with intelligence to form a perfect picture.
Full technical specs of the VUZE camera and software studio can be seen here. Examples of content created by VUZE can be seen here. If you watch online, you will see the 2D quality but a VR headset is required to experience VUZE in its true 3D glory.
Jared started off writing about mobile phones back when BlackBerry ruled the market, and Windows Mobile was kinda cool. Now, with a family, mortgage and other responsibilities he has no choice but to look for the best deals, and he's here to share them with you.
The only Vuze I know of is the place where GoT episodes magically appear ;P Take it easy, I have HBONOW
Posted via the Android Central App

Yeah, I'm scratching my head on the Vuze name as well. I take it they're not the same company.

Sounds amazing! Posted via the Android Central App

Umm, the main feature of this camera over the LG 360 or the like is the ability to record in 3D. This is huge for VR. Posted via the Android Central App from my S7 edge

VR is the next big thing. Waiting on 360 camera phones. Question is who will be first to do it. Posted via the Android Central App

It sure is. Samsung just announced a new VR device outside of their Gear line, this week Google announced android vr, not to mention what's already available (oculus/vive), plus playstation's vr which will definitely introduce the masses to this new medium. And there's a lot of other companies jumping on board as well. I'm excited to say the least. I'm not going to be the earliest of adopters, I'm waiting to see how things shake out first. But i like what the ny times are doing by releasing vr video articles and samsung using the gear VR to broadcast sporting events. And we also have AR on the horizon! Awesome times! Posted via the Android Central App

The stitching in the attached video sucks... especially for $800.

The video itself is really strange. Hardly uplifting and a strange choice of subjects... Posted via the Android Central App

Why not try SVPRO 3d vr camera?
The price is more cheaper,and you can shoot beautiful 3d vr video when you are traveling.
http://www.trendsloving.com/

That camera is not vr in the sense that you can look around with a vr headset but an add on double lens stereo camera that only looks in one direction. You can get a much cheaper thing that does the same thing on eBay. It's called an HTC evo 3d. I use this all the time to take 3d photos and video. Or the alternative is to use a single lens phone, an s5 for example which has way better resolution and a hotwheels car. Simply take 2 photos 65mm apart from each other to get stereo effect.
Android Central Newsletter
Get the best of Android Central in in your inbox, every day!
Thank you for signing up to Android Central. You will receive a verification email shortly.
There was a problem. Please refresh the page and try again.