Your computer is capable of so much, and with the VAVA 8-in-1 USB-C hub, you can unlock even more of its potential. Entering code HPM4D383 during checkout at Amazon will drop its price to $34.99. That saves you $20 off and is a small price to pay for this much versatility. This USB-C hub regularly sells for up to $60 there.
Amazon offers free shipping on orders totaling $25 or more, or you can join Amazon Prime to score free two-day shipping on this item and thousands of others with no order minimum. Prime members receive a bunch of extra discounts as well, and you can even start a free 30-day trial to see how it is and have this item shipped for free.
More ports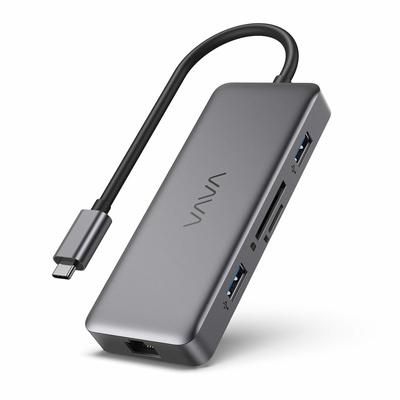 This tiny USB-C hub is packed with eight ways to connect other devices to your computer, from USB ports to an HDMI output that supports 4K resolution video. Using the coupon below will score you $20 off its price while supplies last.
$34.99 $54.89 $20 off
This USB-C hub is packed with ports to connect flash drives, monitors, memory cards, and other devices to your computer. It features two USB 3.0 ports (as well as a single USB 2.0 port), along with an HDMI output that supports 4K video and an RJ 45 Gigabit Ethernet port. There's also a 100W power delivery port that lets you charge your laptop through the hub and two memory card slots, SD 3.0 and TF 3.0, both with data transfer speeds up to 5 Gbps. VAVA even includes a warranty that lasts for more than two years with its purchase.
At Amazon, more than 300 customers left a review for this USB-C hub resulting in a high rating of 4.9 out of 5 stars.
We may earn a commission for purchases using our links. Learn more.