T-Mobile HTC Sensation 4G to get ICS update this Wednesday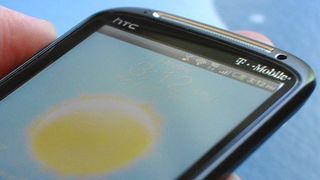 T-Mobile HTC Sensation 4G owners will have been watching with envy as their phone's international cousin was updated to Android 4.0 Ice Cream Sandwich a couple of months ago. But now it seems the wait may finally be at an end, with T-Mobile announcing in its official support documentation that the Sensation's ICS update will be arriving this Wednesday, May 16.
The update promises the same mix of Android 4.0.3 and HTC Sense 3.6 that we've seen on a number of updated HTC devices over the past few months, with highlights including a re-vamped launcher, face unlock, data usage controls and home screen folders. Sure, it's not quite as pretty as the new-fangled Sense 4 that's bundled on HTC One phones, but it's a significant step up from earlier Sensation ROMs.
This Wednesday, Sensation 4G owners will want to head to Settings -> About phone -> Software updates to grab the update to the latest version of Android.
And hopefully Amaze 4G owners won't have too long to wait either, with the latest info out of T-Mobile indicating an ICS release "in the coming weeks."
Source: Android Central forums
Alex was with Android Central for over a decade, producing written and video content for the site, and served as global Executive Editor from 2016 to 2022.
Hmm... Thunderbolt soon? Please!?

SPRIIIIIIIINT!!!!! Give my EVO3D this update! Come on! June? Really? That's so lame.

Been running Sense-O-Manic's ICS 4.0.3 ROM for the past couple months wonder if the official ICS will fix some issues I've been having.

Us stock VZW Rezound owners can taste the Ice Cream Sandwich already. Mmmmn

I feel like I deserve this. It's about time.

One thing I was hoping someone can clarify. With ICS, on TMOBILE's site it indicates: Note: HTC Sensation 4G will be required to add Wi-FI Mobile Hotspot after the update. ========================
New Features Android 4.0 (Ice Cream Sandwich)
Sense 3.6
System bar enhancements to easily view recent apps.
Re-sizeable widgets
Lock screen actions including pull down notifications and adjust volume while device is locked.
Data usage controls.
Face Unlock
Home screen folders
Improved battery life
Note: HTC Sensation 4G will be required to add Wi-Fi Mobile Hotspot feature in order to use the service after completing this update.
========================== Does this mean that one will need to activate this service at $14.99/month in order to use it? Currently, it is included. Thoughts?

I noticed that myself. Guess I'll be rooting after this update, or maybe before and just install rootkeeper.

how are supposing it works? like when you choose to activate it, it would verify you wanted to add $14.99 to your account?

I would like to know before ICS update not after.

same here, I was planning on using my phone for wireless internet for a couple days while I waited to get my internet service transferred to my new apartment...happening on the same day. I think T-mobile must be out to get me, or just make me sad

There seems to be confirmation from TMONews: http://www.tmonews.com/2012/05/confirmed-htc-sensation-4g-ice-cream-sand...

If you have the 5GB data plan wifi hotspot still free but you gotta call Tmobile to activate it, I just did it.

well i can confirm that i accidentally found out: once you run the update, you have to pay to get the hotspot. before the update i could do it without the $14.99 hotspot fee. it was just free. now when you turn on the hotspot it brings you to a tmobile page saying you have to add mobile hotspot to your account for $14.99 a month. Bullllllsh*t. can i undo? this was a main feature i used the phone for...i need it back. are there solutions?
Android Central Newsletter
Get the best of Android Central in in your inbox, every day!
Thank you for signing up to Android Central. You will receive a verification email shortly.
There was a problem. Please refresh the page and try again.