Sprint Motorola XPRT available today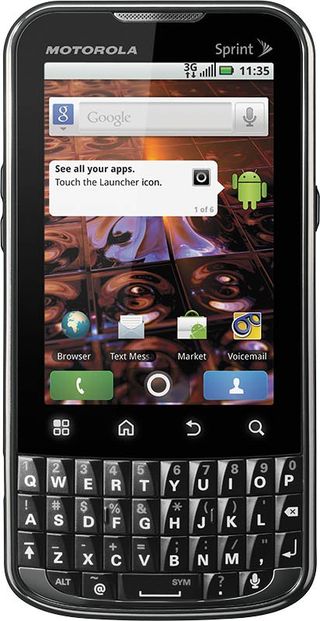 If you've had a hankering for some physical keyboard love on Sprint, today's the day to pick up the Motorola XPRT. If it looks familiar, it should -- it's basically the Droid Pro on Verizon. And like Big Red's version, this one's also a World Phone, meaning you can use it on GSM networks outside the United States.
Want specs? We got 'em:
Android Market™ for access to more than 150,000 applications, widgets and games available for download
Google™ mobile services, such as Google Maps™ with Navigation, Google Talk™, Gmail™ and YouTube™
Corporate email (Microsoft Exchange ActiveSync®) and personal (POP & IMAP) email
Worldmode – CDMA (EVDO Rev. A), GSM/UMTS (HSPA) – international roaming service available in more than 200 countries
3G Mobile Hotspot capability, supporting up to five Wi-Fi enabled devices simultaneously
5-megapixel camera with camcorder and dual LED flash for low-light performance
microSD slot, with a 2GB memory card included, supporting up to 32GB
Bluetooth® 2.1 + EDR
Wi-Fi® b/g/n
1860 mAh Lithium-ion battery
This is a powerful little bugger. Be sure to read our Droid Pro review if you haven't already. You can pick up the XPRT today for $129 on contract.
Source: Sprint
Moto finally wised up and shipped it with a bigger battery than Verizon's version?

Comes with Froyo...needs Gingerbread, especially that the Droid Pro comes with it...

If you Google Motorola XPRT, you'll see in the latest news that it already has a Gingerbread update either already available, or right around the corner.

Did anyone else notice the large battery for that small display 1860 is pretty big that wil probably last like 2 days.

wow check out that battery, my g2x only sports a low 1500

Wow. The stock battery in my EVO was 1500. I'd love this phone with a 3.7" screen and FFC. That would make it perfect for me.

Being a former BB user, this is very attractive. Now, if it only had a dual core processor *DROOL* I would be all over this. Going from BB to the EVO was a difficult change as far as typing went. You just can't beat a physical keyboard (swype, swiftkey, etc) and Moto was definitely dancing on the fringes of copyright protection because that keyboard looks EXACTLY like a BB 9700 ;) and kudos to Moto for slapping that 1860 mAh battery in that bad boy!

You have a typo. "it's basically the Droid Pro on Verizon." It should be Sprint not Verizon

actually he has it right cause the xprt is basically the droid pro on verizon

So is it confirmed that it ships with Gingerbread or is it an update coming soon?

I have an Evo and miss the keyboard, my previous smartphones all had them.
I was disappointed when I checked the Droid Pro and saw how small the screen and keyboard were. Shipping a new phone out the door with Froyo, just to ship it, was dumb. Did Motorola keep their word about an unlocked bootloader?

Probably pick one of these up for my girlfriend. Will be quite the upgrade from the Hero!

I just looked at Sprint's website. It doesn't do 4G!
http://shop.sprint.com/mysprint/shop/phone_details.jsp?prodId=dvc5270001... Sadly, this is becoming a non-option for me for multiple reasons.

No 4G? woo hoo!!!!! I am thinking about this, I am currently rocking the Nexus on Sprint but this looks pretty cool....espcially with that battery, now as far as 4G..dont care for it, the $10 extra and the speeds compared to LTE, not worth it. So I am happy with 3G alone...does it have a front facing camera?

"now as far as 4G..dont care for it, the $10 extra and the speeds compared to LTE, not worth it." The $10 is not for 4G speeds (yeah right Sprint). Anyway, the $10/mo is charged to WebOS, Android, Palm and Windows phones. Pretty much every decent phone. Even this one. As Sprint says, the $10 is for the "Premium User Experience".

if you look at the picture and tell it doesnt i got the phone and ove it but id kill to have the nexus and lte doesnt compare to 4g on sprint its so buggy and laggy where i am its just crap i downgraded from my rooted epic simply because i emailed and wrote motorola forever since seeing the droid pro on verizon and almost a year later results come unannounced but all in all LOVE THE HELL OUT OF IT

the $10 was for 4G, but anyone who stil got that smart phone earlier hasnt had to pay it. ALL NEW PHONES (SMART) require it

and plus how much is the same plan you have for the nexus on verizon be happy its only 10 so 79.99 versus 119.99 for one line
Android Central Newsletter
Get the best of Android Central in in your inbox, every day!
Thank you for signing up to Android Central. You will receive a verification email shortly.
There was a problem. Please refresh the page and try again.