In case you haven't heard, Amazon unveiled its own true wireless earbuds in the form of the Echo Buds late last year. They've sold for $130 since their October release, but today you can score them for just $89.99 at Amazon. At $40 off, this is the best price we've seen for the Echo Buds, though the discount isn't likely to stick around for long. To sweeten the deal, you'll even get three months of Audible thrown in at no extra cost. Since Audible costs $14.95 per month, you'd be getting a $45 value for free. That offer only extends to those who haven't tried Audible yet, but the price drop on the Buds is valid for anyone. The discount is also available at Best Buy.
Alexa, what's the deal?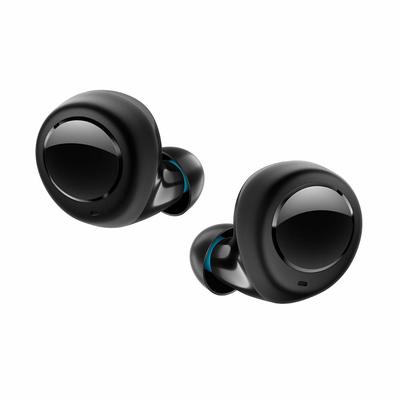 Amazon Echo Buds
This is the first major discount the Echo Buds have seen since their introduction late last year. They feature premium speaker drivers, Bose active noise reduction, hands-free Alexa, and up to 20 hours of battery life with the included charging case.
$89.99 $129.99 $40 off
The Echo Buds feature up to five hours of battery life on a single charge. The included case tops them off to provide another 20 hours of playtime. The process is speedy, too, as a 15-minute charge will get you two hours of battery life. The tiny earbuds feature Bose Active Noise Reduction and a sealed in-ear design to ensure that you're only hearing what you want to. They also ship with Alexa so you can speak a few words to hear commute updates, change the song, play audiobooks, or get directions. If Alexa's not your favorite intelligent helper, the earbuds can also be used with your smartphone's voice assistant.
Amazon includes three sizes of ear tips with your purchase so you can always be comfortable, and we have a guide to getting the best in-ear fit. The Echo Buds are sweat-resistant as well. If having Amazon earbuds freaks you out, there are privacy controls built-in that let you mute the earbud mics using the Alexa app.
We reviewed the Echo Buds shortly after their release, praising their sound quality, ease of use with Alexa, customizable settings, and more. We ultimately gave them an impressive 4.5 out of 5 star rating.
Eligible customers will receive a link to their free Audible trial after their order ships. You could also take advantage of this Amazon Music HD promotion to get 90 days high-quality tunes at a discounted rate.
We may earn a commission for purchases using our links. Learn more.