Reminder: Enter to win a Lenovo IdeaPad K1 from Nvidia and Android Central [contest]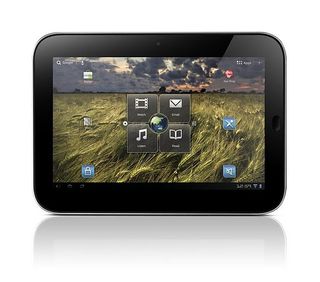 The Lenovo IdeaPad K1 is one of the latest Android tablets to be introduced, and I'm thinking it may have been worth the wait. It's a Tegra 2 packing Honeycomb tablet, from a name everyone knows, and it manages to be on the thin side while still providing a microSD card slot and HDMI port. If you need the connectivity, and still want something stylish and light, the IdeaPad K1 just might be the ticket. And you can enter to win one in Nvidia and Android Central's Tegra Madness giveaway!
Winning one is easy, just hit the forums and drop a note in the contest thread, and you're entered. Each contest runs for 24 hours (midnight to midnight, Eastern Time), and we'll pick the winner at random, then announce them all in one big blog post next Sunday (Sep. 18). Good luck to all, and be sure to enter all week!
Jerry is an amateur woodworker and struggling shade tree mechanic. There's nothing he can't take apart, but many things he can't reassemble. You'll find him writing and speaking his loud opinion on Android Central and occasionally on Twitter.
hell, its a tablet! Count me in!

OK. You guys all understand that the winner won't be chosen from here, right? Try reading the story. "Winning one is easy, just hit the forums and drop a note in the ***contest thread***, and you're entered." Here is the contest thread:
http://forums.androidcentral.com/android-contests/118756-win-lenovo-idea...

lenovo products are great I want to win!

Wow! First page of posts! Yei!!! And I'm second post!!! I want to win, too, by the way :D

Pick me......Pick me! Please!

Count me in! I'd like one too please.

Looks like a sweet tablet. I would love to get my hands on one.

Maybe this time I will get lucky.

This would be nice replacement for the Galaxy Tab I lost.

Tons of folks with 1 post in the thread... Hopefully someone with a little more time under their belt will win... like say... Me? :)

I'm down like Charlie brown

Would really like one of these...

I am really ready to win something after entering these types of contests. In the Past, I enter, I lose, I enter, I lose...well, NOT THIS TIME..(I hope) Hook me up with a tablet PLEASE.....

Please pick me ...my laptop is HUUUUGE and this would save me from a massive hernia when traveling :-)

Awww sweeett! Hope i win this pad . Looks awsome .
Levono its doing some great workk... .

I would luv to win this....been wanting one forever for school.

I am in. Hopefully i can win

Count me in I would love one!

I'm Still an animal for Nvidia and Android Central. Pick me & I'll add Lenovo to my animal zoo!

It would be so cool to win such a cool prize. The Nvidia chipset looks like it is very fast and I'd love to have one for myself. I need a tab to do some couch computing.

please AC, keep feeding my addiction!!!!!!!
I've got a fever, and the only medicine is more ANDROID

In IT TO WIN it....my kids need a movie box for the road and I'm not buying another crappy portable dvd rig.

Android Central ROCKS! Enter me to win.

Android central, you may now pronounce me in

Android central is awesome. I want one. I want one. I want one.

Dibbs, I now claim this in the name of me.

Chosen at random! Ok androidcentral thats what we will tell them when i win!!!!!

I definitely want in on this!

I will gladly pay you tomorrow for and android tablet today

Winner winner chicken dinner!

Count me in a Bionic and a free tab that would keep me busy for a while.

I 'THINK' I may, I 'THINK' I might win this Lenovo THINK pad on Sunday night.

would love to have this for travel.

Winning would make my year! This tablet is awesome!

Would make a great gift for my daughter to use at school, she loves google Body and a table would be great. thanks in advance

Will I be the lucky one today?!?!?!

pick me please, pick meee

Another day, Another Try.

I never know who wins? I think this is a scam to see how desperate people are for free stuff hahaha

I would like to win pweeze!

Lenovo rocks! I would totally dig the new tablet and own the best!

I can't get enough android

I love all things Lenovo. This would be a wonderful addition to my X 61 tablet. What would I do with my HTC Flyer... There is always ebay.

Need a great tab for movies

My daughter needs a tablet badly!

This will be a great tablet for me. Thanks for picking me.

Let this be my lucky night! Count me in

Well of course you can count me in!!

Would love to get my hands on this device! Thanks for the chance!!

It's Lenovo, i really like this type of UI.

Tegra 2 + Honeycomb = gimmie one!

Count me in. I need this to be cooler.

I want a tablet sooo bad! A free one would be NICE!!! :)

Looks like a nice tablet just purchased the acer A100 and it will be great to give this one to wife so she can dump the Ipad

Tegra 2... Tegra 2 plz............!!! =)

I can haz Lenovo K1? Please?

Let me win this time, Phil.

The countless entries to win a tablet, maybe this could be the one. Pick ME please :)

The countless entries to win a tablet, maybe this could be the one. Pick ME please :)

This contest is the only apparent way that I can hold a Tegra 2 device in my hands, because otherwise I cant afford them right now being unemployed.

Oh lord, please oh please oh please let me win the Idea Pad.
If I win, I will use it at my work (hospital) to help my patients.

Another awesome tablet! Really want it! Tegra 2 burns!

I believe that I am too late for this one. Good luck everyone!

This would be a nice tool for me both at work and at school. Wish i could have one!

Just gives me a reason do ditch my ipad!

Pick me! Pick me! Pick me!

A Lenovo Tablet would look pretty sitting next to my Lenovo laptop :)

Winner winner chicken dinner

Beer, Beef, Bacon, Football and Android! Go Lloyd Go!!!

I posted last night, but it doesn't look like the post stayed :(

This is a sweet contest! Love to check out an IBM product.

Please pick me! I want one.

I really love Lenovo. HOpe I can win it.

my fingers need practice and this is the best way to make them work!

I'd love to have one of these babies!

Would be an awesome mate to my x61 tablet. I love Lenovo products. Anyone want to buy an HTC Flyer if I win?

Ok... So by now I think it is known that really want one. What better than this to go with my Lenovo x61 tablet.

I would LOVE to win the Lenovo IdeaPad K1!!!!!!

Please and thank you. I would live one as a companion to my Think Pad x61 tablet.
Android Central Newsletter
Get the best of Android Central in in your inbox, every day!
Thank you for signing up to Android Central. You will receive a verification email shortly.
There was a problem. Please refresh the page and try again.