The Oculus Quest will gain official Oculus Go emulation later this year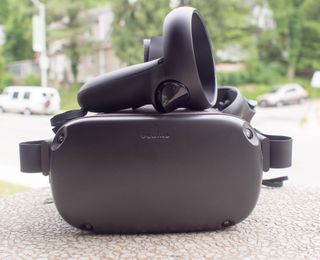 (Image credit: Android Central)
What you need to know
The Oculus Quest is getting Oculus Go emulation later this year.
Go emulation allows users to play games on their Quest that are currently only available on the Go.
Some titles will gain six degrees of freedom, controller tracking, and improved resolution and frame rate.
The Oculus Quest will receive Oculus Go emulation later this year according to John Carmack, the CTO of Oculus. Some titles are currently available on the Oculus Go but not the Oculus Quest. This new emulation feature would allow users to play games currently limited to the Oculus Go on the Oculus Quest.
Carmack added to his tweet announcing the upcoming feature that the hope is that "some will be inspired enough to convert older apps to proper 'hybrid' Go/Quest apps with explicit support." Even if a developer doesn't create a hybrid app, some noteworthy titles will become available on the Oculus Quest through emulation.
1/3: Go emulation is coming to Quest later this year, by way of a compatibility layer that makes Quest report as a Go and emulate the Go controller for old apps.1/3: Go emulation is coming to Quest later this year, by way of a compatibility layer that makes Quest report as a Go and emulate the Go controller for old apps.— John Carmack (@ID_AA_Carmack) July 23, 2019July 23, 2019
The emulation feature will also make the Oculus Quest Touch Controller work with Oculus Go games. The Quest's controllers have more buttons and options, so it will be interesting to see if it's a straight emulation or if new features will be added to take advantage of the increased controller options.
Versatile VR
(opens in new tab)
Freedom to move
The Oculus Quest is a standalone VR headset. That means you don't need a PC or phone to use it and you don't have to duck and dodge around wires. As a result, you can bring VR almost anywhere and immerse yourself in gameplay.
Oculus Quest accessories we love
The Oculus Quest has everything you need to run it in the box, but you can still add some accessories to enhance the experience and help you take it with you.
Oculus Quest Travel Case (opens in new tab) ($40 at Amazon)
This case will protect your Oculus Quest when you're on the go and has enough room for the headset and Touch Controllers.
Quest Deluxe Strap ($20 at Studio Form Creative)
This adds another layer of support to the head strap built into the Oculus Quest. It helps distribute weight across your head to improve comfort, which is important for longer sessions.
Panasonic rechargeable batteries (opens in new tab) ($19 at Amazon)
These batteries can be recharged up to 2,100 times and are a great way to keep your Touch Controllers charged and ready to go.
I just wish stores carried the 64GB model

"The biggest example is probably Minecraft." Oculus Go doesn't have an official Minecraft app.

My mistake. Many have sideloaded the Gear VR version of Minecraft to the Go, but you're right that there is no official Minecraft on the Go. I believe you can even sideload it onto the Quest but I don't think it supports motion controllers and you have to use a gamepad, though I haven't tried it yet.
Android Central Newsletter
Get the best of Android Central in in your inbox, every day!
Thank you for signing up to Android Central. You will receive a verification email shortly.
There was a problem. Please refresh the page and try again.