Nothing ear (1) vs. OnePlus Buds Pro: Which should you buy?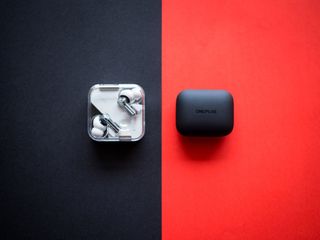 (Image credit: Apoorva Bhardwaj / Android Central)
Nothing ear (1)
(opens in new tab)
If you're looking for $100 wireless earbuds, the Nothing ear (1) tick all the right boxes: they sound fantastic, have a great design that makes them stand out, and they have wireless charging. They're light enough for all-day use, and you even get decent noise isolation. They have average battery life and miss out on AptX, but if you care about sound quality, these are a great option.
Nothing ear (1)
Unique design
Amazing sound
Lightweight design is great for all-day use
Two modes of ANC
Auto play/pause and Qi wireless charging
No Google Assistant or Alexa
ANC is unreliable at times
Availability issues
Case scratches easily
No AptX audio codecs
OnePlus Buds Pro
(opens in new tab)
The Buds Pro have a bass-focused sound that makes them a stellar choice for listening to most modern music, and they have all the extras. The lightweight design is great for all-day use, the buds last seven hours on a full charge, have IP55 water resistance, and unique additions like Zen Mode Air give them a distinct edge.
OnePlus Buds Pro
Standout sound quality with reliable ANC
Even lighter than the ear (1)
Qi wireless charging and fast charge
Lasts up to 7 hours on a charge
Buds and case are water resistant
Zen Mode Air is a great addition
No Google Assistant or Alexa
Sound signature is bass-focused
HeyMelody app for non-OnePlus phones
No customizable EQ
You don't have to pay over $100 to get great-sounding wireless earbuds with a lot of extras, and that fact is clearly illustrated with the Nothing ear (1). These are among the best wireless earbuds available for $100, delivering a great sound signature along with wireless charging and ANC. The OnePlus Buds Pro build on that formula with a few unique additions, so if you're in the market for new wireless earbuds and are unable to choose between the two, here's what you need to know.
Nothing ear (1) vs. OnePlus Buds Pro: Design and features
The biggest differentiator for the Nothing ear (1) is the design; these earbuds don't look like anything else in the market today. Nothing has collaborated with Swedish audio giant Teenage Engineering for the design and audio tuning of the ear (1), and that makes them stand out from the pack. The clear case lets you view the earbuds in all their glory, and the stalk of the buds has a clear design that shows off the battery and internals.
This design doesn't extend all the way to the driver, with the ear (1) featuring a more modest white plastic housing here instead. Even then, the earbuds have a distinctive look, and at 4.7g, they're extremely lightweight. They have a comfortable fit as well, and are great for all-day use.
As for the OnePlus Buds Pro, the earbuds emulate the AirPods Pro's design, so you find a short stalk with a bulbous housing for the driver that nestles into your ear canal. Coming in at 4.35g, the Buds Pro are marginally lighter than the ear (1), and of the two, I found the Buds Pro to be more comfortable for extended listening sessions.
Image 1 of 3
The Buds Pro don't have much in the way of design flair, but the fit and finish here is excellent. The Matte Black variant in particular feels great, and thanks to IP55 water resistance, you can use these earbuds for workouts without any issues. The ear (1) have an IPX4 rating, and while that is decent enough in its own right, the water resistance doesn't extend to the case. With the Buds Pro, you get an IPX4 rating for the case, giving it the ability to withstand the elements.
Both earbuds have auto play/pause, and they do a good job automatically pausing music playback when you take a bud out of your ear. You'll find a large gesture control area on the stalk of the ear (1), and it is effortless to control music playback on the 'buds. The Buds Pro rely on a squeeze gesture on the stalk, and while it works admirably, it is not as easy to use as the ear (1).
The Buds Pro have a unique addition called Zen Mode Air, and like Zen Mode in OxygenOS, the feature is designed to promote mindfulness. The feature streams ambient sounds — forest sounds, ocean waves, piano notes, nighttime sounds — or white noise to the earbuds, and the best part is that it works even when the 'buds aren't connected to your phone. The sounds are sourced from OPPO's Relax feature, and if you're looking to unwind or need white noise in the background, the Buds Pro are a great option.
Swipe to scroll horizontally