Huawei VR2 aims to be the one-stop headset for phone and PC virtual reality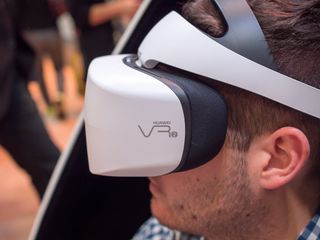 Huawei's VR2 headset was unveiled officially in late 2017, but CES 2018 served as a Western debut and the first chance for most people to get their eyes and hands on one. This is Huawei's second take on virtual reality, and it comes in partnership with IMAX (perhaps you've heard of that) instead of Google — yes, this VR headset doesn't run Daydream.
Image 1 of 5
In some ways, that IMAX partnership makes sense, as Huawei is positioning VR2 as more of a competitor with higher-end VR headsets rather than the likes of Daydream View and Samsung Gear VR. This standalone headset has built-in screens rather than a spot for a phone, and that means it takes its data connection via USB cable — it can be powered by a new Mate 10 Pro, or a PC like an HTC Vive.
The screens are interestingly LCD, and come in at 3K, or 1440x1600 resolution, per eye. They have a 90Hz refresh rate, which is supposed to smooth out the experience and help with motion sickness if you're someone who faces that issue in VR. I'll say that it was very comfortable and eye strain wasn't an issue for the 15-20 minutes I spent in the experience, though I could notice a little pixelation on the screen still. Being an IMAX partner product the most visually compelling experience was a virtual theater with a handful of action-packed movie trailers playing — it looked (and sounded) fantastic, and was running off of a Mate 10 Pro. The IMAX partnership means the Huawei VR2 has its movies fed directly from IMAX, whereas Google's ongoing IMAX deal simply gives you access in Daydream to some 3D titles that are already in the Play Store.
Huawei also demoed the same headset paired up with a PC and a controller playing a game from Steam, which puts that 90Hz refresh rate to the test and also looked good. In both cases the headset feels comfortable compared to your typical Daydream headset, which makes sense considering it has better weight distribution and a more structured head strap system with tons of padding. The headset felt tight and stable and didn't put pressure on my cheeks or nose. Unfortunately Huawei didn't have the phone-based controller working when I was using it, but it feels near-identical to the latest Gear VR and Daydream View controllers in terms of weight and buttons.
Image 1 of 5
For content creation, Huawei was also showing off its EnVizion 360-degree camera attachment released in 2017. This little pod plugs straight into the USB-C port of your Mate 10 Pro (as shown here) or other recent Huawei phone, and captures photos right into the native gallery. Yes that means your phone is held upside down, but it's not awkward at all — and it means the 360 camera is very compact and easy to stow away when not in use.
The camera captures 5K photos and 2K video from a pair of 13MP wide-angle cameras, and the shots we took (in admittedly bad trade show lighting) looked good on the Mate 10 Pro's display. To my eyes the stitch line between the two cameras was very well hidden, except for the usual spots down near the bottom where you held the phone. The app was useful, but nothing surprising — it basically offered a couple shooting modes, live filters and video recording. That gets the job done. The most important thing was it all seemed very smooth to operate and the process of switching to 360 and capturing took just a few seconds after plugging in.
Huawei's EnVizion 360-degree camera is available online through resellers if you're dying to have one, with prices around $150-200. The Huawei VR2 headset, though, doesn't yet have a release date but the expected price is about $300 — plus the phone or computer to power it, of course. There are a whole lot more moving pieces involved there, including phone- and computer-side software and content partnerships. With a name like IMAX involved you'd hope that Huawei follows through, but we'll have to wait to see future developments on this one.
Get the Android Central Newsletter
Instant access to breaking news, the hottest reviews, great deals and helpful tips.
Andrew was an Executive Editor, U.S. at Android Central between 2012 and 2020.