HTC One Mini official specs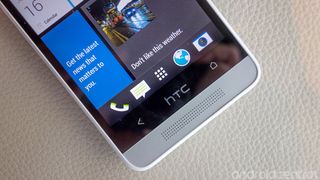 The HTC One Mini is officially official, finally, and it's coming your way (maybe) pretty soon. The short version is that we've got a 4.3-inch Android 4.2 smartphone powered by a Snapdragon 400 processor at 1.4 GHz. The longer version is that it's a smaller, slightly less powerful version of the HTC One with most — but not all — of the bells and whistles on HTC's flagship phone for 2013.
Specs aren't everything, but they're still important. And we've got 'em all listed after the break.
HTC One Mini specs
Android 4.2.2 with HTC Sense 5 and BlinkFeed
Display: 4.3-inch at 720p, for 341 pixels per inch
Processor: Qualcomm Snapdragon 400, dual-core, 1.4GHz
Total storage: 16GB, available capacity varies
RAM: 1GB DDR2
Battery: 1800 mAh
Size: 132 x 63.2 x 9.25mm
Weight: 122g
Camera
HTC UltraPixel Camera
BSI sensor, Pixel size 2.0 μm, Sensor size 1/3"
Dedicated HTC ImageChip 2
F2.0 aperture and 28 mm lens
Smart Flash: Five levels of flash automatically set by distance to subject
1080p Full HD video recording with HDR Video
Front Camera: 1.6 MP with BSI sensor
Front Camera: 720p video recording
TC Zoe™ with Sequence Shot, Always Smile and Object Removal
Gallery with Video Highlights and HTC Share
Continuous shooting and VideoPic
Slow motion video recording with variable speed playback
Network info (may vary by region)
2G/ 2.5G - GSM/GPRS/EDGE
3G/ 3.5G - UMTS/ HSPA:
EMEA: 900/1900/2100 MHz with HSDPA up to 42 Mbps
Asia: 850/900/1900/2100 MHz with HSDPA up to 42 Mbps
4G - LTE:
EMEA: 800/1800/2600 MHz
Asia: 900/1800/2100/2600 MHz
Connectivity
3.5 mm stereo audio jack
Bluetooth® 4.0 with aptX™ enabled
Wi-Fi 802.11 a/b/g/n
DLNA
Sensors
Gyro sensor
Accelerometer
Proximity sensor
Ambient light sensor
Location
Internal GPS antenna + GLONASS
Digital compass
Android Central Newsletter
Get instant access to breaking news, the hottest reviews, great deals and helpful tips
Another flop from HTC. Sad specs Posted via Android Central App

Flop? What are you talking about. This is a cheaper version of an amazing phone. This thing is meant for those that can't afford the One or want something smaller.

This phone doesn't have a flux capacitor. What a flop.

All the kids these days need flux capacitors

Those specs will still cut through Android like a hot knife through butter. I don't understand the spec race at all. The phones with 1.2GHz dual cores and 1GB of RAM was plenty enough. Even if there was a problem, HTC would know to optimize the software a bit to make it fly.

I like it. Specs are fine. Remember it is not a flagship. Posted via Android Central App

Keep it. To put only 16gb of interior storage minus the space needed for the OS and you are left with maybe 11 if lucky. That is not a modern day SmartPhone. Today's Smartphone IMO needs a minimum of 32gb if it has ext sd-card support, without the sd-card 64gb is a must have. I just don't understand the total refusal on the manufacturers for not giving the customers adequate storage. I refuse to buy a phone without adequate internal storage. If the mini came thru with 2gb of ram and plenty of internal storage that phone could not be kept on the store shelves. Wake up and smell the coffee, put some damn storage into these phones. That really pisses me the fuc- off.

Yeah because us power user are buying the bulk of phones... Not the regular consumer That doesn't know or care about your point..... Posted via Android Central App

you don't understand Google's cloud concept very well do you? keep your music in Play Music Cloud and stream, keep your photos backed up with G+ so you can delete, and keep your docs in Drive. 8GB is enough.

AKA do what Google says? Posted via Android Central App

Which is just retarded. If you don't have unlimited data, you're going to be paying an arm and a leg. And what of you're in a low signal area and can't stream? At least you'll have a piece of mind knowing your documents are sitting pretty on Google's servers while you can't access them.

Anyone know if Verizon will carry this?

Very unlikely considering there isn't a CDMA radio listed. Maybe somewhere down the road but not this particular model.

Make a GPE of this and i'm SOLD!

No thanks. I'd just get the real One.

How does this match up with the Htc first then? The specs are very similar.

Loving the look of this for our work phones as they really don't need a bigger screen. Posted via Android Central App
Android Central Newsletter
Get instant access to breaking news, the hottest reviews, great deals and helpful tips
Thank you for signing up to Android Central. You will receive a verification email shortly.
There was a problem. Please refresh the page and try again.