How to sign up for Google Play Family Library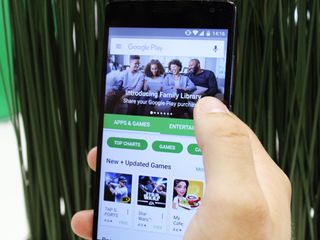 Sharing your Google Play apps and media with your family has never been easier, thanks to Google Play Family Library. It lets you connect up to five of your family members to a shared library of content, including a shared family-use credit card, so everyone can share their favorite movies, TV shows, music, books and apps.
While this was designed for families, you should also be able to create a shared library of content between your group of best friends, so you can all stay caught up with your favourite movies and TV shows, and play that cool new game your friend has been raving about.
Setting up a Google Play Family Library is an easy process, you just need to ensure you use your personal gmail account. Google accounts for Business are unable to be used for creating a Google Play Family Library.
How to sign up and get started with Google Play Family Library
Launch the Google Play Store from your home screen or app drawer
Tap the Menu icon. It's on the left side of the search bar.
Tap Account.
Tap Family.
Tap Sign up for Family Library.
Tap Sign up.
Tap Continue to set yourself as the Family manager.
Tap Continue. Doing so accepts the Google Play terms of service and Google's -privacy policy.
Tap Set up to set up a family payment method.
Confirm your preferred credit card is selected and tap Accept. (Editors note: Google Play won't let you take a screenshot on screens related to credit cards)
Tap Continue to begin adding things to your Family Library.
Decide whether you want to add all eligible purchases now, or add them individually later, then tap Continue.
Tap Continue to invite family members to your group. They must be 13 years old or older with a personal google account to join. Alternatively, you can tap Skip and add family at a later date.
You'll be asked to verify the CVC for the credit card you entered in step 10. Enter the three digit code found on the back of your credit card, then tap Verify.
It's time to start sending invitations! Swipe to scroll through your Contacts and find the family (or friends) you wish to add to your share group. Alternatively, tap Add recipients at the top to search or manually enter a Gmail address.
Tap Send once you're ready to send your invitations.
Tap Got it to complete the setup process.
You're all set up! Once you're family members (or friends) accept their invitations, you'll all be able to enjoy your shared Google Play content.
How to accept a Google Play Family Library invitation
If you've been invited to join a Google Play Family Group, you will have received an email invitation. We'll start with accepting the invitation via the email on your phone.
Launch the Gmail app from your home screen or app drawer
In the invitation email, tap Accept Invitation. This will launch Chrome.
Tap Get Started.
Enter your account password and tap Sign in to login to your Google account. This will launch the Google Play Store.
Tap Use account to confirm you want to use this account to join the Family group.
Tap Join. This also accepts the Google Play terms of service and Google's privacy policy.
Tap Continue to add your previously purchased items to your family library.
Decide whether you want to add all eligible purchases now, or add them individually later, then tap Continue.
Tap Got it.
You're now set up for the Google Play Family Library. Next, we'll show you how to check out the shared content available.
How to access content from your Google Play Family Library
Once you've got your Google Play Family Library set up and everyone has joined and added their personal content to the shared folder, it's easy to access and install them right from the Google Play Store on your phone. For this example, we'll access the shared apps and games.
Launch the Google Play Store from the home screen or app drawer
Tap the Menu icon. It's on the left side of the search bar.
Tap My apps & games.
Tap the Family Library tab.
You'll see the list of apps and games available to your entire family group.
From there, it's as easy as tapping the apps you want and going through the standard installation process.
Marc Lagace was an Apps and Games Editor at Android Central between 2016 and 2020. You can reach out to him on Twitter [@spacelagace.
All my movies and books aren't eligible for Family Plan. Bleh! :(

It said that for a few of mine, but I tried again and then they were. (except the free books)

how do you remove yourself from a family and how do you remove someone from your family?

That feature is still in beta.

No it isn't. You go to the Family Group in the Google Play Store (under account), and you can leave the family group if you're not the family manager, or you can delete the family group if you are the family manager. Just keep in mind it'll be a year before you can join another family group.

Purchased music isn't eligible either. Not that it's difficult to upload it to someone else's account but this would've saved a few steps. Posted via the Android Central App

Google Play would rather sell you a Family Plan for Play Music. And I'm fairly certain the music industry wouldn't allow a service it already screws over with a de-auth limit to share music within a single household. /sarcasm

Where are the censors and moderators now when this crackhead garbage shows up? Posted via the Android Central App This was directed at The Blair Witch Project and only The Blair Witch Project.

Most are asleep :) Posted via the Android Central App

So is the Family Manager the only one that can share apps. Meaning if I'm the manager, the apps my son paid for in his account can't be shared with his brother.

Going forward, I believe anything bought with the shared payment method will be shared, but not if they purchase with another card.
Not sure about existing apps & media already purchased

No, but only apps purchased after July 2nd HAVE to be shareable, any purchases before that you're at the mercy of the developer checking the 'allow earlier purchases to be shareable'. So if you're son bought it more than a month ago, the developer hasn't flipped that switch yet.

Invited family members and no one is seeing anything on their devices. Posted via my Nexus 6P on fi

They have to accept the invitation before they see anything. Make sure they accepted and joined the family group.

I prefer not to have family plan.

1. Ban the spamers on here high jacking threads
2. You have to re enter your credit card when it's already in there
3. You can not share any apps unless the app developer has allowed it
The only advantage is you can remotely buy a app for your children
Instead of showing this on a new Google account can the person doing this try sharing items on there own device it does not work Posted via the Android Central App

Not quite on the app sharing. Developers have to allow family sharing for purchases made after July 2nd 2016, and they have the option to opt-in purchases made before then.

I set this up, all the paid apps I've bought, and not one is eligible for this family library. I mean, I don't blame developers for not making previous purchases eligible, just seems like a waste if we can't add all purchased apps. They should give us a way to see a list of our eligible apps, if any, before we go through the process to set it up.

What does that have to do with what I said? Your previous comment says nothing about how to see a list of our eligible apps before we go through the sign up process.

There's no master list at the time nor an easy way to set one as what is shareable is based on both the time you purchased it and whether the developer has allowed any older purchases to be shared. All apps are technically shareable -- you just had to have bought them after July 2nd 2016.

So they can show us what apps are eligible after we sign up... But it's not easy to do before that. Got it. Your response is not relevant, you're not telling me anything I didn't already know or isn't in the article. Some apps are eligible, some aren't. Before or after 7/2...they should show us which of our apps are eligible before we go through the process of setting it up. It's pointless to do, if you can't share anything. It's probably pointless anyway, I'm guessing paid apps will start going to in app purchase upgrade method so they can't be shared.

So I already have my family plan set up thanks to Google Play Music, but dove in and did the setup for sharing of all my eligible apps automatically. I have rebooted my phone, but when I go to My Apps, instead of showing "Installed All Family", like the screenshots on this article, it shows "Installed All Beta". I vaguely seem to recall opting in for being able to download beta apps. Could this be screwing up my ability to see the Family apps? If yes, can anyone tell me how to opt-out of the beta app program? Thanks.

I'm in the same boat - did the family thing almost 24 hours ago my partner accepted, and yet I see no separate tab. In fact the only way I knew he accepted was the email it sent me back. But, to add and remove family members, you have to go to accounts.google.com and it's towards the bottom on the left side menu. And just clicking on the name will remove them although you do get a prompt, but for a second I had an OOOPS moment.

You can also add people in the Google Play app. Account > Family > Family Group.

Doesn't work if you have the family in a Google Business Domain. Big omission left out of the article. Posted via Nexus 6p

You mean aside from the third paragraph when they say "Google accounts for Business are unable to be used for creating a Google Play Family Library."?

Here's the thing that's crippling the experience for me: Only allowing purchases made using the Family Payment method to be sharable. I went to buy a movie and the only way it would be eligible for the family library would be if I used the family payment method. So either *I* buy it, or another family member buys it with my credit card, or it can't be shared. I hope I'm just missing something or it gets changed really soon...

I'm having a problem, a pop-up came up on my screen to enable family sharing, I followed it and selected my default payment method but it didn't ask me to send out invitations (it's just me and my wife) who it seems to have auto added, I think because we already have a shared google play music account. When I go Account I see Family then in that menu I see
Manage family members (which has me and my wife already)
Family Library settings (All three categories are set to auto add) I even found one app that shows the family library setting (Lara Croft GO) apparently they allowed previous owner to share the app.
But when I go to My Apps and Games their is no third family menu, next to installed and then all
Android Central Newsletter
Get the best of Android Central in in your inbox, every day!
Thank you for signing up to Android Central. You will receive a verification email shortly.
There was a problem. Please refresh the page and try again.